The Cost of Repairing a Cracked Screen on the LG G3
BY May | September 4th, 2014 | 85 | 22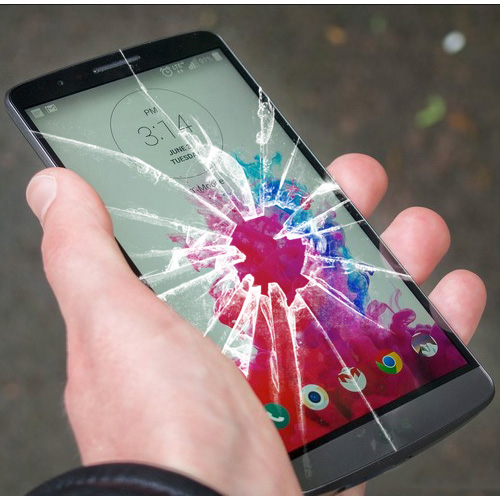 Even though you're careful enough, there're still some unexpected accidents that lead to broken screens. Then the repair cost will be on the top concern, whether sending your phone to a repair shop or
buying replacement parts
for DIY repair. Take LG G3 cracked screen repair as an example, this article aims at telling you how to identify your screen's cracked type and the relevant cost.
Question1: My LG G3 screen is cracked, but the phone still works, how much does it cost to repair?
Answer: In this case, your LG G3 glass lens is broken, replacing a glass would not cost too much, but would take high risk to separate the hermetically attached LCD and touch screen.  A brand new original LG G3 glass lens replacement is coming on
ETrade Supply
soon. It costs less than $10 to buy a LG G3 screen glass on eBay or Amazon, be careful not to choose the fraud one.
Question 2: Only partial screen of my LG G3 touch responses properly, what's happening and how much to repair?
Answer: If your phone suffers from touch failure after drops or cracks, the digitizer is damaged. It costs around $30 to buy a brand new original
LG G3 digitizer touch screen
replacement. Please note, it's the same difficulty and high risk to separate the digitizer from LCD.
Question 3: What if my LG G3 goes completely black after turning on?
Answer: The LCD Display is broken if your LG G3 screen shows no pictures, has dead pixels or presents wrong colors. However, the LG G3 LCD Display is not available in the market yet, you'll have to replace the whole
LCD screen assembly
, which cost less than $80.
Question 4: Both of my screen and bezel broken, how much does it cost then?
Answer: Unfortunately, you'll have to replace it with
LG G3 LCD assembly with frame
. And the price will be higher, which is nearly $140. However, replace the whole LCD assembly with bezel will be much easier and lower-risk for those who have fewer or no experience on repairing. If you'd like to DIY repair your broken LG G3, our tutorial guide of
LG G3 Disassembly
is standing by. Besides, be careful to choose the right color and version before placing an order. If you have no idea what your LG G3 version is, please refer to our another article:
How to Distinguish LG G3 Model Numbers
.
You may also like:
Tag:
Screen Repair Cost