Teardown Comparison: Samsung Galaxy Note 9 VS Note 8
BY kaye | August 21st, 2018 | 3 | 1
The Samsung Note 9 was first released in the United States on August 9 and will go on sale on August 24, but on August 11 Hi-Tech took the Note 9 apart for the first time. At first glance, the Samsung Note 9 and the Note8 look exactly the same, only changing the position of the rear fingerprint sensor on the back cover. They are only slightly different in phone size, please check the Samsung Note 9 design for details. Now let's find out the difference between Note 9 and Note 8 by comparing the teardown pictures.
Difference between Charging Ports
Charging port is a very important part of the smartphone that people use almost every day, but it is also one of the most easily damaged parts. The Samsung Galaxy Note 8 charging port is welded on the mainboard, and the whole main board needs to be replaced during repairs. While Note 9's charging port is connected to the main board through a flex cable, which can reduce the charging port repairing costs.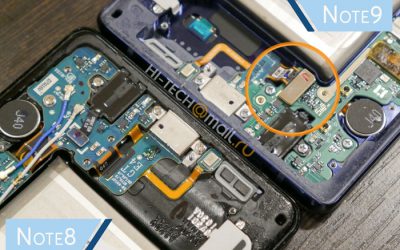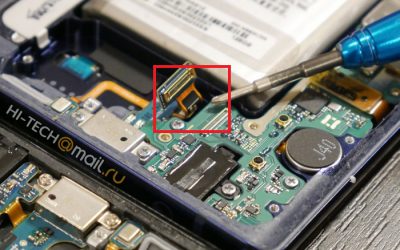 Bigger Battery Size
The Samsung Galaxy Note 9's battery is 4000 mAh which is bigger than the Samsung Galaxy Note 8's 3300 mAh. So, the Note 9 battery size is bigger than the Note 8.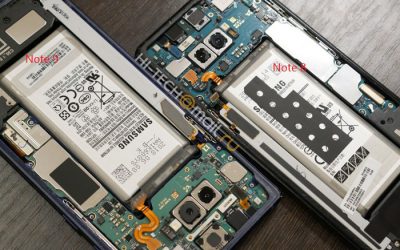 Larger Heat-dissipating Copper Tube
The Note 9 is Samsung's most powerful smartphone yet, which means it emits more heat when it runs. To get a better user experience and lower the phone's temperature, it needs a stronger water-cooling system. By comparing the pictures, we can find that the size of the Note 9's heat dissipation copper sheet is larger, so its heat dissipation function is stronger.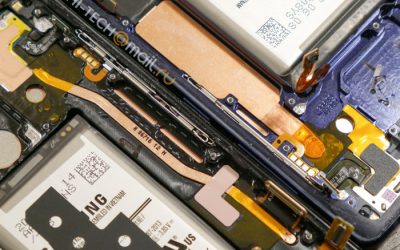 The Samsung Note 9 disassembly process is similar to the Note 8. Since both of the two devices support IP68 dustproof and waterproof, a lot of glue was used, which requires attention to heat during the disassembly process.
Here's the disassembled Samsung Note 9 and Note 8.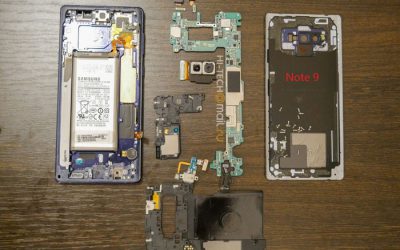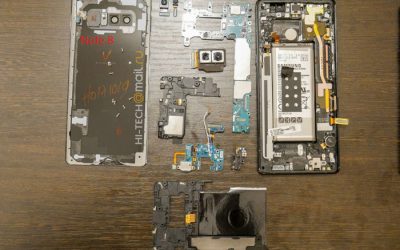 There are some other differences between the Note 9 and the Note 8 that are not listed here, and any questions about the Note 9 welcome to comment below.
(Picture source from Hi-Tech)
You may also like:
Summary
Reviewer
Review Date
Reviewed Item
Thank you, very useful for me.
Author Rating
| | | | | | |
| --- | --- | --- | --- | --- | --- |