How to Replace OnePlus 5 LCD Screen, Battery and Charging Port?
BY kaye | July 12th, 2017 | 2 | 7
OnePlus 5 as the OnePlus company newest flagship phone caught great attention since its release. Now let's tear down it to see how to replace the LCD screen assembly replacement, battery, charging port and other small parts.
Repair tools needed:
Heat gun
Step 1 Power off the phone and take out the SIM card tray
The SIM card tray is on the right of the phone.
Step 2 Separate the LCD Screen Assembly from the rear housing
Unscrew 2 Hexagonal screws at the bottom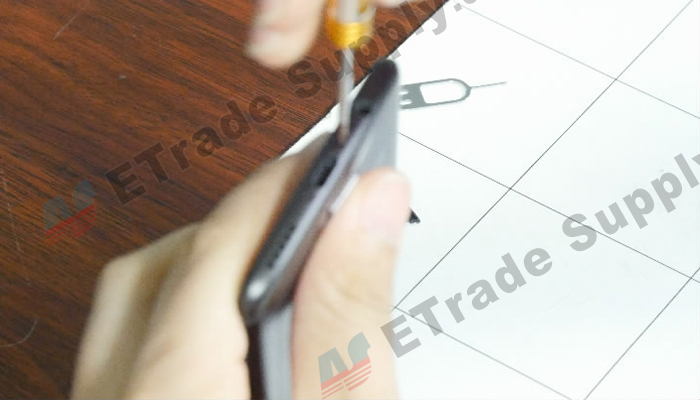 Use the pry tool to gap the screen assembly from the rear housing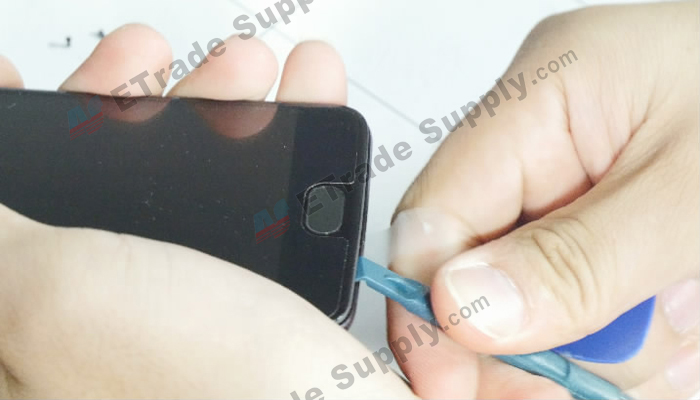 Use the pry bar slide along the screen edges to separate the LCD screen assembly from the rear housing. Notice: As the charging port is on the rear housing connecting the mainboard with flex cable, so please be careful when separating or it will be damaged.
Undo the Phillips screw on the metal cover of the charging port and take it off.
Release the charging port connector.
Step 3 Remove the Charging Port and Headset Jack
Undo the 4 screws on the charging Port, use a heat gun to heat it then you can remove it easily.
Here is the charging flex cable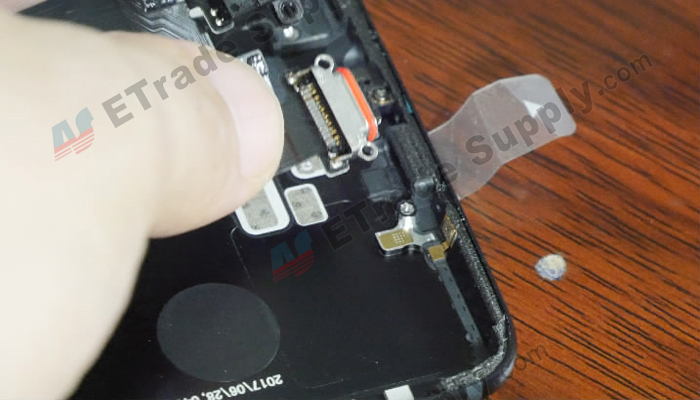 Step 4 Remove the Motherboard
Use the pry bar to release battery connector, screen connector and other connectors
Undo 7 screws holding the motherboard. Heat with heat gun then you can take out the motherboard easily.
Step 5 Remove the Front Camera and Rear Dual Camera.
The front camera is on the back of the motherboard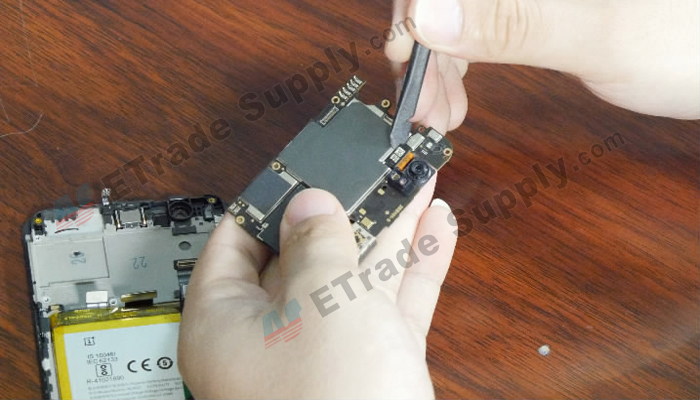 Remove the rear dual camera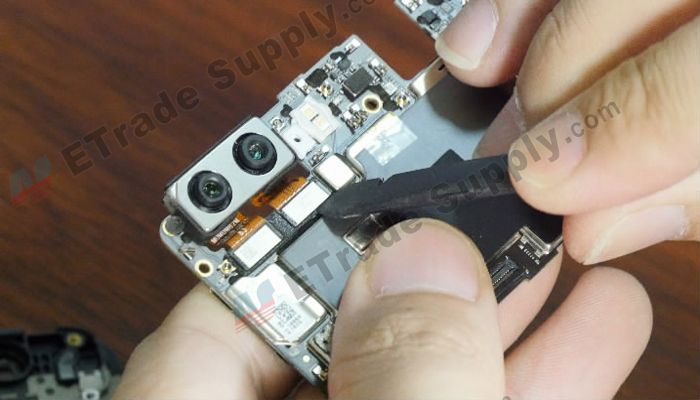 The Proximity Sensor and Light Sensor are welded on the motherboard.
Step 6 Remove the Battery
Tear off the battery glue on the battery side and pull the battery out. It is easy to take out the battery.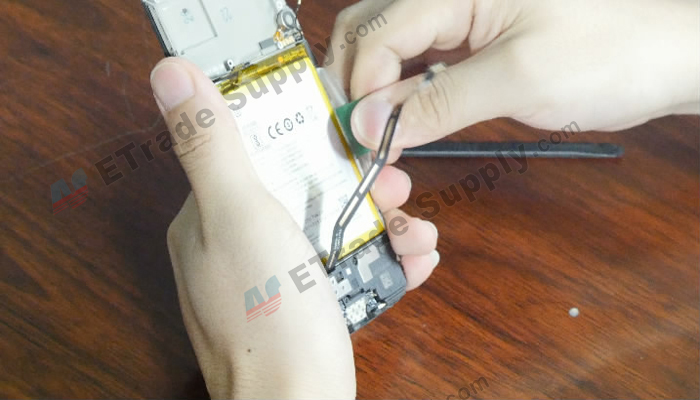 Here is the OnePlus 5 battery.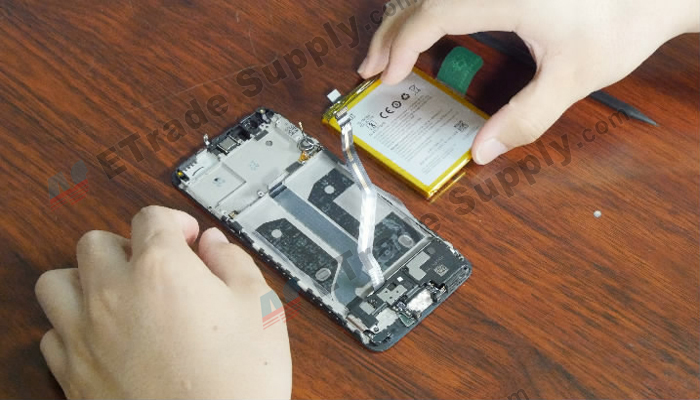 Step 7 Remove the Loud Speaker
Undo screws holding the loudspeaker, and heat with a heat gun then take it out easily.
Step 8 Remove the PCB
Release the connectors on the PCB and heat it so you can remove it easily. The microphone is on the PCB.
Release the antenna connector.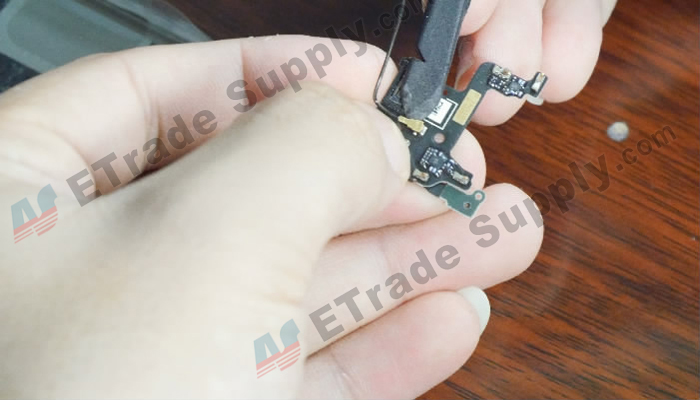 Step 9 Remove the LCD Extension Cable
Tear off the battery glue, release the LCD extension cable connector and take it off.
Step 10 Remove the Ear Speaker and Vibration Motor.
Step 11 Remove the Volume Button Flex Cable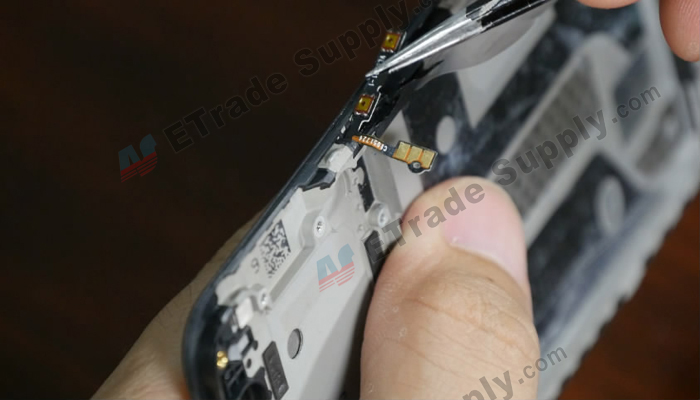 Step 12 Remove the Power Button Flex Cable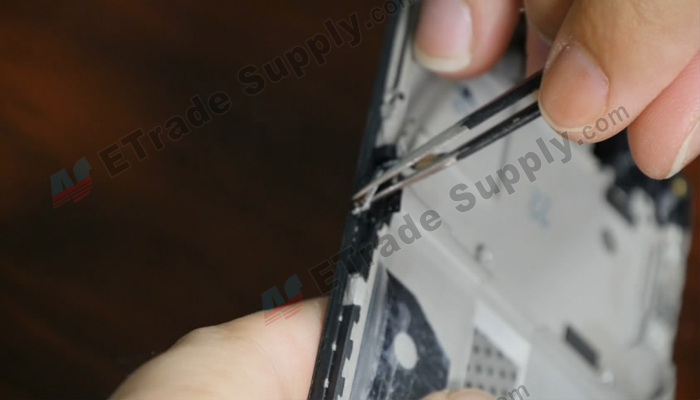 Step 13 Remove the Signal Flex Cable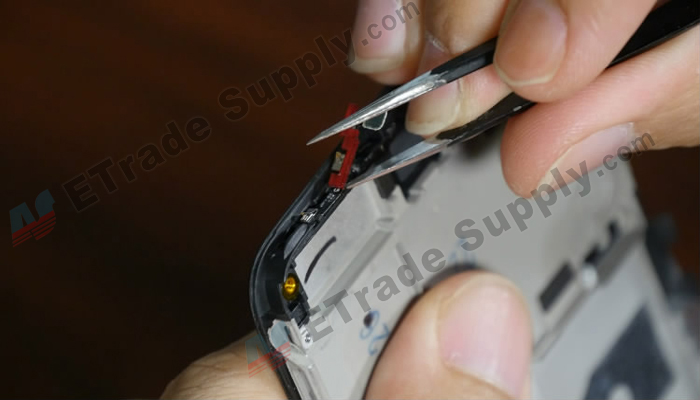 Until now the OnePlus 5 is totally disassembled.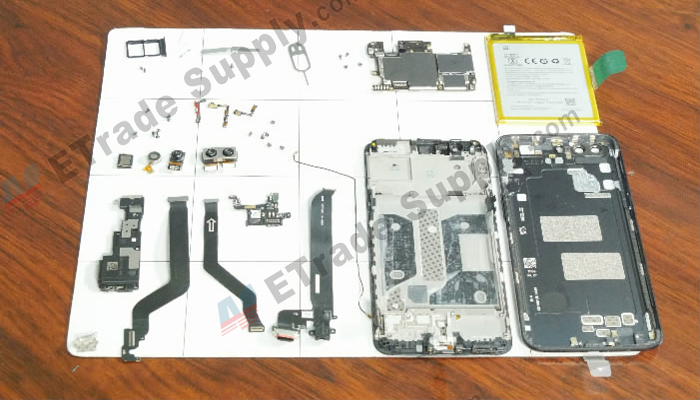 Check the whole OnePlus 5 teardown video on YouTube Etrade Supply. Should you have any ideas or questions, please do not hesitate to share with us.
You may also like:
Summary
Reviewer
Review Date
Reviewed Item
Very good article. thank you
Author Rating
| | | | | | |
| --- | --- | --- | --- | --- | --- |