Will wireless charging become the mainstream in future?
BY kaye | May 29th, 2017 | 0 | 3
Recently more and more rumors about iPhone 8's design and features leaked out. One of them is that iPhone 8 will support the wireless charging, which catches many Apple fans' attention, and makes wireless charging become one of the hottest topic. Along with Nokia supporting standard wireless charging in 2012, more and more smartphones like HTC, LG and Samsung began to support this technology. It seems it is very popular in android phones. Here we will talk something about it.
What is wireless charging?
Wireless charging uses an electromagnetic field to transfer energy from one object to another through electromagnetic induction. Energy is sent through an inductive coupling to an electrical device, which can then use that energy to charge batteries or run the device. It works in 5 steps as bellow: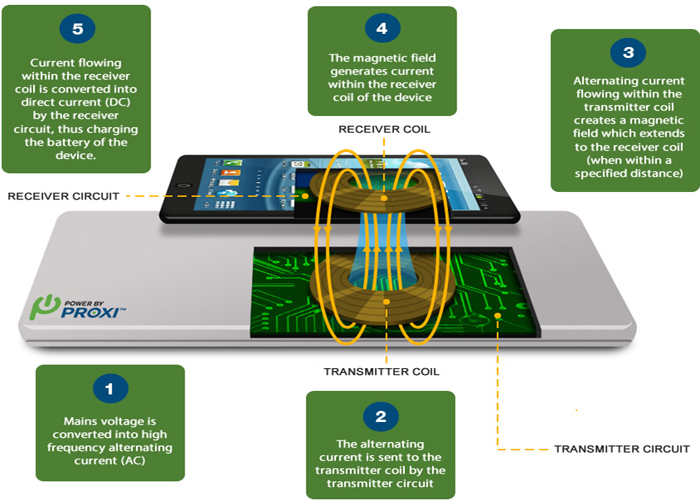 Compared to the traditional one, this new charging technology has both advantages and disadvantages.
Advantages
It is safer. When you want to charge your smartphone, just put it on the charging pad, which can help you to avoid sparkle or electrical shock if plugging it.

Save you away from messy cables and chargers. If you have several electrical devices, you may be troubled by the chaotic cables and chargers as the picture shows below. Don't worried about it now, with the help of a wireless charging pad, all of your troubles can be gotten out.

It's much more convenient in public place. For example, In America, usually there are many wireless charging stations in the public such as coffee houses, airports and so on. So it's no need for you to take a charger of your own when getting out.
Disadvantages
The technology is not so mature so far. Compared to the traditional one it has a lower efficiency and higher heat wastage. Due to the lower efficiency, it takes a longer time for the wireless charging to fully charge the device.
It causes an additional cost. If your device supports wireless charging, you just need a charging pad, otherwise you also need a receiver. As a charging pad is usually more expensive than that of normal charger and USB cable.
It doesn't have mobility. It's not convenient to move or operate the smartphone when charging on the pad, while it is easier to do that by using the cable and charger.
It doesn't have a unified technical standards. Based on how the new charging works, there are two kinds of sources (Qi and Powermat) in the whole market now, but they are not compatible. Therefore, please pay close attention when you purchase.
Have you ever used a wireless charger? What do you think about it, like it or not? Although the wireless charging technology is not perfect now, we still trust that it will become better in future.
If you have any idea, please feel free to share with us by sales@etradesuply.com, thank you!
(Source: Google, Wikipedia)
You may also like:
Summary
Reviewer
Review Date
Reviewed Item
Author Rating
| | | | | | |
| --- | --- | --- | --- | --- | --- |