iPhone 7 Screen Replacement | iPhone 7 Repair
BY kaye | November 7th, 2018 | 0 | 2
Apple launched the tenth generation of the iPhone on September 7, 2016. The iPhone 7 screen size is 4.7 inches, 138.3 mm*67.1 mm. The display resolutions are 1334*750 pixel at 326 PPI. The iPhone 7 has 5 colors: black, silver, gold, rose hüpfburg kinder gold and the limited red.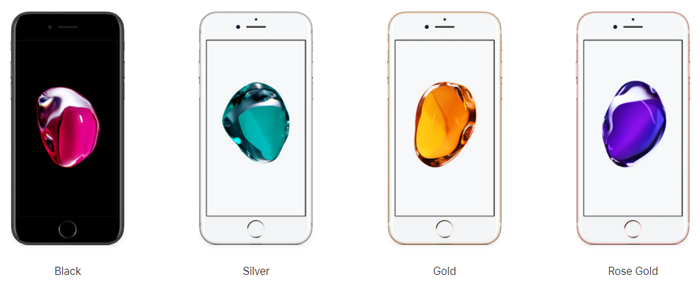 How to protect the iPhone 7 screen?
Any phone's screen is fragile, and we should protect it. The common problems with mobile phone screens are scratches, shattered, blurry, cracked and broken. To protect the iPhone 7 screen, we'd better use a screen protector and case.
iPhone 7 screen not working
If the iPhone 7 screen is frozen, unresponsive or black without dropping or screen cracked, the reason caused this may be the software issue, try to hard set the iPhone 7.
If the iPhone 7 screen black after dropping to the floor in an accident and can't turn on. Check the screen glass first, if the glass is broken, the LCD screen may be cracked. If the glass is in good condition, it may be the backlight is bad or the screen connector is loosened.
If it is the broken screen lead to the device glitching out, we should replace a new iPhone 7 screen replacement for the device.
iPhone 7 Screen Repair
The most common phone repair is screen replacement, here we tell you something about the iPhone 7 repair.
How to Repair iPhone 7 screen
iPhone 7 repair is very easy, if you have the repair tools and replacement parts, you can DIY repair it. For iPhone 7 screen repair guide, please visit here: Guide: How to Replace iPhone 7 Plus Screen Replacement.
Where to Repair iPhone 7 screen
Although the DIY repair is easy, you also have a risk to damage it. So you can choose to send the device to the Apple Store or Genius Bar for repair, but it is expensive if you don't have the Apple Care+.
For a cheap repair, you can send your iPhone 7 to the repair shop near you or the mobile phone repair union. Note: the replacement parts in the third-market is not as good as the original.
How much does it cost to repair iPhone 7 screen
DIY Repair Cost: Repair kits + Screen replacement Cost + Shipping fee (some is free shipping) + tariff. If you buy from other countries, you may need to pay the tariff.
Apple Repair Cost: In the Apple Store/Genius Bar repair, you can find the screen, battery, and other damage repair price here: iPhone Repair and Service.
Repair Shop Cost: Screen replacement cost + labor cost.
iPhone 7 screen quality grade
The iPhone 7 screen replacement has various qualities to choose in the market: Brand new, refurbished and copy. Also, different factories produce different quality products.
The iPhone 7 screen replacement in ETrade Supply are Grade S+, Grade S, Grade A, and Grade R. iPhone 7 Screen have 2 colors, black and white.
Need iPhone 7 Plus replacement parts? Please click here: iPhone 7 Plus parts list