How to Fix the iPhone "1970 Date" Bug
BY May | February 23rd, 2016 | 0 | 1
Recently, the bug of manually setting the date to May 1970 or earlier will cause the 64-bit processor iOS devices to brick after a restart, Apple Support had announced this issue would be prevented by an upcoming software update. Below chart are the afftected devices which may have the "1970 date" bug: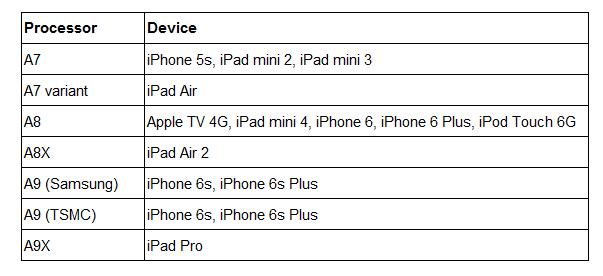 Apple also offers replacements for some of the affected devices. If your iPhone or iPad is under warranty, contact Apple Support is the best choice. For the others, try below fixes.
1. Charge your iPhone battery to 100%, wait for hours till the UNIX time is equal to or greater than 0 and the system time starts.
2. Use up your iPhone battery. Your iPhone will be automatically powered off after draining the battery, however, the device will leave 3% battery capacity to keep the internal clock working as usual. The internal clock will be reset after rebooting until the battery is totally used up. While some prove it doesn't work.

3. Disassembly to remove the battery and reassemble it after 10 minutes. For the iPhone disassembly tutorial guides, please check below:
It's not recommended to try this trick for those who has no experience in cellphone repair. Also, your warranty will be voided once the phone is disassembled.
4. Wait until Apple to release the updated software.
Summary
Reviewer
Review Date
Reviewed Item
Nice post, useful for me.
Author Rating
| | | | | | |
| --- | --- | --- | --- | --- | --- |