Top 5 Reason Why You Need A Phone Screen Protector 2019
BY kaye | January 2nd, 2019 | 1 | 2
With the advancement of technology, the screen of smartphones has become larger and larger, and of course, the price has become higher aufblasbar and higher. We do not want the phones that have been bought at high prices to be scratched after being used for a period of time. In order not to affect the appearance and use of the exterior, do we need a tempered film?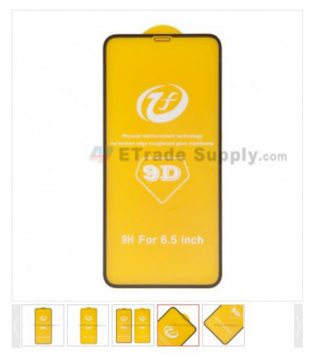 Is Tempered glass necessary?
Today's mobile phone screen glass is made of Corning Gorilla Glass and has been developed to the 6th generation. It has higher hardness and can be non-slip, anti-drop. Please see here for how to choose and apply the tempered film. Do we need big Orangutan tempered film?
Gorilla Glass is a brand of chemically revised glass developed and manufactured by Corning, now in its sixth generation ------ (From Wikipedia )
Gorilla Glass 6 survived 15 consecutive drops from 1 meter on rough surfaces and is up to 2x better than Gorilla Glass 5 ------ (From Corning Gorilla Glass 6)
Below I explain 5 reasons why we need to use a tempered film.
Screen protector prevents fingerprints from being left on the screen
Most modern smartphones (including iPhones) usually have a thin Oleophobic layer. In short, this coating helps prevent smudges, fingerprints, and marks from the natural oils on your fingers, hands, and cheeks.
However, the Oleophobic layer is not fixed and the thin coating will degrade and wear out with use. Although the life of an Oleophobic layer depends on many factors, you will eventually find that the screen accumulates fingerprints and smudges. A good screen protector can extend its life or provide its own anti-fouling function.
Reduce the risk of cleaning your display
Suppose you clean the iPhone's display frequently and notice that the cleaning process actually causes some damage. Apple warns users not to use chemical cleaners or abrasive materials. But not everyone knows this, it is a fact that is easy to forget.
As the second layer on the display, if you accidentally use coarse materials or detergents on it, the screen protector will basically give your phone screen a second chance.
Protect the screen from being scratched
Most modern smartphones use durable Corning Gorilla Glass, which is quite scratch-resistant (and gets better every year). Does cellphone with Gorilla Glass need a screen protector? In most cases, many abrasive or sharp materials and items will not scratch the screen during normal contact. But there are exceptions.
Keys, coins and other metal objects will definitely scratch your screen - especially if they are in contact with your pocket for a long time. If you're a beach lover and is notorious for leaving scratches on even the latest version of smartphone glass. In other words, a tempered film can make your phone screen more safer.
High probability of saving money from phone screen repair
Some people can tolerate the display with scratches, while others can't. If you can't stand the scratches on the screen, the best way to get rid of scratches is to replace your screen with a new one. But screen replacement is not cheap. If you don't have AppleCare+, the iPhone screen repair price range from $129 to $329, depending on the iPhone model you have. For other smartphones with OLED screen, it is also very expensive.
And the tempered film also protects your device's screen, reducing the risk of screen break caused by accidental drops.
On the internet, there are many "do-it-yourself" remedies for scratches on the screen of mobile phones, some of which may even work, but certainly not worth recommending. In fact, many of the DIY methods you use may cause more unrepairable damage to your monitor. Using screensavers directly can save you hundreds of dollars in repair costs.
Make your used iPhone more valuable
If you don't use a screen protector, the iPhone's display is likely to be scraped off within a few years of normal use. And, as we said, screen replacement is not cheap, and most "free" methods don't work or are actually harmful.
The iPhone, which has significant damage, even for relatively small scratches, has a lower resale value than a thin or premium iPhone.
Therefore, just consider using a screen protector as an investment in the future of the iPhone. On Apple's official website, you can buy your new phone with a new one. You can test the value of your old phone here.
Does your phone use a tempered glass screen protector? If not, why? Welcome to comment below.
You can get iPhone device screen tempered glass screen protector wholesale and retail here: iPhone screen protector
Related Videos
Samsung Galaxy S5 Screen Scratch & Hammer Test -- Powerful Screen Protector
How to Install Galaxy S5 Tempered Glass Screen Protector -- NO BUBBLES!