How to Solve the Common Samsung Galaxy Note 3 Problems
BY yuki | November 9th, 2013 | 151 | 9
Samsung Galaxy Note 3 phablet currently has faced several technical issues since it has been released on September, 2013. Some Galaxy Note 3 users reported they come across the regional lock for the smartphone, while other problems like reboot loop, handwriting bug, sluggishness, Wifi disconnection and Google play also annoyed many Note 3 owners. Here we walk you through the main Galaxy Note 3 problems followed the related solutions. Hope it can help you fix the problems you met on Note 3.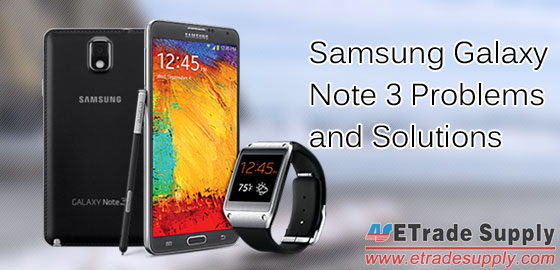 Problem 1: How to Disable Regional Lock for Galaxy Note 3
When customers purchase a new Note 3 in Europe, such as Germany without contract deal, they usually find it is hard to activate the new Note 3 in another region, like the United States. Many people shared their feedbacks that they have suffered from the Galaxy Note 3's region-locking. Their SIMs from specific regions seem to be locked and show unapproved or incompatibility to the new phone. How to solve the regional lock problem for Galaxy Note 3?
Troubleshooting:
You can activate the Note 3 from the place where you purchase the smartphone before using it. If you forget to release the region lock at oversea, you also can follow our tutorial on how to unlock SIMs or solve the region lock for Galaxy Note 3 to solve the Note 3 locking problem step by step.


Problem 2: How to Solve Samsung Galaxy Note 3 Reboot Loop Problem
Plenty of Samsung Galaxy Note 3 users said on XDA-Developers forum that their devices occasionally enter a boot loop. Some reported their Note 3 would reboot while charging, plugging in or installing apps from the Play Store. However, the reboot loop problem is not really solved after a hard reset. The issue might be caused by the inserted micro SD cards, the apps installed on the handset or the antenna, because switching the device to Flight mode can be helpful in most cases.
Troubleshooting:
When your Galaxy Note 3 units experience the troublesome random reboot loop, you can remove the back cover and take out the battery. Then follow the steps below to uncheck the option "Always allow scanning" to handle the continuous reboot problem.
Pull out the SD card > Insert the Battery > Reboot the device > Go to Menu > System Setting > Wi-Fi > Menu > Advanced >Uncheck "Always allow scanning" > Use the back key to return to the home page > Power off the Note 3 > Insert the SD card > Install the battery > Replace the Note 3 rear cover > Turn on the device
Many people have managed to handle the Note 3's reboot loop issue by following this troubleshooting.


Problem 3: How to Repair a Broken Galaxy Note 3
It happens to many people that they drop their devices from time to time. It is easy to break the screen when dropping even though it is a Corning Gorilla glass, and other parts of the device might got broken too.
Troubleshooting:
In this case you may have to repair you phone. We suggest you make a DIY repair for your device. You may need these Galaxy Note 3 replacement parts for repair and you can watch this Galaxy Note 3 disassembly video for reference.


Problem 4: How to Solve the Samsung Galaxy Note 3 Google Play Problem
Recently, Galaxy Note 3 Google Play problem has frustrated many users, for they failed to download applications to their device from the Google Play Store. They encountered various error notices when they installed or updated applications. The errors range from the failure to download apps, general server problems all the way to the Google Play Error: "Error retrieving information from server. [RPC: S-5: AEC-0]". How to fix the Google Play problem for Note 3? Please check the following related solution.
Troubleshooting:
Step by step remove the Google account used for your Galaxy Note 3. Go to Settings > Accounts > Google Accounts > Remove > Agree on the warning > Close Settings > Tap the Play Store and agree to the terms and conditions > Tap Existing Google Account > Sign in your login details. Please note "Start syncing your Google Account once downloads is working normally to restore the phone apps before it was removed."


Problem 5: How to Fix Battery Drain Issue for Galaxy Note 3
Smartphone's rapid drain battery is always to be blamed in the world, and the Galaxy Note 3's battery is no exception. Even though Samsung has applied 3200 mAH battery as well as the Super AMOLED screen display to the Galaxy Note 3, the smartphone is unable to last up to a whole day. To better save your Note 3's battery capacity, you can try the following Note 3 tips and tricks.
• Switch auto-syncing setting to manual
• Disable all features you are not using, such as Wi-Fi, GPS, Bluetooth, NFC, etc.
• Turn on the Power Saving model on Note 3
• Disable all running apps when you don't use them
• Lower screen brightness to a low level
• Reduce your Note 3 screen timeout duration.


Problem 6: How to Deal with Note 3 Wi-Fi Networking Connection Issue
People always get annoyed when they suffer from the troublesome Wi-Fi networking connection problem. Reports from Android Central, Androidforums and XDA-Developers forums presented the Wi-Fi connection issue has plagued many Galaxy Note 3 users. They said their Note 3 constantly disconnected and then reconnected to Wi-Fi. When your Note 3 experienced lots of trouble in holding on to the Wi-Fi connection, you can try the following solution.
Troubleshooting:
• Go to Setting > Wi-Fi > Advanced > Uncheck Automatic Switching Between WIFI Networks And Mobile Networks
• If the above-mentioned tip can't fix your Wi-Fi issue, you can try this one: Typing *#0011# on the phone dialer > Enter a hidden menu >Select Menu > Wi-Fi Setting > Turn off Wi-Fi Power Save Mode (Note: Reboot the phone then go back into *#0011# > Wi-Fi to confirm the Wi-Fi Power Save is OFF)


Problem 7: How to Fix Note 3 Handwritten Bug Issue
Some Galaxy Note 3 owners reported the handwritten bug problem with the S Pen on forums. They said they wrote words with S Pen in the enabled handwritten box showed on the screen, but found nothing in the input field.
Troubleshooting:
It can be caused by the Note 3's smartphone technical problem. To permanently deal with the problem, there is no other solution but to return the device to the retailer for replacement.


Problem 8: How to Solve Galaxy Note 3 Lag Issue
Some Note 3 users complained that they were impatient with the slow speed for the new device. Although Samsung has tried to improve the performance for Galaxy Note 3, the device also faces the common lag problem on most other smartphones. The Galaxy Note 3 is likely to slow down if you activate too many features and apps, so follow the steps to increase the speed of your device.
Troubleshooting:
When you are encountering the sluggishness and find your Galaxy Note 3 lagged, make sure you have shut down all features or apps you don't use at that time.
• Close applications tapping the "Back" key
• Deactivate all features you are not using
• Free up memory by turning off running applications
•Disable auto-syncing when you don't need it
If you have met other Samsung Galaxy Note 3 problems rather than the above mentioned, leave your comments. We'll do our utmost to help you.