How to Solve the Common iPhone 5S Problems
BY alina | October 17th, 2013 | 7 | 1
iOS 7 tips and tricks
after it was released. Now it comes to the iPhone 5S since some owners have reported that they encountered many issues on their new iPhone 5S, such as apps crashing issue or blue screen of death. Today we'll cover the solutions to the common iPhone 5S problems one by one.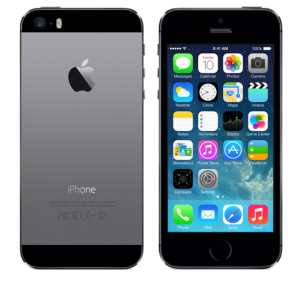 How to Fix the Blue Screen of Death Issue on the iPhone 5S
A lot of owners reveal they have encountered the blue screen of death on their iPhone 5S. They report that if they use Pages, Keynote or Numbers while editing documents, pressing the Home button can cause the iPhone 5S to crash to a blue screen. A reboot doesn't work. The apps crashing issue is said to be related with the 64-bit processor, which tries to run 32-bit software. However, currently Apple hasn't released an update to fix it. Here are the temporary solutions.
Make sure you back out of documents before pressing the Home button.
Go to Settings=>iCloud=>Documents & Data to disable iCloud sync for iWork apps by turn off Pages, Keynote and Numbers.
How to Deal with the Problem of Apps Automatically Logging Out
Some users are noticing they have to log in certain apps again and again when they use the iPhone 5S. The culprit could be the background app refresh. Fortunately, some developers have fixed this issue by removing the feature. However, iPhone 5S owners can also go
Settings=>General=>Background
App Refresh to turn it off.
How to Figure out the Issue that Microphone Doesn't Work
Some people are suffering the issues with the microphone, which doesn't pick up their voice clearly. The iPhone 5S users said they can't record voice notes in a specific app or they can't be heard during calls. You can follow the solutions below to fix these issues.
Make sure you have remove the protective film from the screen before you use iPhone 5S.
Go to Settings=>Privacy=>Microphone to make sure a specific app has permission to use the microphone.
If the culprit is the noise cancelation, go to Settings=>General=>Accessibility to turn off Phone Noise Cancelation.
How to Settle the Issue that Touch ID Doesn't Work for iTunes Purchases
Some owners complained that the iPhone 5S would not accept the fingerprint to authenticate an iTunes purchase and would insist on then entering their password. Apple addressed this is a bug issue and has already fixed it in the 7.0.1 update. Therefore, the solution is to make sure you have the latest iOS 7 by going to
Settings=>General=>Software Update
.
Additional: iPhone 5S Issues without Solutions at Present.
(We are expecting Apple could fix the following issues in the future and we'll update once the solutions are available.)
Level and Compass Measurements Issues
It's reported that the iPhone 5S has incorrect level and compass measurements, which could be caused due to a switch in supplier for the accelerometer in the iPhone 5S. Because the iPhone 5 doesn't suffer from these issues and the suppliers for the accelerometer in the iPhone 5S and iPhone 5 are different. It's said these issues could be solved with software on Apple's part but for now developers can compensate for the increased offset. However, Apple hasn't responded to these issues yet.
Buttons Rattling Issues
Some users have reported that their iPhone 5S Home button clicks loudly and the Power button rattles when the iPhone 5S is shaken. And a new replacement iPhone 5S doesn't help. Some owners said this could be caused by a loose battery. If so, you can take your iPhone 5S into an Apple store and ask them to fix it. But if not, you may have to get used to the "Noise". Have you ever experienced any other issues on your iPhone 5S? Post in the comment box and we'll try our best to help you out.
We have listed several