8 Highlights You Should Not Miss About Samsung Galaxy A80
BY kaye | August 6th, 2019 | 1 | 1
Samsung Galaxy A80 smartphone was launched in April and made something different to the mobile market. When you take the first sight on this new Samsung model, you will be attracted by this large beautiful full-screen smartphone. Samsung Galaxy A80 is Samsung's inflatable slide for sale first full-screen phone without any notch or hole on the display. To get to know better about this new Samsung smartphone, here we bring 8 features about Samsung A80 to you. Let's check them out below.
1. 6.7" Super AMOLED display screen
Samsung Galaxy A80 features on the full screen of 6.7" FHD and super AMOLED display. This is the first phone that Samsung uses infinity display. This purely full display screen with 1080*2400P HD+ makes us more room for watching movies and playing games. What's more, Samsung A80 has a massive display size of 165.2 x 76.5 x 9.3mmm, and it is designed as hüpfburg smooth and curved, which makes it easy to hold for longer. Maybe this phone model is a little heavy on the weight, which requires us a time to get used to it. The features of Samsung Galaxy A80 will be one of the reasons you choose it.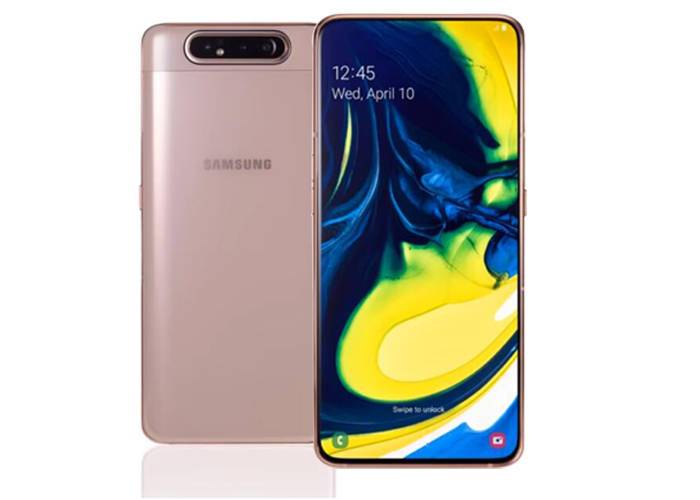 2. Triple rotating cameras
Now let's talk about the triple rotating cameras, one of the most outstanding features for Samsung Galaxy A80. Unlike Samsung S10 Plus rear-facing cameras, this model has a special triple pop-up rotating cameras. One 48MP main camera, one 8Mp ultra-wide camera and one 12MP TOF 3D camera. When you flip the front-facing camera for selfie on the screen, the triple camera module will rise up and rotate automatically. The 48MP main camera gets an f/2.0 Sony IMX 586 sensor for crisp and detailed high clarity photos. The 8MP ultra-wide angle mode will offer decent landscape shots, and it comes in handy for group selfies because it is an ultra-wide camera. The TOF 3D camera comes into play for portrait shots, which makes the subjects you take in depth, decent but nothing exceptional. Live Focus is available not only on photos but now also available on Video because if the 3D depth camera.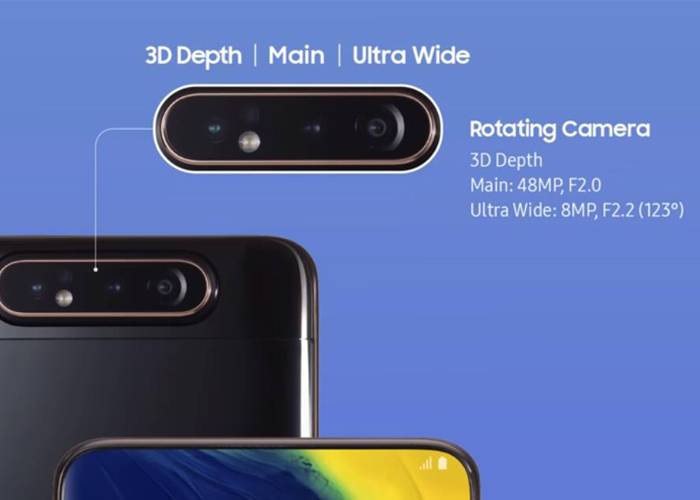 3. Snapdragon 730 chipset, 8G RAM
Just as the early news about Samsung A80, this model has the Snapdragon 730 chipset. The Qualcomm Snapdragon 730G Mobile Platform brings select Snapdragon Elite Gaming features and an additional 15% graphics to boost over Snapdragon 730 for a more powerful gaming experience. It also offers AI via the Qualcomm AI Engine for more intuitive image capture and optimized performance. All these mean that the Galaxy A80 will be the best for playing games. Besides, Samsung Galaxy A80 is 8G RAM, which spares more storage for the internal running system. With long the battery life of this model, we can play mobile phone games for hours. It's pretty cool, isn't it?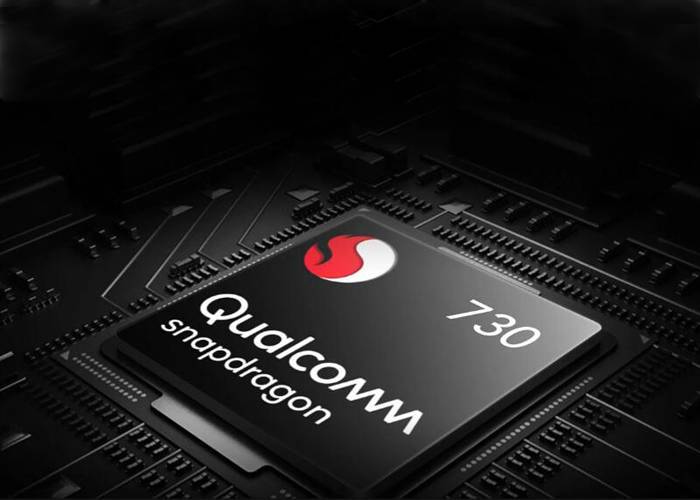 4. Sound on Screen
This is a unique feature of Samsung Galaxy A80. This model has applied the in-screen speaker located inside of the screen and so you may feel a slight vibration if you set the volume high during a call. There are elements inside the screen to emit and transmit sound through, that's why you can hear sound through the screen and feel vibrations when you set the volume high. Adjust the volume to the moderate level requires your ear close to the in-screen speaker area to hear the other caller's voice during a call. Anyway, this gives us a better experience in video and game playing with phone speakers.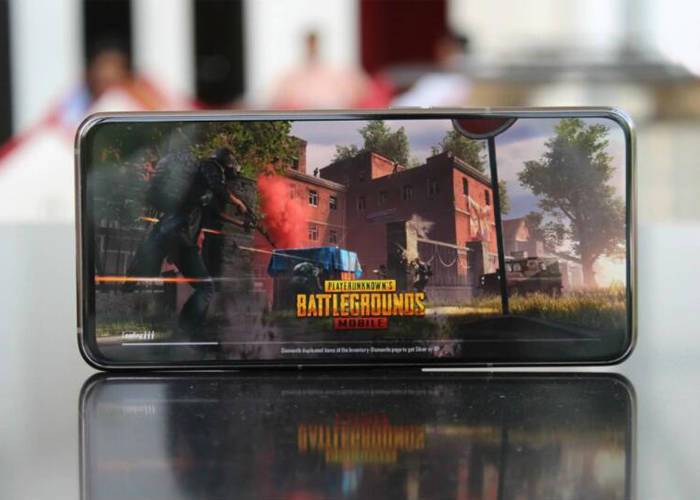 5. 3700 mAh battery, 25 watt super-fast charging
It all comes as we expected, Samsung Galaxy A80 has a long-life battery with 3700 mAh with 25 watt fast charging. This large capacity battery with endurance rating on 80 hours enables us longer time for taking videos and photos, playing games, live chatting and so on. With the 25 watts super-fast charging via USB Type-C port, it takes us about one hour to fully load the battery from zero power level.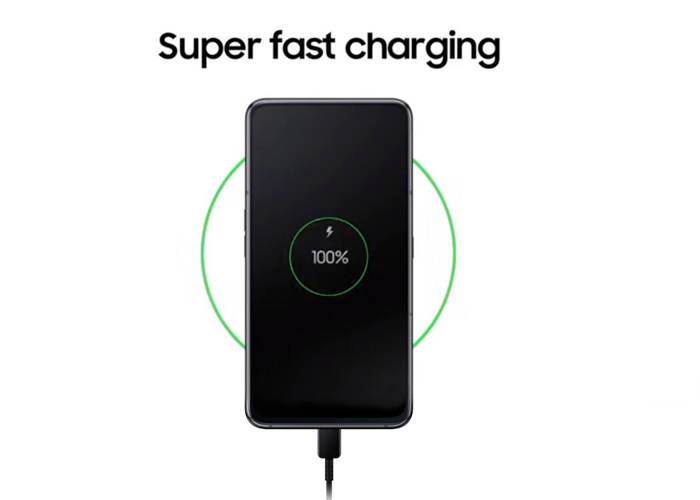 6. In-screen fingerprint scanner
The in-screen fingerprint makes it easy for us to flip and get access to the screen unlocked. You can go to Setting to add your fingerprint ID on the phone and your passcode pattern as well. Add one more extra fingerprint ID for convenience to unlock the phone. It is simple and quite fast for fingerprint recognition. The in-screen fingerprint ID technology has been used on most smartphone brands and models. No more extra description here.
7. NFC Feature
Since we have mentioned this feature on Xiaomi Redmi K20 preview, Samsung Galaxy A80 is also authorized with Samsung Pay. By adding your credit card or qualifying visa, you can use the phone as a wallet for shopping. Samsung Pay currently supports more than 1000 banks and credit unions around the world for paying, and there are more on the way. With NFC feature Samsung Galaxy A80 provide to us, it is very convenient to go shopping in malls or online shop.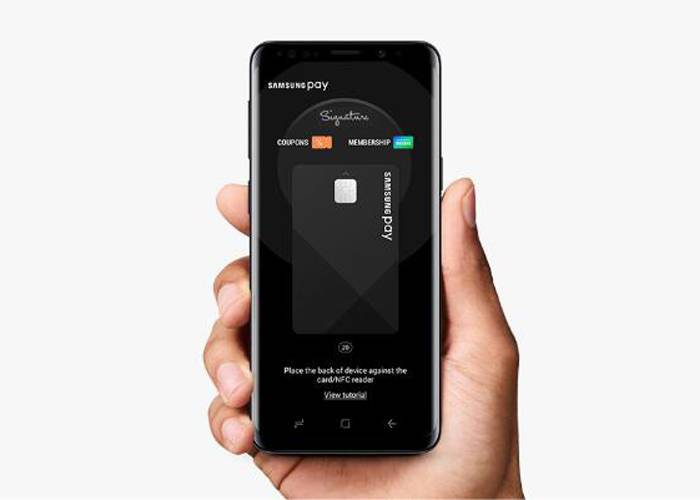 8. Multi-functional Bixby
The Bixby function of Samsung Galaxy A80 makes our life so much fun in many ways, like reducing blue light and turning on Night mode to get your eyes ready for bed at night, turning off unnecessary functions to help save the battery life, keeping your phone unlocked and playing music when you get in your car, etc. Besides, you can get the information you need, faster, with Bixby's next-level vision intelligence by simply pointing your camera at something you want to translate, buy, or eat. Bixby Home learns your habits and curates useful apps and content based on your usage patterns.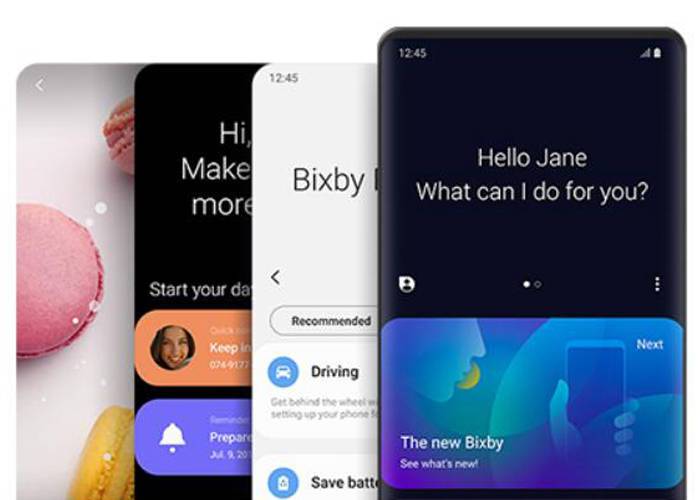 Since Samsung is going to release A90 in the coming days, it is still worthy for us to experience these 8 features in the flagship store. As one of Samsung big fans, I recommend you to get to know more about Samsung Galaxy A80 using tips and tricks before you decide to purchase one from Samsung store. In the meantime, we suggest you take a look at Samsung smartphone replacement parts like Samsung Galaxy S10 replacement parts. You may leave your comments below if you have any ideas about Samsung Galaxy A80 model, we appreciate your sharing.