HTC One M8 Disassembly/Take Apart/Tear Down Tutorial
See how we disassemble the HTC One M8
Tools you will need:
Tools Needed:
Hair Dryer/Heat Gun,
Tweezers,
Cutter Knife,
Metal Spudger Opening Tool,
Plastic Case Opening Tools,
Small Phillips Screwdriver,
T5 Screwdriver.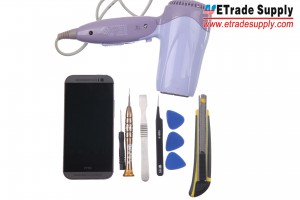 1. Power off the HTC One M8.
2. Heat up the Top and Bottom Cover with a Hair Dryer or a Heat Gun.
3. Use a Cutter Knife to pry up the Top and Bottom Cover (please pay special attention during this process).
4. Undo 2 Screws with the help of T5 Screwdriver underneath the Top Cover then 4 Screws with Small Philip Screwdriver underneath the Bottom cover.
5. Take out the SIM Card Tray and SD Card Tray with an eject tool or Tweezers.
6. Separate the LCD Assembly and Rear Housing with the Cutter Knife.
7. Pry out the LCD Assembly with the Case Opening Tools and Metal Spundger Opening Tool.
8. The LCD Assembly and Rear Housing are separated.
9. Peel off the tapes with the Tweezers.
10. Take out the Black Signal Cable with the Tweezers or the Case Opening Tool.
11. Pry up the 6 connectors with a Case Opening Tool.
12. Peel off the Charging Port Flex Sticker and pry out the connector with the Tweezers.
13. Use the Tweezers to pry up the Blue Signal Cable.
14. Pry up the two White Signal Cables on both upper and bottom parts.
15. Use the Metal Spudger Opening Tool to pry up the motherboard and then the battery.
16. Take out the Loud Speaker Assembly and Internal Top Cover.
17. Pry up the 3 Connectors that connect LCD Assembly and Motherboard Flex.
18. Pry up the Rear Facing Camera and then the Motherboard Flex.
19. Pry up the Rear Facing Camera and Front Facing Camera Connectors.
20. Take out the Ear Speaker.
21. Take out the Earphone Jack and the disassembly is finished.
Summary
Reviewer
Review Date
Reviewed Item
I like DIYs and this guide helps me.
Author Rating
| | | | | | |
| --- | --- | --- | --- | --- | --- |
Share this guide with your friend!
Download
Download and print the repair tutorials here!