When Will Apple Beat Samsung to Be the Biggest Smartphone Vendor?
BY Davi | February 9th, 2015 | 0 | 0
Recently, analysts and marketing research organizations have released the latest smartphone market analysis report. Reports released by IDC and analyst Ben Bajarin both showed that Apple has almost caught up with Samsung in cellphone market shares. As the picture shows below, if Samsung cannot reverse the tide in the Q1 of 2015, Apple will beat Samsung as the biggest smartphone vendor soon.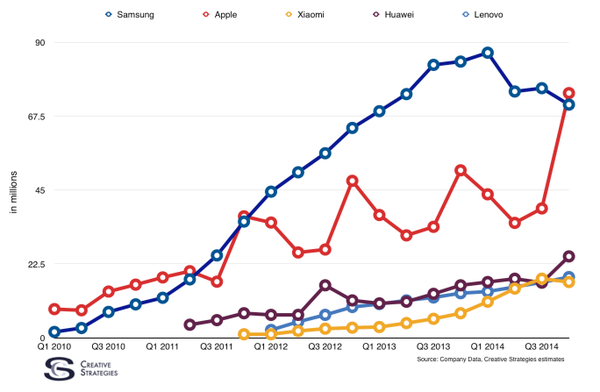 In a near tie, while Samsung holds 20.01% market share, Apple has 19.85% market share in the 4th quarter of 2014, according to IDC report. You can see more details in the chart below.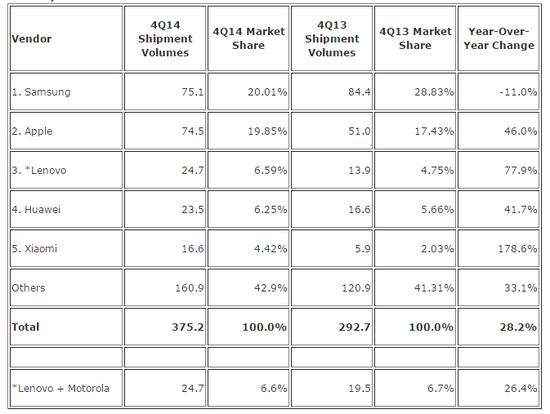 Source: IDC
There is no doubt that Apple's iPhone 6 and iPhone 6 Plus have made a big hit all over the world. Many dedicated fans waited in line for days to buy the latest devices. The new generation iPhones have helped Apple profit a lot according to Apple's 1st quarter financial statement of 2015. Apple has earned 18 billion in net profit, and sales revenue has jumped to 74.5 billion dollars. Compared to the same period last year, sales grew 30%. On the contrary, Samsung's market share has been encroached by other companies, especially Chinese companies.