What do Grade S+, S, A and R Stand for in ETrade Supply
BY Davi | January 6th, 2016 | 13 | 7
One of the most common misconceptions we saw in the cell phone repair business is the various parts level, as there are original, OEM, Grade A Copy, High Copy, High Copy Grade A, Grade A, Grade A+, Grade AAA, Original Replacement or Super High Quality etc.. Since there is no clear quality standard for the phone replacement parts, it becomes extremely complicated to understand the true meaning and definition of each grades for buyers, especially for those who are new to this industry.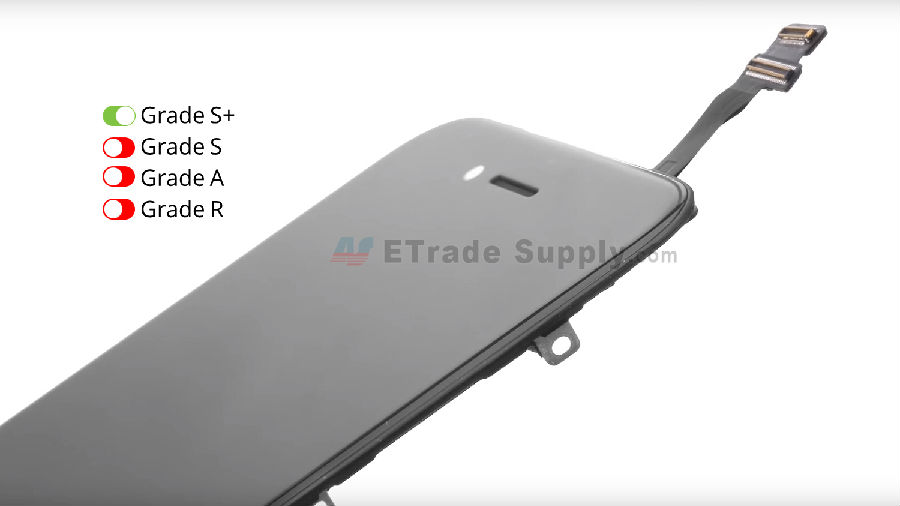 Generally speaking, depending on the materials used, the quality of the parts can be separated into different categories. In ETrade Supply store, we have 4 grades for them in particular.
Grade S+
Grade S+ is the highest quality level in our store, which means the part is 100% OEM manufactured and assembled, brand new. We get this kind of parts from the first level trader. Original totally.
Grade S
Grade S is the second high quality level. The parts marked with Grade S works as well as OEM, but the glass lens is not original, which is the only component replaced, meanwhile the whole part is same as new.
Grade A
Grade A part is also made by original components. In fact, the parts marked as Grade A use all original components such as LCD screen, digitizer touch screen and glass lens. However, the materials are assembled by third party manufacturer while functioning well.
Grade R
Grade R parts, this kind of parts are original compliant. They are aimed to help repair shops or individuals to save more, and they are definitely capable of normal use.
More details, please check our Knowledge Base. Thanks.
Summary
Reviewer
Review Date
Reviewed Item
Author Rating
| | | | | | |
| --- | --- | --- | --- | --- | --- |