The Ups and Downs Of The Apple Watch
BY alina | March 10th, 2015 | 0 | 0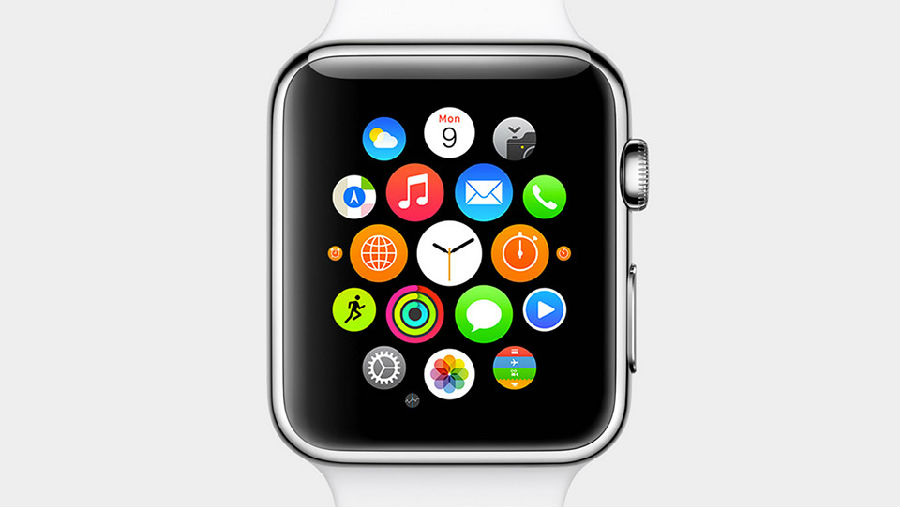 With the completion of Apple's "Spring-Forward" keynote bloggers and enthusiasts alike are scrambling to get all of Apple's announcements out in the wild. We've combed through many sources to bring you (in our opinion) the ups and downs of the Apple Watch.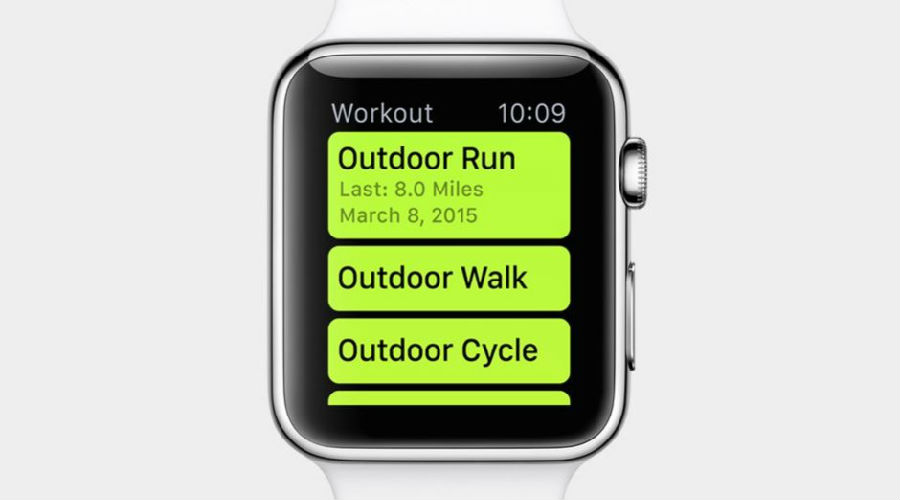 Fitness
Many people buy smart watches with fitness in mind. They hope to be able to leave their phone behind because lets face it, it can be a major inconvenience to carry your phone around while your running (you even risk it falling out of your pockets and breaking). For runners they look for music, GPS, and fitness tracking for the most part. Well the Apple Watch falls short kind of short on those accounts. First off the Apple Watch doesn't have a built in GPS, and since all it's apps are run on the iPhone (for now) and just sent over via Bluetooth or Wi-Fi, you'll still need to carry your phone around while you work out.
That being said the Apple Watch is great at tracking your workout and reminding you to stay fit. The watch not only keeps track of how many steps you've taken each day or how far you ran/biked; it sets up goals for your movements and reminds you to get moving if you've been inactive for to long.
Whether your working out indoors or outdoors you can tell the watch what your doing, and it will track your workout with more detailed measurements depending on the activity. At the beginning of each week it will take those measurements and give you a summary of your progress, plus set new "daily move goals" to help encourage you to work out a bit harder than the previous week.
Probably though the feature that is the most significant is Apple's new ResearchKit platform. This allows you to submit certain data from your workouts to contribute to health research like it has never been before. So even though you may have to carry your phone with you when you run, there is still a lot to love.
Summary
­­ Pros:
· Weekly motivational goals
· Intelligent stat tracking
· Contributions to healthcare research
Cons:
· No GPS
· Have to bring your phone with you while you run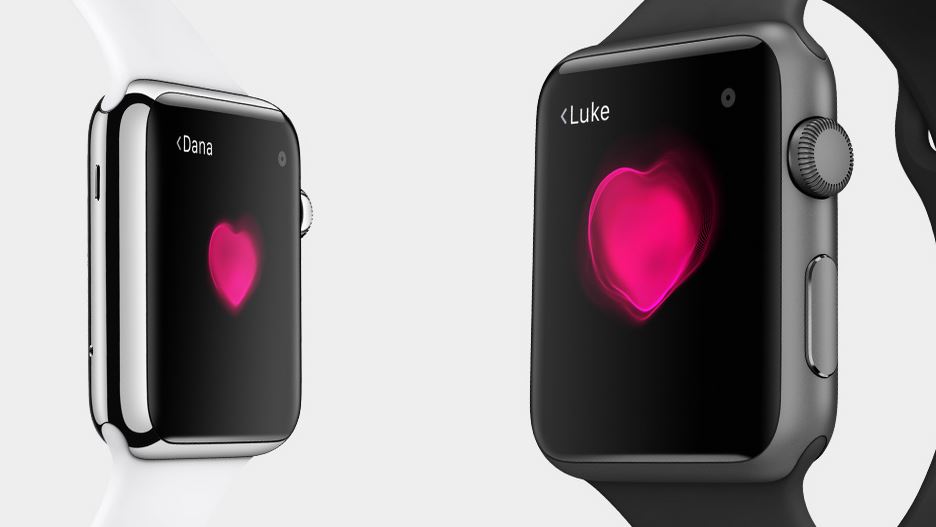 Software Features
Along with all the fitness tracking and health research contributions, the Apple Watch has some other significant features. There are simple features like being able to take calls on the watch itself, which no current Android watch allows for, plus with its Digital Touch features you'll be able to interact with friends and loved ones in unique new ways.
Since the Apple Watch doesn't actually run apps on the watch itself (for now) its ability to stay connected to your phone through Wi-Fi even when out of range of Bluetooth is very significant. This will allow you to still get updates from your phone as well as allow you some control over your phone as well. Apple also included Apple Pay abilities to the watch so that you'll be able to pay for your Starbucks coffee by rubbing your wrist up against their card readers.
Although these software features are well and good the bulk of its usability will come from the apps. Apple has reported that there will be 30 something apps available from launch, and these range from Instagram to Uber with many more on the way.
Summary
­­ Pros:
· Take calls and pay for things
· Stay connect to your phone through Wi-Fi
· Decent lineup of launch apps
Cons:
· Apps currently not run on watch
· It might be awkward to pay for things from your writs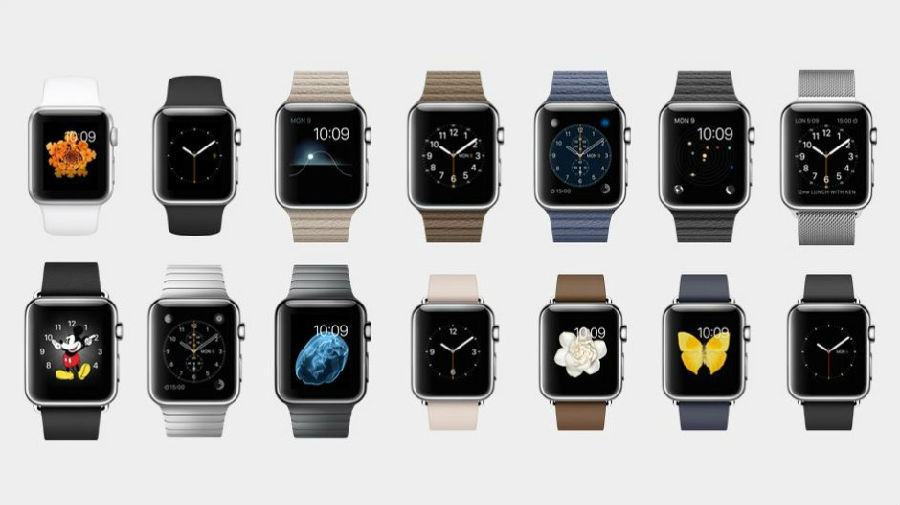 Design
If there is one thing Apple is really great at it is design; whether in black, stainless steel, or 18-karat gold the Apple Watch is a real looker, and with that Retina display with sapphire screen (optional) your guaranteed to have all your fitness stats beautifully displayed to you.
The Apple Watch also supports personalization with its wide range of bands, but they will cost you anywhere from $49 USD upwards to $449 USD which is pretty steep. Besides the bands you can also customize its watch face with many pre-loaded designs and customization options, but there is no word yet users will be able to download or purchase new watch faces.
Summary
­­ Pros:
· Very beautifully designed
· Customizable
Cons:
· Customization can get pricey (band and watch build material)
· No word on downloadable watch faces
Battery Life
During the key note Tim Cook promised that the Apple Watch's battery will last all-day, which others have commented, roughly translates to up to 18 hours of use. That should be more than enough to get most everyone through their day, but they just have to remember to charge their watch along with their phone every night.
This is very similar to many Android Wear devices though. Some people are lucky enough to achieve up to two days on a single change, but that is with low usage.
Summary
Pros:
· Full days use
Cons:
· Have to change the watch every night
Price
Now to the part that most everyone is most anxious to hear, the price. If you're wanting to purchase an Apple Watch expect to pay at minimum USD $349. This gets you an entry-level Apple Watch Sport that has a 38mm face, but if you want to bump that 38mm to a 42mm the price increases to USD $399.
Now here is where things start to increase in price. If you want to get the midrange Apple Watch that is build with stainless steel, which Apple says will be customizable with even more watches, the price jumps up to USD $549 for the 38mm model and for the 42mm expect to pay USD $599 with rubber straps. If you want to upgrade that rubber strap to a stainless steel strap you can expect to fork out another USD $499.
If the aforementioned choices don't tickle your fancy, Apple is releasing an 18-karat gold edition that starts at a measly USD $10,000, but you'll have to act quickly as Apple is only producing a limited number of these watches so pre-order it as soon as possible.