How to Update Your Galaxy Note 2 GT-N7100 to Android 4.2.2 Jelly Bean now? SlimBean Build 4.2 ROM is the choice!
BY ETrade Supply | May 2nd, 2013 | 5 | 1
A ROM development team--SlimROMs has released its new Build 4.2 ROM based on the Android 4.2.2 (Jelly Bean) which will make Galaxy Note 2 GT-N7100 owners enjoy the latest Android version which is not officially out yet. As the successor of it former Build 4 ROM, the Build 4.2 ROM has fixed some annoying bugs and those who have already used the SlimBean Build 4 can update their devices to Build 4.2.2 without deleting the data for avoiding boot loop issues or other related errors.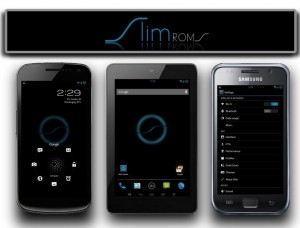 Please Note: Though this custom released ROM is still under development, and is expected to have some bugs as expected. However,, all these issues will be fixed in the forthcoming updated version, according to SlimROMs.  
Here are the Key Features of the new Android Jelly Bean 4.2.2 SlimBean Build 4.2 ROM Add SlimPIE Add Custom Shortcut Tile Add SlimIRC Add Sound Recorder [deleted speech recorder] Add Camera sound toggle Add Auto-Hide Statusbar More Camera resolutions New Blacklist functionality Add ability to dismiss voicemail notifications Polish and cleanup SlimCenter Enhance NFC from upstream AOSP Add complete IBSS Support in base   SlimBean Build 4.2 ROM - Feature Enhancements  
Update to JDQ39E Added Music Playback Control Tile Added Developer option for MediaScanner Behavior Control on Boot Added TextArea size to Mms Enhanced Auto-Brightness UI Updated PlayStore to v4.0.26   SlimBean Build 4.2 ROM - Bug-Fixes   Fixed Translation issues [Spanish/Italian/Polish/Chinese/French] Fixed SlimSizer FC Fixed BlackList button behavior Fixed NavBar menu hidden on softkey devices Fixed SlimIRC bugs Fixed DashClock extension icons hidden when minimized Fixed PIN entry disabled by some apps.  
Pre-Requisites  
The SlimBean Build 4.2 ROM and the instructions provided in this guide are applicable to the Galaxy Note 2 GTN7100 model only, and will not work on any other device. Please verify the device's model number by navigating to Settings > About Phone. Back up all your important data and settings on the phone including contacts, SMS, APN and other internet settings to avoid data loss, particularly if you need to perform any data wiping task during or after installation process. Make sure the phone has at least 80% battery charge to prevent unexpected device shutdown (due to battery drain) during firmware installation or plug in charger to your device. Verify the correct USB drivers are installed for the phone on computer (download Galaxy  Note II  GT-N 7100 USB drivers) Enable USB Debugging mode on the phone by navigating to Settings > Developer Options (if the device is running Android 4.0 or later) or go to Settings > Applications > Development (if phone is running Android 2.3 or earlier).
If the device is running Android 4.2, then perform the following steps:   Go to Settings > About Phone Scroll down to the bottom of the screen and select Build Number Tap the Build Number seven times to unlock or reveal the hidden Developer Options under Settings. Now, select the checkbox to enable USB Debugging mode under Settings > Developer Options.  
Ensure that the device is factory unlocked (not locked to a specific carrier) and rooted with CWM recovery installed on it. Download and install Root Checker app from the Google Play Store to verify if the device is actually rooted or not. If the device is stuck at booting or experiences boot loop issues, then perform Wipe Cache Partition and Wipe Dalvik Cache a few more times before rebooting. Allow the newly installed ROM to stabilize for at least five minutes before working on it. If Status 7 error comes up while flashing the ROM, it could be due to the incompatible device being flashed or a related kernel is missing (for instance, installation of Jelly Bean ROM requires a Jelly Bean kernel to be installed first).  
How to Install Android 4.2.2 Jelly Bean on Galaxy Note 2 N7100 via SlimBean Build 4.2 ROM  
1.    Download SlimBean Build 4.2 ROM and Google Apps for Galaxy Note 2 N7100 on computer.  
2.    Connect the phone to computer with USB cable and make sure the phone's USB mass storage is mounted.  
3.    Without extracting, copy the downloaded ROM and Google Apps zip files to the root folder on the phone's SD card.  
4.    Once the file transfer process is complete, disconnect the USB cable and then turn off the phone.  
5.    Boot the device into Recovery Mode by pressing and holding Volume Up, Volume Down and Power button together until the screen flashes and then release all three buttons. NOTE: Use Volume keys to navigate between options and the Power button to select an option in Recovery.  
6.    Take a Nandroid Backup of the phone's existing ROM, so that it can be restored later if the new ROM fails to work or you want to return to the previous ROM. To do a backup, choose Backup and Restore, and then hit Backup on next screen. Return to main Recovery menu once backup is complete.   7.    Perform a full data wipe by clicking Wipe Data/Factory Reset and then choose Yes to confirm. Wait for a few minutes until the data wipe process completes and then return to the CWM Recovery main menu.  
8.    Choose Wipe Cache Partition and wait until the wiping process completes. Then click Wipe Dalvik Cache under advanced option. Once Dalvik Cache wiping is complete, proceed to the next step.  
9.    Click Install Zip from SD card and then select Choose Zip from SD card. Now, locate the SlimBean Build 4.2 ROM zip file that you copied earlier to your phone's SD card in Step 3 and choose it by tapping the Power button. Confirm the ROM installation on the next screen and the installation process will begin.  
10.  After the ROM installation is done, repeat Step 9 but choose SlimBean Gapps zip instead of ROM zip file to install the Google Apps package as well.  
Once both the ROM and Google Apps zip files are installed, return to the main recovery menu and hit Reboot System Now. The phone will now reboot itself into the newly installed ROM. The first boot usually takes about five minutes (maximum up to 15 minutes) to complete. So, please be patient.  

Restoring Previous ROM: To restore your previous ROM, boot the device into Recovery, choose Backup and Restore and then restore your previous ROM by choosing it from the list.  
Your Galaxy Note 2 N7100 is now running on the latest Android 4.2.2 Jelly Bean based SlimBean Build 4.2 ROM. Go to Settings > About Phone to verify the firmware version installed.