To travel with a lot of charger? No, one is enough!
BY ETrade Supply | April 27th, 2021 | 0 | 0
This product is our company's latest product, the product name is six-in-one mufti-function wireless charger, it is a great product with a very popular design. It is suitable for iPhone series, Android series, Type-C series, such as Apple Watch, AirPods, AirPods Pro, iPhone, OnePlus mobile phones, Samsung mobile phones, Huawei mobile phones and so on.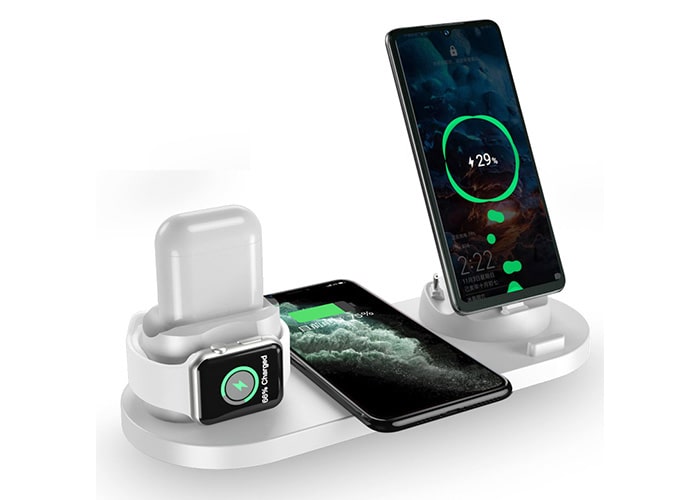 1. Next, let us introduce several interfaces of this product in detail!
1.1 This part is two USB-A ports. When you have a lot of equipment, you can use this plug to connect your equipment. You can connect to a tablet, mobile phone or other equipment. The application is wider, the current is faster and more stable.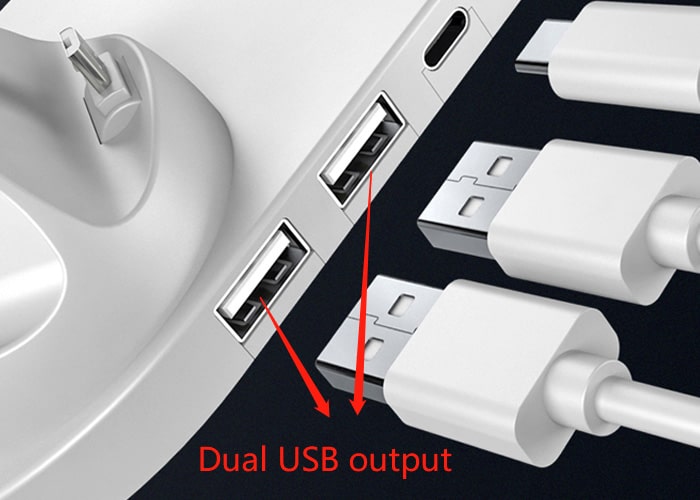 1.2 This is a Type-C port, you can supply power to the product through this port.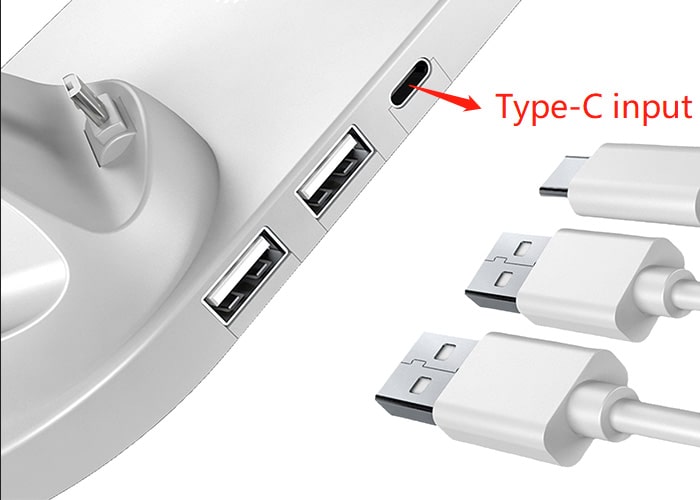 1.3 This is a rotatable charger that can charge Apple, Micro 5PIN, and Type-C charging port phones separately, but it should be noted that you can only charge one phone at the same time!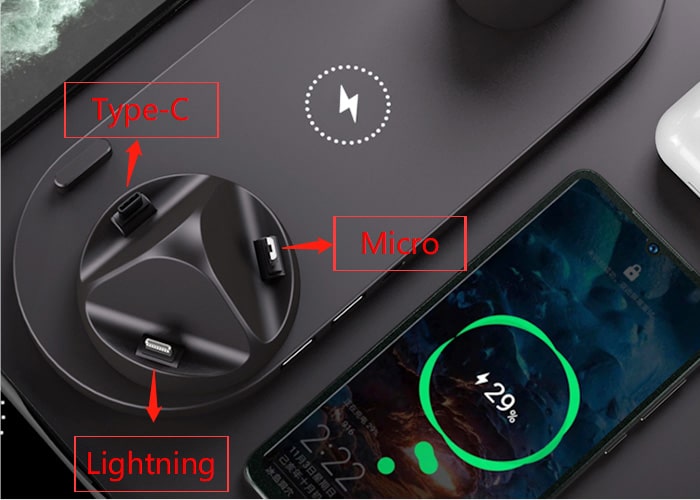 1.4 This is a Bluetooth headset charger, you can put a Bluetooth headset on it to charge it, and at the same time you can put a Bluetooth headset in to charge together. Is it a great product?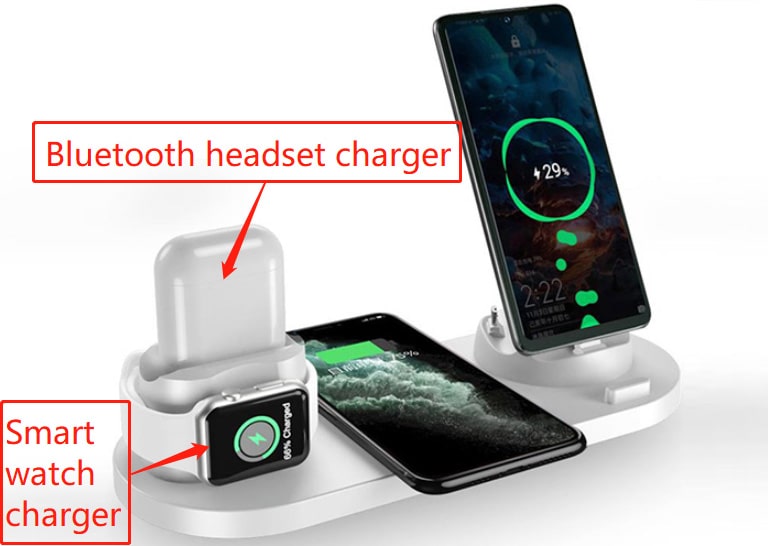 1.5 The rest of this place is a Oi standard wireless charger with 5W/7.5W/10W charging mode, which can be compatible with Android and iOS mobile phones. When you put down the phone, it will respond within 0.1 seconds, and the charging will start automatically when you put it down. It supports 10W fast charging, charging faster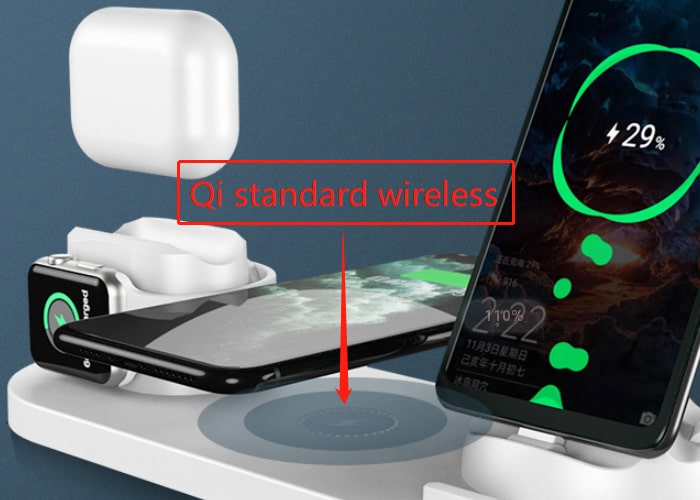 ​ 2. Well, after introducing the interface, the specific usage method of this product is introduced below.
2.1 Connect the device to DC 5V output USB charger by it's USB cable
2.1.1 If connect the device to reatlar DC 5V USB charger,the wireless charging mode of the device is 5W regular charge
2.1.2 lf connect it to QC 3.0 Quick charger, the wireless charging mode of the device is 10W fast charge.
2.2 Dafter connecting to the power supply,you could choose dock plug charge or wireless charge
2.2.1 Dock Plug Charge: Plug and charge optional plugs for iPhone,Android micro or type-C mobile phone, compatible for more than 99% of smart phones.Dock plug charging do not support quick charge;
2.2.2 Wireless Charge: If your mobile phone built in wireless charge function,you could put it on the device and charge directly; if your mobile phone do not built in wireless charge function, you need to connect your phone to a receiving coil and then charge.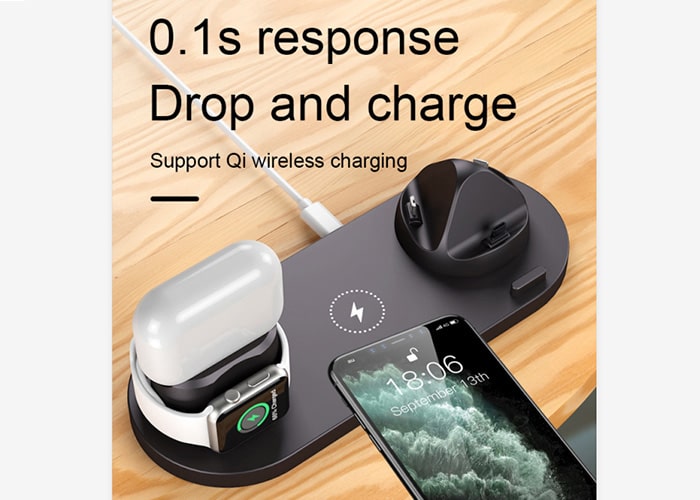 2.3 Bluetooth earphone Charger Dock: Directly plug in your apple Bluetooth headset is OK.
2.4 Smart watch charging stand: it can charging for smart watch, when you mount watch charger cable.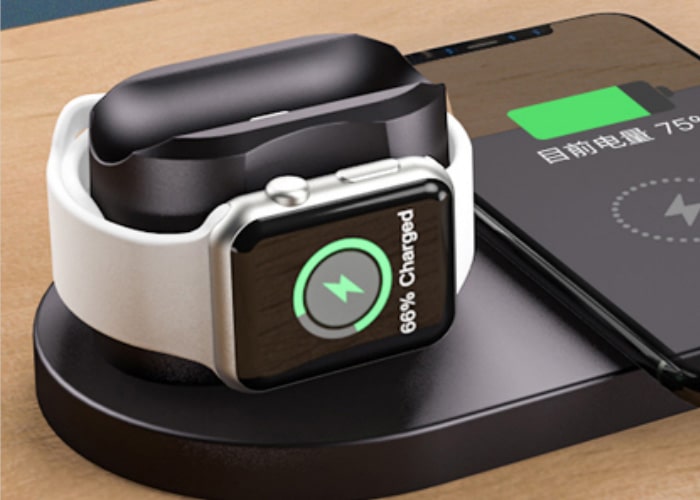 3. Is this product very suitable for you to use when you travel? Our products have the following characteristics, so that you can use them with peace of mind:
3.1 Prevent over-temperature, intelligent device matching, prevent over-current, prevent short circuit, prevent over-voltage, guard against over-power, prevent anti-reverse, prevent electromagnetic field, prevent foreign matter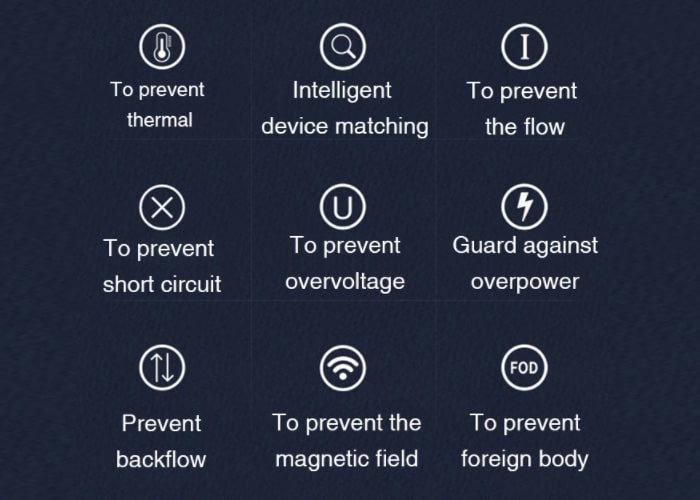 3.2 Support dual mobile phone charging, equipped with Qi wireless charging technology, 0.1 second response, automatically start charging when put down, support 10W fast charging, faster charging
3.3 No radiation, low temperature charging is not hot: intelligent temperature control, charging does not damage the machine, the whole process is low temperature.
3.4 Match a variety of products, convenient and fast, without mutual influence: Apple interface, Type-C interface, Micro interface,Suitable for 99% of electronic equipment.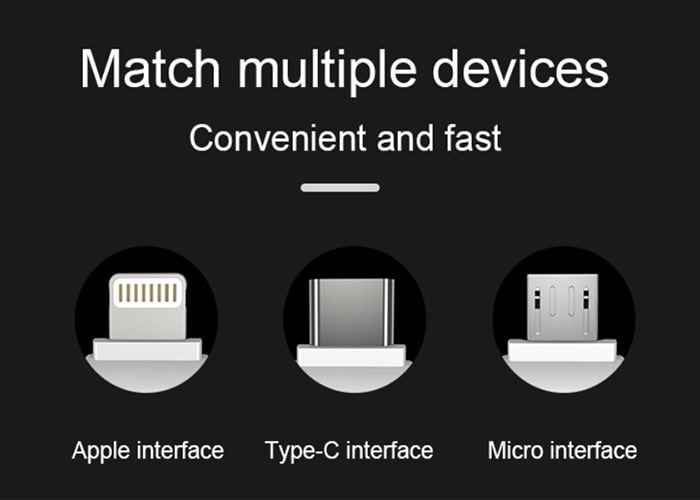 4. Below are the parameters of this product
We also applied for a design patent certificate and a utility patent certificate for this product
By the way, this product has three colors: white, black and pink. Which color do you like?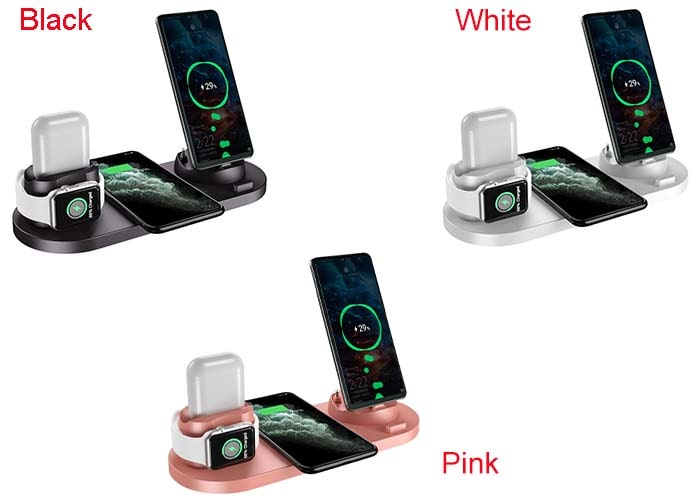 Guys, after the introduction, Is this product very suitable for you ? If you are interested in our six-in-one multi-function wireless charger, You can place an order directly in our shop, or contact us! Hope this article is helpful to you!
​
Hi guys, do you have such troubles: Every time you go on a trip or business trip, you need to bring a lot of chargers? For example, Apple mobile phone chargers, Apple watch chargers, AirPods chargers, iPad chargers, etc... If you have such troubles, today I will introduce to you a new product of our company that can help you solve this problem. You only bring one charger when you go out, and all devices are fully charged!