90% Of People Don't Know These Cellphone Battery Information
BY Davi | August 19th, 2015 | 4 | 6
Basics about cell phone batteries
Lithium batteries are widely used in portable consumer electronic devices. Most cellphone batteries are lithium batteries, which have a high energy density, small memory effect and only a slow loss of charge when not in use. Lithium ions move from the negative electrode to the positive electrode during discharge and back when charging.
Generally speaking, Li-on batteries consist of a protective circuit board, battery cell, Al-plastic film wrapping outside and other films inside.
You can see a disassembled iPhone 4S's Lithium polymer battery and iPhone 5S's battery below: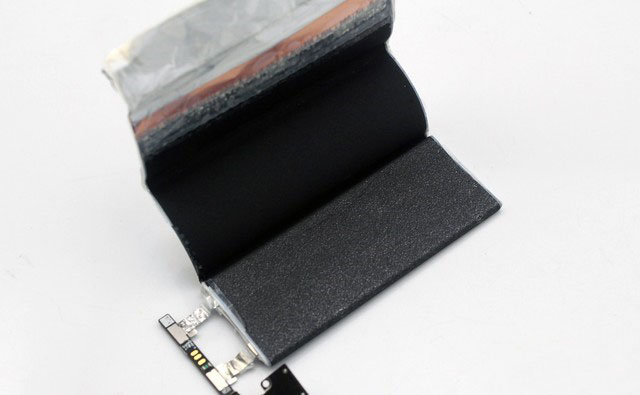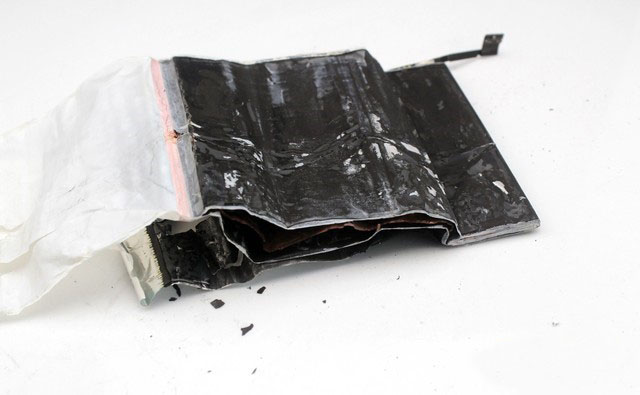 As far as we know, before each generation of iPhone is released, Apple will choose at least 4 battery suppliers including Chinese, Korean and Japanese suppliers to produce batteries for their new device. Different suppliers will provide batteries to meet Apple's demand, even though the batteries may be different in some ways, for example, the iPhone 4S' battery in the picture above is a Lithium polymer battery while the iPhone 5S' battery is a Lithium-ion battery. Even though the batteries are different in some places, they are both strictly tested and passed to be considered reliable for daily use.
‍How We Test Our Cellphone Batteries
‍
To make sure our batteries are safe before the sale, there are many steps that need to be tested for a good quality battery, such as a visual inspection, functionality test, and reliability test.
1. Visual Inspection:
a) Check whether the battery is swollen or not.
b) Check whether the battery is worn or has scratches on it and if the logo has disappeared or not.
c) Check if the connectors have signs of corrosion and if there is evidence of effusion.
d) Check if the contacts on the connector and board are shining and no residues are present. Meanwhile, check if the contacts are soldered properly on the connector or on the protective circuit board.
2. Functionality test:
a) Check if the battery's internal resistance is under 150mΩ
b) Check if the battery voltage is above 3.8V
c) Check if battery overcurrent is consistently between 2A and 6A for 2G and 3G phones, but for 4G phones, the battery overcurrent will surpass 5.5A.
d) Check battery capacity: after charging the battery with a constant current and constant voltage, then allow it to rest for 10 minutes and discharge the battery with a constant current and constant voltage discharge until the protective circuit cuts it off. Usually, the discharge time should be longer than 5 hours under 0.2C current or it should be longer than 51 minutes under 1C.
*C means Capacity, if a battery has 3000mhA capacity, then the current 0.2C should be 6A. i.e., the discharge time should be longer than 5 hours with 6A current.
3. Reliability test:
a) Overcharge protection test: after being fully charged a power source is used with a 7.4V and 2C output current to charge the battery for 8 hours consistently. The protective circuit should cut off the battery, and the battery shouldn't deform or catch on fire, otherwise, the battery will be denied.
b) Short-Circuit protection test: after a full charge, a 1.5mm wire, its resistance is under 50mΩ, is used to connect the positive electrode and negative electrode for an hour. If the battery doesn't get damaged or burst and still functions well, then it passes.
c) Over-discharge protection test: when a battery is discharged over a long period of time its internal voltage should stay under 2.75V to protect the battery from damage. If the voltage surpasses 2.75V the protective circuit should cut power to protect the battery.
d) High temperature and low-temperature test: A fully-charged battery is heated at high temperatures around 70℃ for 24 hours, then checked to see if the battery will be ok after 2 hours at room temperature. The battery is also tested to see if it will be ok after sitting at -40℃ temperatures for 24 hours, and then checked again after sitting for 2 hours at room temperature.
But in the mobile repair industry, we don't need to do as many tests to check a battery's condition as the manufacturer's factory; in fact, they've passed the tests already so that they are ready to be sold in the market. What we want to know when we find a battery replacement is whether this battery still functions well, how good it is and how many charge life cycles it still has. So actually we test the output current, internal resistance, internal voltage, protective discharge voltage and lifecycle times, and the most importantly: the battery's capacity. At ETradeSupply we usually test the batteries in these fashions to see if the battery replacements can be used or not. Take a look at the iPhone 4S, 5, 5S and 6 battery test indexes below to show you how we pass a good quality battery.

As we show you what's our standard or battery test, now check our battery test video how we do it:
Battery cycle count and capacity are all available by software test. You can try on your own computer.
First, download two programs: iTunes 8.0 or later and iBuckupBot.
Second, allow your computer access to your iPhone.
Third, Try to click the "more information" to know the test result.
Market Info about Cellphone Batteries
1. Battery Replacement Source Analysis
Usually, new phones in the market will stop production within one to two years, the same with their parts. With updated iterations coming out faster and faster, we believe that the interval time will become shorter and shorter. The phone's battery is the same, after one to two years, the original mobile phone batteries in the market are hard to find. The market's supplies are basically recycled, refurbished, disassemble or high-copy batteries. Take the iPhone 5 battery as an example, the iPhone 5 rolled out in September of 2012, as far as we know in the market the iPhone 5's battery replacements are basically disassembled, refurbished or recycled. Factories use parts of the original material, such as the protective circuit board or battery cell, plus the rest of the material to produce so-called "original iPhone 5 batteries". Quality for these kinds of products is very unstable. For example, a battery that has the original battery cell but the protection board is a high copy part, it can' bet guaranteed that the battery will be cut off by the protective circuit if it goes into an overcharge state, which could cause the battery to overheat or even explode.
ETradeSupply's battery supply is derived from many different places, including OEM manufacturers, 3rd party factories and the Huaqiangbei market. We provide batteries at different quality levels to meet customers' demands, as we have listed each battery's quality in the title such as "A-grade" which means OEM or original parts, or "R-grade" which means the battery is from 3rd party factories but works well.
Currently, our monthly battery orders have been over 10K, which has reached the customized MOQ (minimum order quantity) of 3rd party factories. So we can make sure that each battery from ETradeSupply is produced to the quality that our customers have come to expect.
In the battery replacement market, fairly new cellphones like the iPhone 6/6 plus, the OEM batteries are still available, but the previous generation of devices such as the iPhone 5S / 5C models, we can assert that the original battery is not being produced. So-called OEM iPhone 5/5S/5C batteries' supplies are disassembled from crushed iPhones or recycled batteries. In these refurbished batteries, the battery cell and protection board might be made with original materials, but the aluminum foil layer, the outer label, cable, and connector must be high copy parts.
As for iPhone models that have been discontinued such as the iPhone 5 / 4S / 4, since these types of original batteries/protection board materials are very rare at the moment, so the so-called original iPhone 5/ 4S/ 4 batteries, in fact, are all fake batteries, they have looked pretty legit though.
Overall, in the cell phone repair industry, Apple's original batteries in the market now, iPhone6 / 6 Plus original batteries are still available, or only some small parts of the original battery have been replaced. The supplies of original batteries for the iPhone 5S / 5C are likely to be original batteries with only small parts having been replaced or just high copied products. There is no supply of original batteries for the iPhone 4S / 4, all of the iPhone 4S/4 batteries available are fake OEM parts.
2. Tips for Telling OEM Batteries from Fake Ones
a) For genuine mobile phone batteries, appearances should be neat, no extra burs; the outer surface may have some roughness but still feel comfortable to the touch. Look at the plastic surface and plastic materials, genuine batteries surface wear uniformly.
b) Try to bend the battery with a little force but not too much. 3rd party factories won't use high-quality battery cells for material, so the battery is softer than OEM ones. You can feel the difference when you compare replacement batteries and your own original battery.
c) As some fake parts are so high copied that you can't figure them out just by your eyes. An easy way to identify genuine parts from the fakes is to test the indexes shown in the chart above. In the quality tests, the most important and the most difficult test is the battery capacity test.
Tips for using and storing the battery
Because of the particularity of battery materials, lithium batteries have performed differently at different temperatures, at higher temperatures the battery's self-discharge rate will accelerate, the battery's capacity will decrease and is difficult to recover, after testing, the best storage temperature for batteries is 25 degrees Celsius.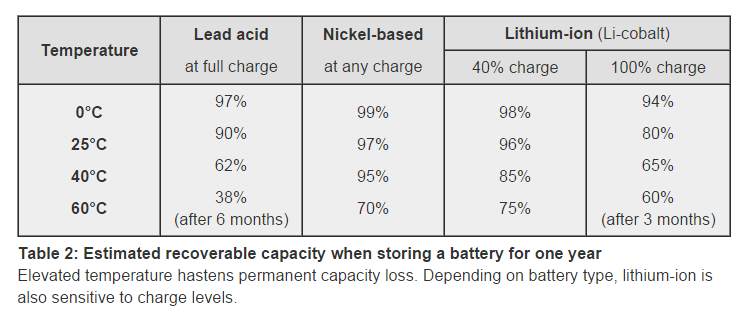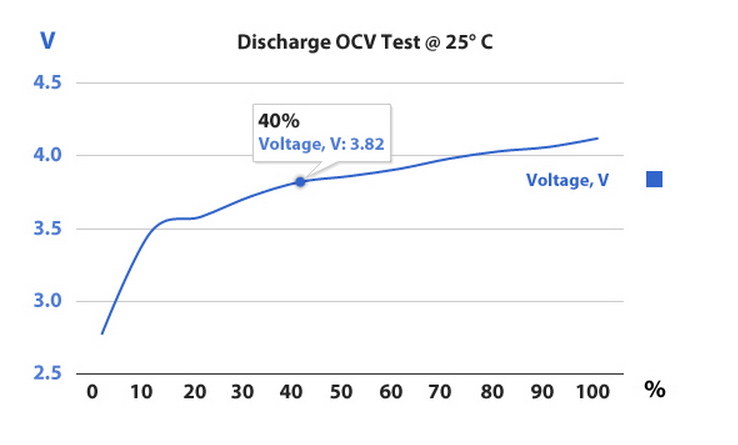 In the case of deep discharge and a higher frequency of full charges, battery charge cycles will be greatly reduced.

All batteries will self-discharge during storage, we need to pay attention to the conditions of the battery to ensure that the battery can still be used after being stored, and will not have lower a voltage value than that of the circuit board. After some tests, we found that typically the voltage will remain above 3.6V, but if the voltage is below 3.6V the circuit board will execute sleep mode, and the battery will not be used unless more steps are taken to further reactivate the battery.
Having some knowledge in the general use and storage of batteries will help ensure that your batteries stay healthy and last longer.
1. Tips for using your battery:
a) A device should be turned off while charging. This allows the battery to reach the threshold voltage unhindered and reach a low saturation current when full. A parasitic load confuses the charger.
b) Charge at a moderate temperature. Do not charge below freezing.
c) Lithium-ion does not need to be fully charged; a partial charge is better.
d) Depending on the charger, the battery may not always be fully charged when the "ready" indication appears. Not all apply a topping charge and the runtime will be slightly less.
e) Discontinue using the charger and/or battery if the battery gets excessively warm.
f) Lithium-ion must be stored in a charged state, ideally 40 percent. This prevents the battery from dropping below 2.50V/cell, at which point the protection circuit could trigger sleep mode. Discard Li-ion if the voltage has stayed below 2.00/V/cell for more than a week.
2. Tips for storing battery:
a) Apply some charge to an empty battery before storage (40 percent Saturation of Charge is ideal.
b) Keep batteries in original packaging when possible.
c) Do not store new and used batteries together.
d) If a battery feels warm, it should be discarded.
e) Ideally, batteries should be stored in a cool, dry place.
f) Never store batteries at temperatures over 130 degrees F.
g) Remove batteries from equipment if it is not going to be used for 30 days or more.
3. If a shipment in the US contains more than 24 lithium cells or 12 lithium-ion packs, special markings and appropriate shipping documents are required, such as MSDS document.
‍
Common issues with cellphone batteries and how to fix them‍
1. No charge
a) If the contacts on the connector or parts connecting to the battery on the protective circuit board are oxidized, the battery can't be charged. So you'd better use fine grit sandpaper to remove any oxidant on the surface.
b) If the battery gets crushed or squeezed, the contacts may get disconnected or come loose. You may need to re-solder the contacts to fix it.
c) If the voltage is too low to charge the battery, it may be a result of the battery entering sleep mode; which is a common reason for this issue. If so, you'll need some professional equipment such as Cadex battery analyzer to activate it, but it will be very successful if the voltage has dropped as low as 1.5V.
d) If the lithium core has been damaged or aged, the internal resistance becomes higher and higher, preventing you from charging the battery. If so, you need to buy a new battery.
2. Battery drains quickly
a) If your battery drains quickly, you need to check if the stated capacity is real or not. The battery may give a false full charge result. Usually, this is the result of using or not using the original charger or charging the battery through a computer USB port. You can try to calibrate your battery first to see if it this really is the case. For battery details, you can click here to learn more about how to calibrate your battery.
b) Another cause may result in this issue is that your battery gets aged and internal resistance becomes higher and higher. If the battery material is not good, this situation may make sense.
3. Battery gets warm
If the battery gets warm and is too hot to be held in your hand, you'd better replace the battery.
4. Battery expands (swells)
If the battery expands or swells, you'd better replace stop using it and get a new battery.
5. Battery short lifetime
Decreased battery charge is usually the result of it having been deeply discharged too many times. This causes the overall battery capacity to decrease. Moreover, if the battery was charged with a higher voltage than the original charger puts out, evidence shows, the battery will wear out quickly and its lifetime becomes shorter than it should be. Generally speaking, 4.2V is the best voltage to charge your battery.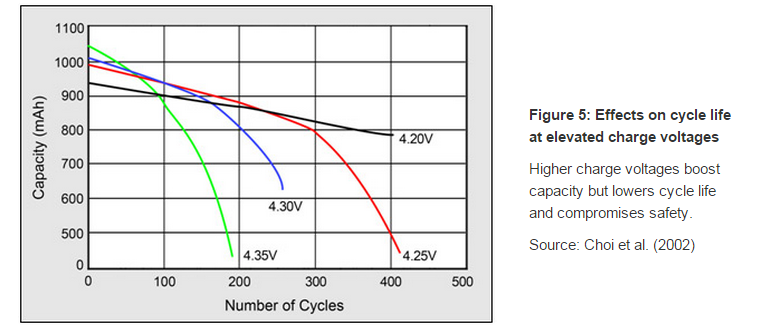 Pictures' source: BatteryUniversity
Summary
Reviewer
Review Date
Reviewed Item
Author Rating
| | | | | | |
| --- | --- | --- | --- | --- | --- |