How to Fix LG Nexus 5 Wi-Fi Problems
BY yuki | March 7th, 2014 | 28 | 1
Many Google Nexus 5 users report to forums that they experience the Nexus 5 Wi-Fi connection problems. They give a feedback that other cellphones can connect to the same Wifi network successfully, while their Nexus 5 fails. They are also bothered by the failed wireless connections when they reach a new place after they leave a Wi-Fi network, even though the place has already been known to the system. Some said their Nexus 5 can connect to the Wifi network, but there is no data transfer on the device. When you face the Nexus 5 Wifi issues, what can you do to fix the Wifi problems? Actually, Wifi connection problems are common issues on many devices. Here we collect some helpful solutions posted on technology forums for you.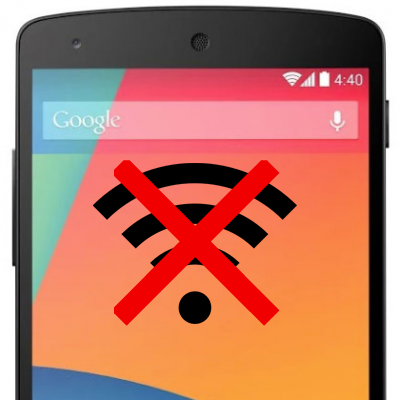 Solutions to Fix Nexus 5 WiFi Connection Problems:
Troubleshooting 1:
Some LG Nexus 5 owners suggest go to Airplane mode, switch it off and then turn it on back again. You would find the Wi-Fi connection works automatically.
Troubleshooting 2:
On your Google Nexus 5, go to Settings > Wireless and Networks > Wifi > Select Your Network Name > Tap Forget. After several minutes, you can reconnect the network and enter the password that may be needed and then check if the Wifi network connection is available for your LG Nexus 5.
Troubleshooting 3:
Sometimes, the Wi-Fi failure is caused by the Wi-Fi router, so you can double-check if the Wifi router is up-to-date following the manual instruction if you can access to the router.
Troubleshooting 4:
If you find the WiFi problems may be caused by the router, you can try to unplug its power and wait about 10 seconds. After that, plug it back in again. And reestablish the router to renew the connection 20 seconds later.
Troubleshooting 5:
If you are unable to have the Wifi router set up securely, you also can turn to the Wi-Fi router's manufacturer for professional guides to update the WiFi router's firmware.
Troubleshooting 6:
You must be aware that if you need the public wifi service, you need to access the required terms and conditions on a specific page before you can fully access the web. In hence, you may encounter the Wifi issue that the Wi-Fi connection is active on your Notification bar, while you are unable to access any webs. To solve this public wifi issue on Nexus 5, you can open the browser in your device and enter any URL which will lead you to a welcome page instead. You can follow the hints and accept the terms and conditions to freely enjoy the Wifi network.
Note: You may have to go through the same Google Nexus 5 Wi-Fi connection process to reconnection the WiFi network if you turn off the WiFi in public places.
Troubleshooting 7:
Sometimes, the Auto frequency settings may cause Wi-Fi problems if you use a dual-band router, such as 2.4GHz and 5GHz. When you face the Nexus 5 WiFi trouble, you can try to set your device to use only the 2.4GHz band by going to Setting > Wireless and Network > WiFi > Tap the Menu button again > Select Advanced/Wi-Fi Frequency Band > Tap 2.4 GHz only.
Troubleshooting 8:
Choosing the option "Avoid Poor Connections" on your LG Nexus 5 will prevent your device from connecting to a weak Wifi network that could be used. To avoid the Nexus 5 Wi-Fi connecting troubles, you can let your Nexus 5 try possible available WiFi networks by going to Settings > Wireless and Network > Wi-Fi > tap the Menu button > select Advanced Wi-Fi > Uncheck Avoid Poor Connections.
If all the above-mentioned Nexus 5 WiFi connecting solutions are not workable for your handset, you can call LG customer support to ask for help. If you have met other Nexus 5 Wifi problems and don't know how to solve it, please let us know in the following comments.