Solutions to Nokia Lumia 928 Problems
BY Junior | August 28th, 2013 | 13 | 1
People know that the Nokia Lumia 928 is a great windows phone with many new features. But it's still not perfect and millions of users have reported different kinds of problems they faced in the past months. ETrade Supply conducted lots of researches on those problems and now here we are publishing this article presenting some Lumia 928 problems and issues followed with related solutions.
How to solve the Lumia 928's orange tint problem: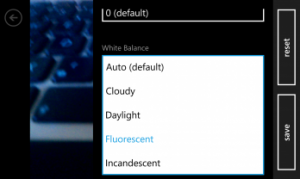 Previously numerous people complained that the xenon flash made the photo too orange. Thanks to Mobilefanatics.com, they share a better solution: simply change the white balance of the camera to fluorescent, then the color temperature can be reduced back to a more normal hue.  
Fix Lumia 928 screen freezes problem
Some users told us that the Lumia 928's screen won't respond to screen control but will respond to the buttons consisting of the camera button and the screen displays normally and even shoots a photo. Regarding this Lumia 928 freezes problem, one user provided us with the following solutions:
1. Plug into power/qi and hold your finger on the windows button while holding down the power button to reboot.  This was much better than just rebooting without power/ and holding button.
2. Remove sim, then reboot.  ALMOST always will reboot with screen working. Then insert SIM and reboot again, this always works if the first reboot without the sim works.  
How to save Lumia 928 texting problem
Many people reported that the Lumia 928 have the texting problem. They can use the phone to make or answer a call, send picture, messages, and even texts, but they can't make a success of receiving texts. If you are facing this problem you can try this solution: hold the middle button on the phone until the shut-down dialog opens, use that to power down and restart your phone about a minute later. ****  
How to do a reset for Lumia 928
To soft reset, your phone is a good method to solve any issues your Lumia 928 may have, because it is just like restarting your computer.  It will delete all of your private data from the phone if you do the hard reset. The following is the method that how to do both soft reset and hard reset for your Lumia 928.
Soft reset:
1. Press down the Volume Down + Power button
2. Hold until your device vibrates (takes around 15 seconds)
Hard reset:
1. Go to Settings > About
2. Select reset your phone
3. Wait (this can take up to an hour!)
4. Your phone is as good as new