Samsung Pushes Forward The 360 Degree Speaker To CES 2015
BY May | December 31st, 2014 | 0 | 0
Just hours ago, Samsung introduced 2 new audio products a week ahead of CES 2015, which are currently named WAM7500 and WAM6500. These two super "goose eggs' remind me of the purchasable with invitation-only Amazon Echo released last month. However, the two speakers we are looking at today are different.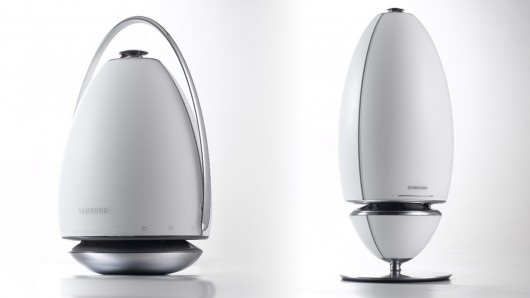 Though ring loudspeakers are common in the market, Samsung's speakers still impressed us at first glance. The WAM6500 speaker is designed to be portable with an integrated battery and shaped like a kettle, while the WAM7500 looks more like a super egg, designed with a flat base to sit on a desk.
The significant difference is that these two loudspeakers can pump out sounds to fill multiple-rooms from a single source with its 360-degree design, and with the "Ring Radiator" technology, whether it's a low pitch or high pitch, sounds can be balanced so as to make them more natural when hearing them.
Even though the prices are still a mystery, we can predict that they won't be cheap at all as these products are aimed at a "premium" level.
Apart from the 360-degree audio speakers, Samsung will also bring several new Curved Soundbars to compliment the various sizes the new curved TVs they are going to show at CES 2015. Any more surprises from Samsung, let's stay tuned.