Nexus 5 vs. Nexus 4: What's the Difference?
BY alina | November 2nd, 2013 | 0 | 1
Google announced and released the Nexus 5 on the same day, October 31th, 2013. Last year, the Nexus 4 has become a hot selling since it was released. So does the Nexus 5, because the Nexus 5 16 GB version was sold out only after several hours it was available on the Google Play Store. Now let's compare the N4 with the N5 to probe into why the latter is a worthy successor.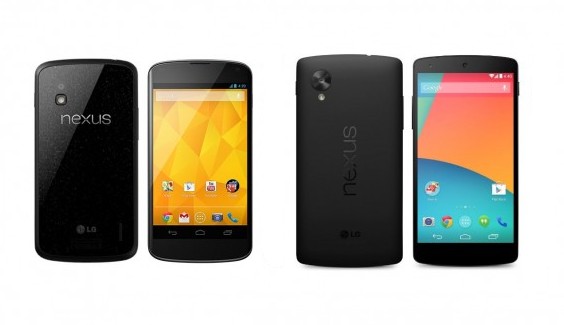 Design
The Nexus 4 is impressed by its back cover with glass layer, while the Nexus 5 features a matt plastic back cover. Therefore, the Nexus 4 back cover is easier to crack, which may be the reason why the Nexus 5 back is designed with plastic. The dimension of the Nexus 5 is 137.84 x 69.17 x 8.59mm and the weight is 130g, which is 0.5mm thinner and 9g lighter than the Nexus 4.
Display
The Nexus 5 is upgraded from a 4.7'' full HD IPS display of 768 x 1280 pixels to a 4.95'' full HD IPS display of 1920 x 1080 pixels.  The display is protected by Corning Gorilla Glass 3, which is much more scratch resistant than the Corning Gorilla Glass 2 on the Nexus 4. The pixel density of the Nexus 5 display is increased to 445ppi instead of 320ppi.
CPU and RAM
The Nexus 5 carries quad-core Snapdragon 800 running at 2.3GHz, which is faster than the quad-core Snapdragon S4 Pro running at 1.5GHz on the Nexus 4.  Both handsets are equipped with 2GB of RAM.
Camera
Both Nexus 5 and Nexus 4 have an 8MP primary camera and 1.3MP secondary camera. But the improvement on the Nexus 5 camera is the feature of Optical Image Stabilization (OIS), which ensures the images can be captured with less blurry in low-light circumstance.
Battery
The battery capacity of the Nexus 5 is 2,300mAh increased from the 2,100mAh battery on the Nexus 4. The N5 2,300mAh battery supports the talk time up to 17 hours, standby time up to 300 hours, and Internet time up to 8.5 hours on Wi-Fi and up to 7 hours on LTE.