What's new? The new iOS 7
BY ETrade Supply | June 11th, 2013 | 1 | 1
Steve Jobs didn't invent the computer, but he succeeded in innovating it when he created the iMac, the more simple better looking option to the PC. Steve Jobs didn't invent the Smartphone either but he will always be remembered as the person who revolutionized it so it could make our lives easier with his new Apple interface, the iOS. Innovation, Utility, Beauty and Simplicity, those are the words that come to mind when we think of Steve Jobs and Apple. Now that Steven Jobs is gone, will Apple still be able to make the same kind of innovative operating systems for its phone's as it used to? Let's take a look at some of the details coming in Apple's new iOS shown at the WWDC 2013 Keynote.
iOS 7's Control and Notification Center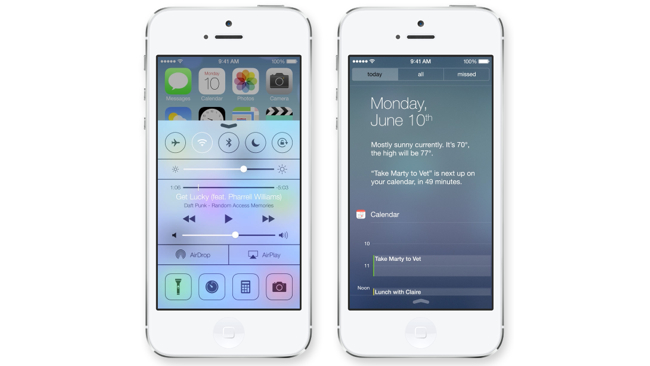 Available on Android for a long time, Apple finally made an easily accessible control center. By swiping up on the screen you can now get quick and easy access to controls and apps such as Airplane mode, Wi-Fi, Bluetooth, brightness, music controls, flashlight, camera, calculator, and more. This new feature will give users much more efficient use of their phones.
Another improvement is the Notification center. Notification appear as usual, over a dark translucent background, and at the top they added three tabs, Today, All and Missed. In today you can see your schedule and weather information and Missed will show you missed calls and texts.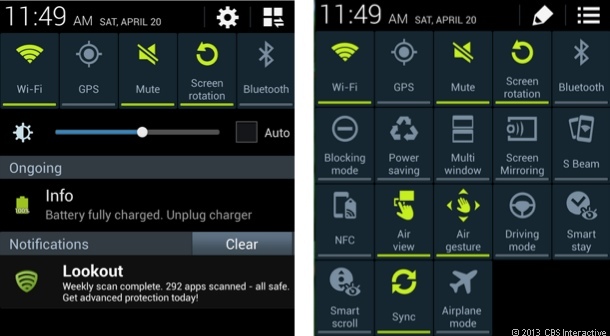 So now that Apple has finally added a Control Center how does it compare with that of Android 4.2.2? Well for one with Android, the options are interchangeable, you can drag and drop the icons for apps or options anywhere on the drop-down menu and change them to whichever you like. It also holds more; when in tile view you can have up to 20 icons on the screen. So although Apple iOS 7 has added this new feature, it is still lagging behind Android's.
Battery life
Apple says that they're all about supporting longer battery life when an app is open and this is true. With iOS 7, multi-tasking will be available for all apps with greater battery life. It consists of intelligent scheduling, opportunistic updates, adapts to network conditions, conjoined updates and push triggers.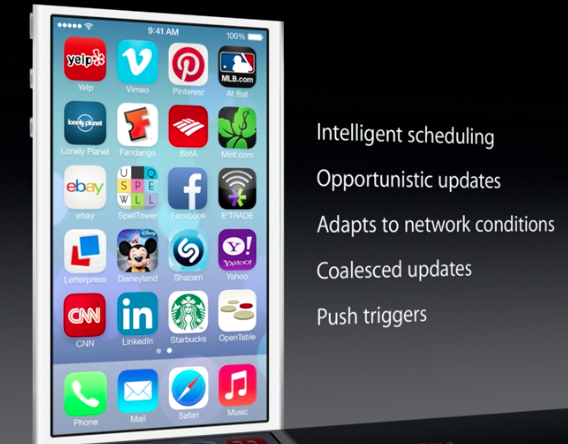 Multitasking and Smart Behavior
iOS 7 creates a better way to multitask. When people press the home button twice, it will show preview screens of apps that are running. Unlike the previousiOS, the screens are actual previews of the apps rather than just small app icons. If someone wants to quit an app, just swipe it up and out of the preview.
iOS 7 contains a learning algorithm that takes note of when people use certain apps and keeps updating new content before the apps start. For example, if you wake up and check twitter, iOS 7 will learn that behavior and have twitter updates prepared before the app is turned on.
The new iOS also uses smart scheduled updates and will update during power efficient times, like when the device is connected to WiFi. It is also able to respond to push notifications, and updating apps that send out notifications.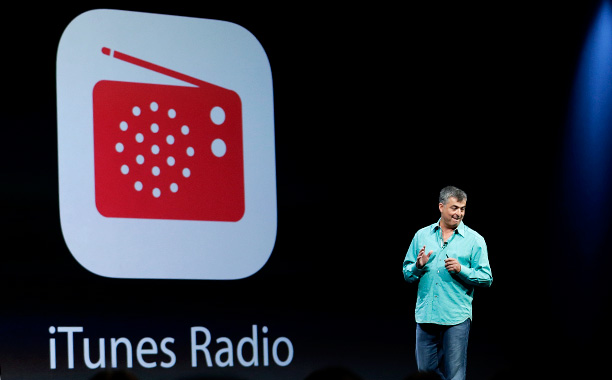 iTunes Radio
The much-anticipated online streaming music service iTunes Radio, was revealed as a fresh feature in an update to its cellphone iOS, which offers a smart-like experience to the entire 26-million title iTunes catalog.
You can see the full list of songs on each station by clicking history, with purchase and preview buttons built-in that will send you to the iTunes store. iTunes Radio also lets you customize each station by clicking a star to show that you want more of this type of music. iTunes Match users will get an ad-free experience ($24.99 a year), but others will be able to use the app for free with a few audio and text ads.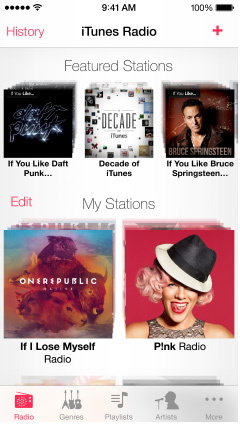 The iTunes Radio, much like Pandora, will come this fall. Though Apple did not unveil a specific time, it will be available on all Apple products such as the iPhone, iPad, iPod touch, Mac, PC, and Apple TV. However, iTunes Radio is only available in USA.
AirDrop Function
The new Airdrop function will make content more shareable in short distance under the iOS 7. Thanks to AirDrop, it is easier for users to share files, videos or photos with their friends. Just choose the contents you want to post, select the exact person nearby and press the Share button, then these photos, videos or other files will be transferred to the right person's smart phones quickly, while completely encrypted. Of course, the contacted person should also have the iOS 7, which will be available on the iPhone 5, iPad 4
th
Gen, iPad Mini and iPod touch 5
th
Gen with an iCloud account.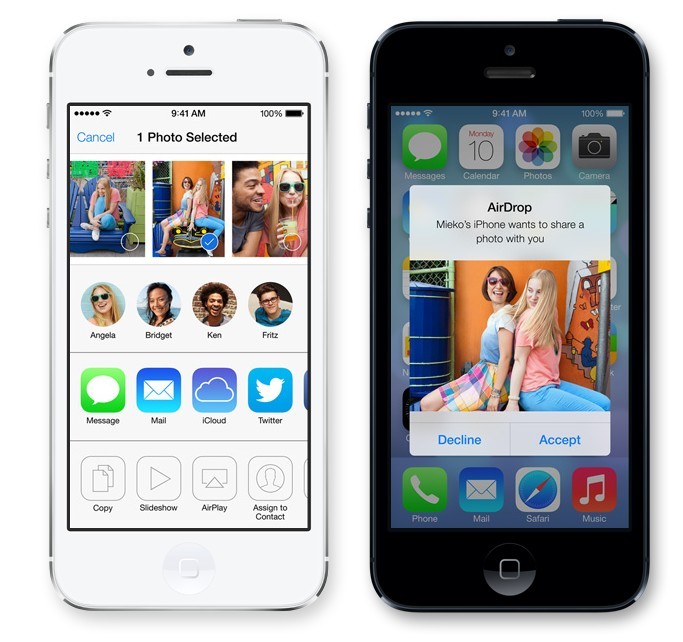 Photo Library
Amongst other features, it appears that the Photo Library will see significant changes, as it will be essential for people to recall different moments in their life. All photos and videos are organized intelligently by time and locationin 'Collections' when you take photos. To find your favorite pictures will now be easier and faster.
Just tap the 'Collection' to find all the photos you have taken.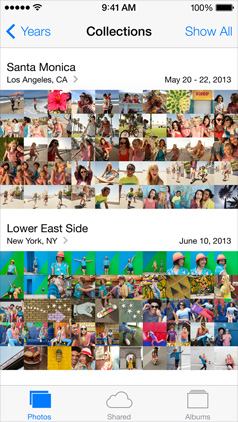 Tap the 'Years' View to see all your pictures year by year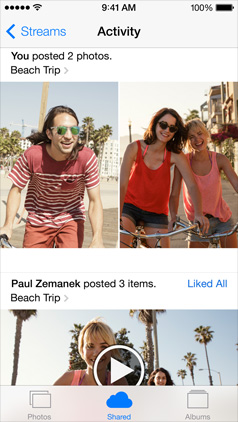 The iCloud photo function of the new 'Activity' view is amazing, for you can contribute your pictures or videos to a shared photo stream. These photo streams updates will automatically show on people's iOS device.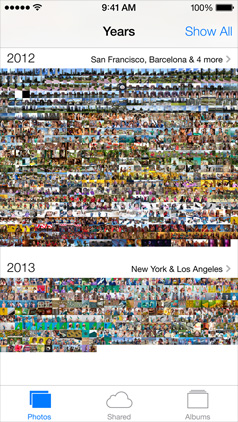 The iCloudphoto function of the new 'Activity' view is amazing, for you can contribute your pictures or videos to a shared photo stream. These photo streams updates will automatically show on people's iOS device.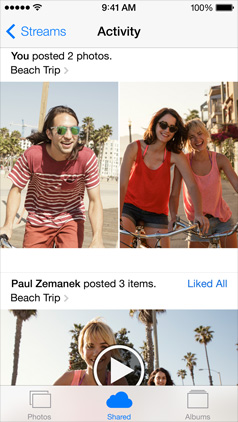 New Camera Functions
The updated camera has finally got square photo framing, new UI and filters. People can apply filters to see the effect before taking a picture or change a filter after a picture is taken. As to the photo gallery, all the images and videos are organized by time and location and you can have an overview of all pictures taken in a particular year. This is called the 'Moment'. All the photos and videos can be shared through iCloud.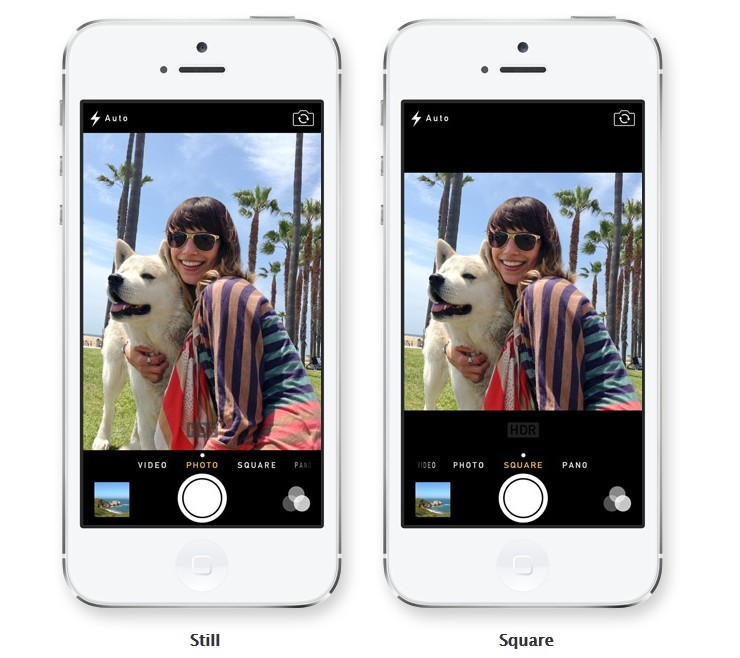 Safari
The new Safari in iOS 7 has improved a lot with full-screen browsing, gesture-base navigation and a card-tab overview of all the open web pages. The new Safari supports the iCloud Keychain, which can remember your account names, passwords and credit card numbers. Though these are great improvements for iOS, it is nothing new in smart phones because we have seen these features in Google's Chrome before.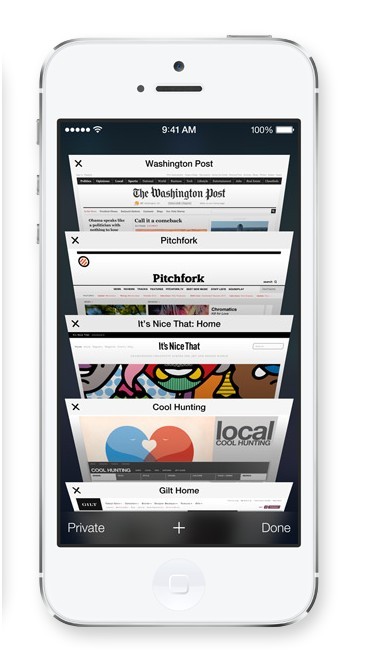 Siri
The improved Siri finally seems more humanized with not only a new look, but also new sounds and voices, you will also be able to choose between a female voice or a male voice. Siri can now answer your questions faster by searching more sources such as Wikipedia, Bing as well as Twitter. Siri will also be more capable in performing tasks like playing voicemail, controlling iTunes Radios and etc.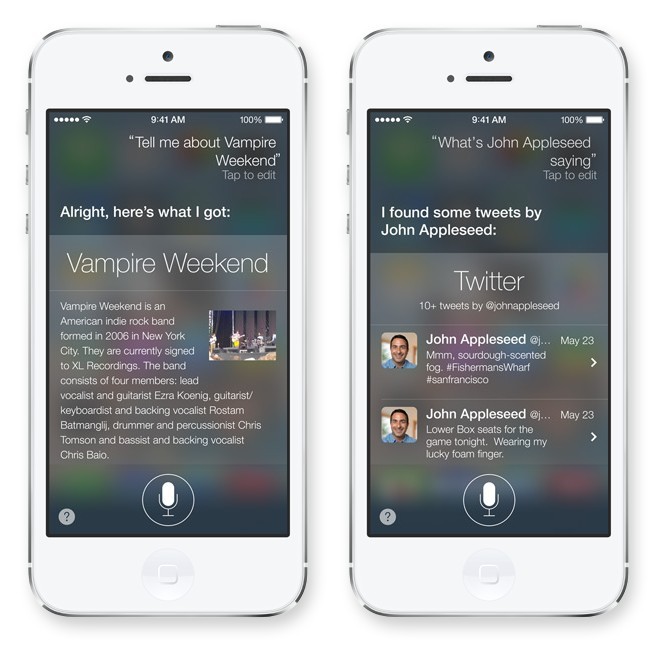 Mail, Weather & Message:
Not like other more obvious changes, Mail, Weather and Message only have small differences compared with the iOS 6. However, Jony Ive, the Senior Vice President and head of "human interface" said that Apple has now abandoned the "skeuomorphic design" and redesigned the new iOS in a much flatter way, which is obvious in the new Mailbox, Weather report and iMessage. Let's compare these functions of the iOS 7 and 6 side by side to see what differences has been made. When you first see the mailbox of the iOS 7, you can easily find out that iOS 7 gives you simpler feeling than the former iOS. Icons and colors are now harmoniously coexisting with each other. The former blue background has now been changed to pure white, while the icons has been redesigned in a much simpler way, which tells you, the new iOS is redefined.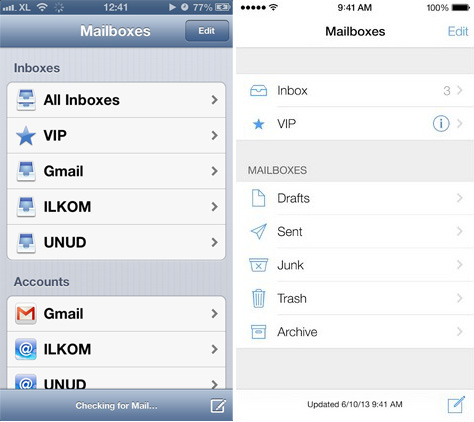 The Weather function of the iOS 7 is obviously different than its predecessor. Now Apple have added a dynamic wallpaper which shows the weather and its color is determined by the time. This feature will make users know the weather without a second thought, which highlights its simplicity.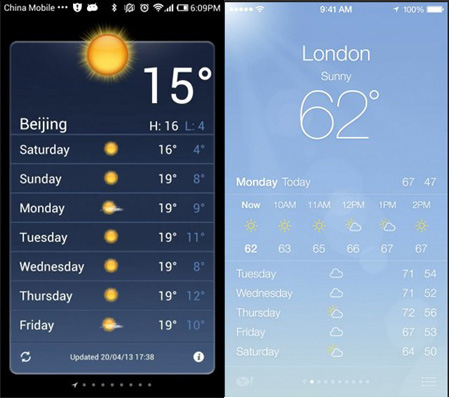 Messaging is also much flatter and simpler. The colored header bar is now plain white to match the background and a more basic, colored 'speech bubble' message icon has been implemented for a more modern look.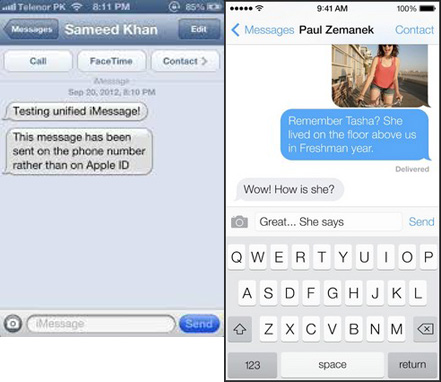 It is very hard to simplify things, and to explore new methods to take the lead in the nonstop changing world is tough. Apple has always tried and many people would say that they finally have succeeded. Apple keeps teaching people in the right way how to hear, speak and touch. That's why people will always pay attention to what Apple has to bring, and it again shows that Apple is continuing on its path to world domination, once again!