MacBook Pro 14 inch & 16 inch, which should buy in 2021?
BY ETrade Supply | October 26th, 2021 | 0 | 1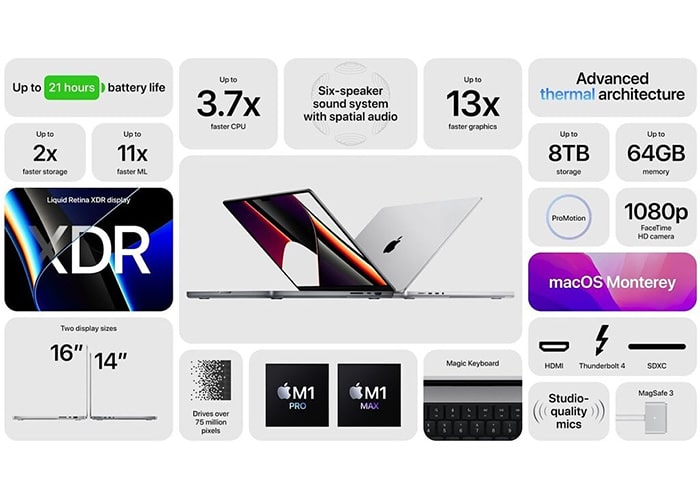 1 . MacBook Pro 14 and MacBook Pro 16: Specifications
MacBook Pro 14 and MacBook Pro 16 have a lot in common, the main difference lies in their physical size. As the name suggests, the MacBook Pro 14 is equipped with a 14.2-inch display, while the MacBook Pro 16 is equipped with a larger 16.2-inch display.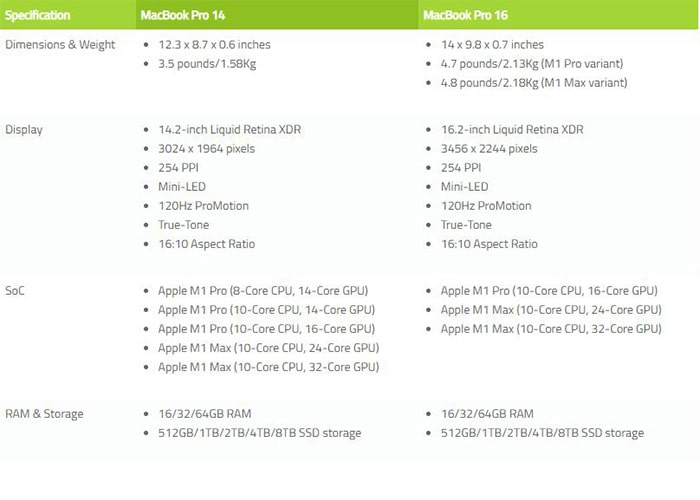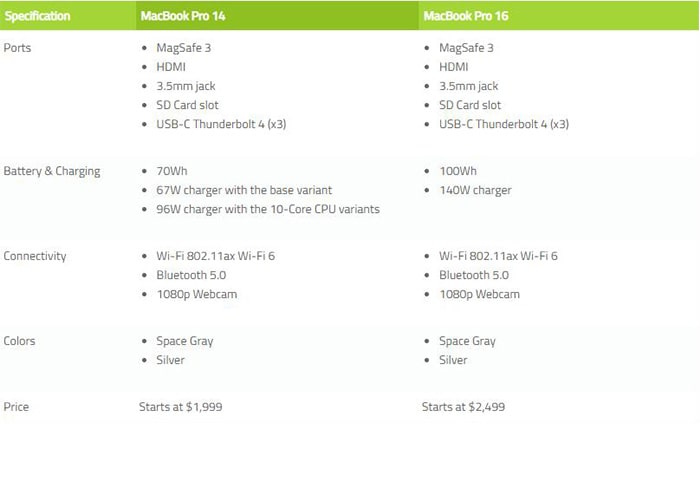 As always, Apple allows you to configure the internal structure of the MacBook Pro. This means that both MacBook Pro 14 and MacBook Pro 16 can use the same configuration. Although the internal structure may be the same, we may find differences in thermal performance between the two laptops because the MacBook Pro 16 technically has a larger heat dissipation surface area.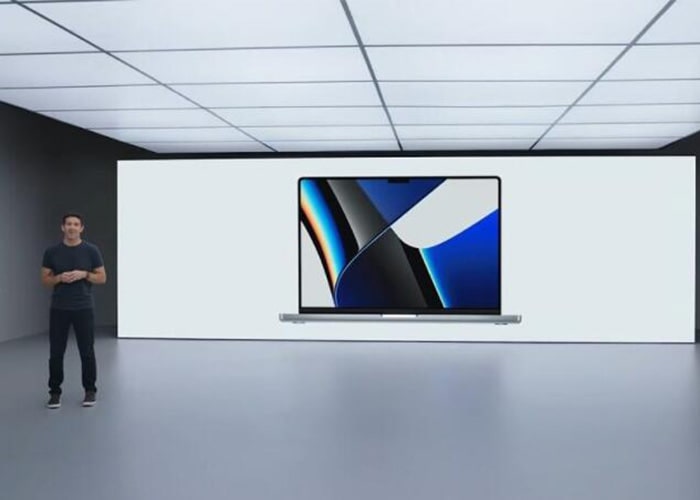 If your workflow does not require the kind of performance provided by the M1 Max or M1 Pro that unlocks all CPU and GPU cores, you can choose the basic MacBook Pro 14, which is equipped with an 8-core CPU and a 14-core GPU. This should be the choice of most ordinary users, because it can easily handle most tasks. Even for intensive tasks such as video editing or compiling large programs, the basic model MacBook Pro 14 should be sufficient. If your work involves a lot of graphics processing, such as animation, multiple video editing streams, or if you want to output the display to more than two monitors, you can choose M1 Max.
2 .MacBook Pro 14 and 16: Pricing ​
​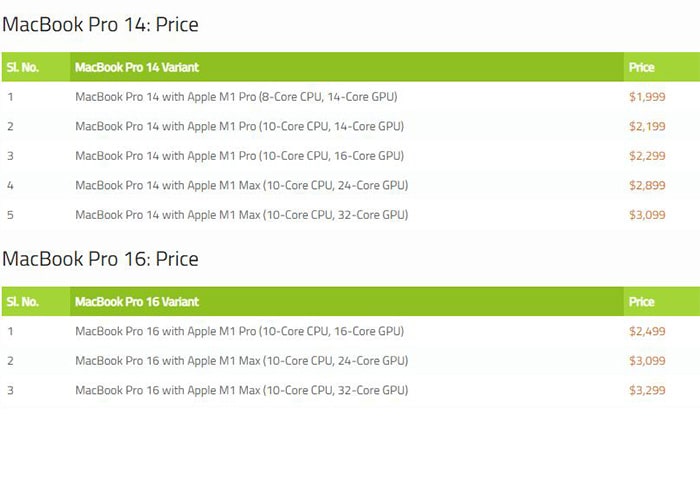 3 . What are the new features of MacBook Pro (2021)?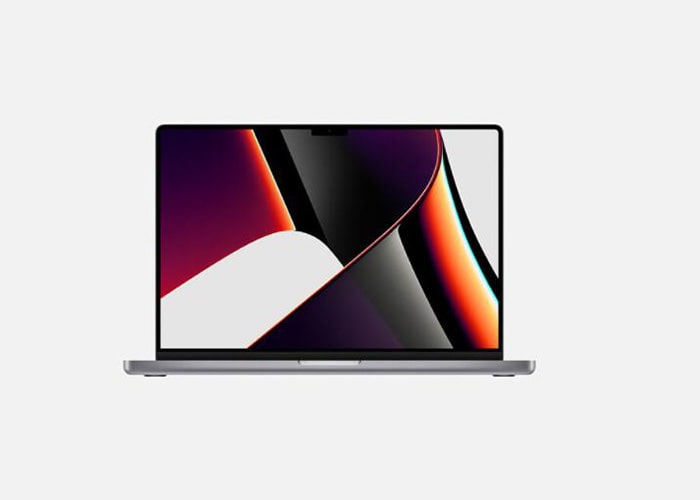 3.1 Apple M1 Pro and M1 Max silicon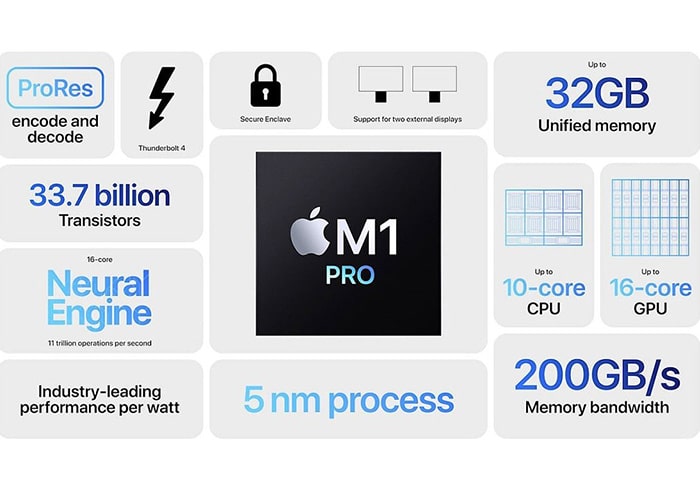 Apple released M1 Pro and M1 Max chips with major improvements and new features. These two SoCs can be found on the new MacBook Pro 14 and MacBook Pro 16 computers. M1 Pro has 10 CPU cores and is based on a 5nm manufacturing node. The 10 CPU cores are divided into two clusters — 8 high-performance cores and 2 energy-efficient cores. The CPU can be matched with up to 16-core GPU. This is twice the number of GPU cores on M1. Apple claims that compared with M1, M1 Pro's CPU performance has increased by 70%, and GPU performance has increased by 2 times.
Some other improvements brought by the M1 Pro include support for up to 32GB of RAM, while the M1 is 16GB, a higher 200GB/s bandwidth, and 33.7 billion transistors, which is more than twice that of the M1. Another major improvement of the M1 Pro is to support two external displays, compared to only one display on the M1 last year. The chip has acceleration dedicated to the ProRes codec.
M1 Max can be configured to have 32 GPU cores and the same 10-core CPU. It is physically larger than the M1 Pro and contains 57 billion transistors. This is 70% higher than the M1 Pro and 3.5 times higher than last year's M1. Apple claims that the GPU on the M1 Max can match the performance of high-end discrete GPUs while consuming almost 100W of less power.
M1 Max can be equipped with more RAM than M1 Pro. M1 Pro is up to 64GB. According to Apple, the M1 Max is the most powerful chip in the history of MacBook. In addition to being powerful, the M1 Pro and M1 Max are also very energy-efficient. Apple claims that the battery life of the MacBook Pro 16 is up to 21 hours, which is by far the best of all MacBooks.
3.2 MagSafe and ports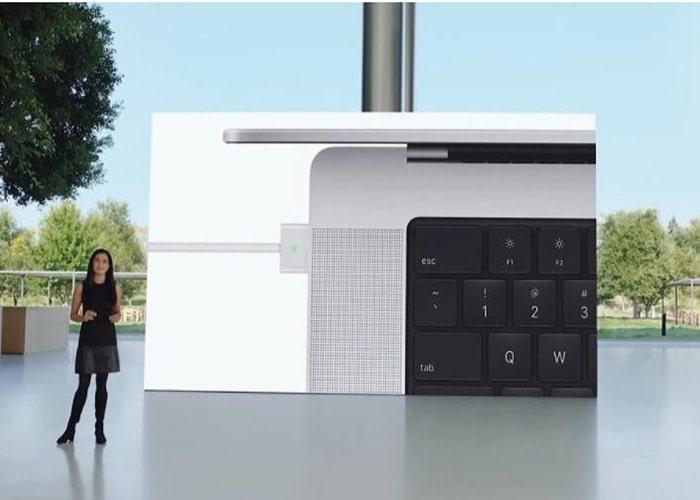 The MagSafe port exists along with the other ports on the side of the old MacBook and is magnetic in nature. The charger also has a MagSafe end, if you bring it close enough, it will be stuck on the connector with a magnet.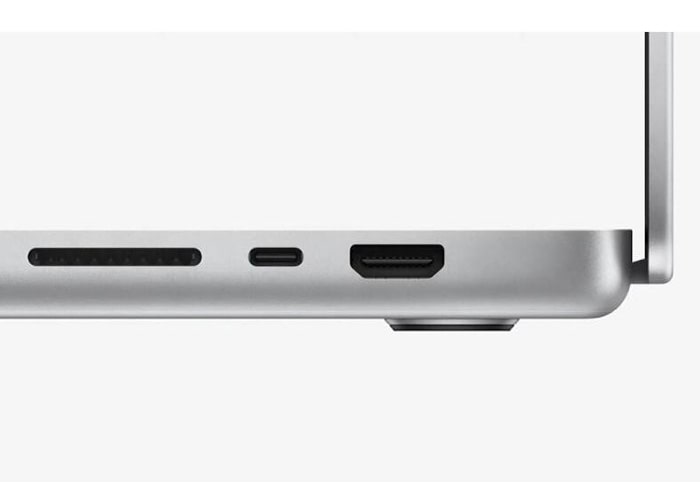 MacBook Pro 14 and MacBook Pro 16 brought back MagSafe 3. MagSafe 3 improves the charging speed of the old MagSafe, as well as the USB-C charging solution Apple used on previous MacBook models. MacBook Pro 16 now supports fast charging up to 140W, while MacBook Pro 14 supports up to 96W. With these new MagSafe 3 chargers, you can charge the battery to 50% in just 30 minutes.
In addition to MagSafe, Apple also brought back other old ports that were removed from the MacBook Pro in 2016. The HDMI port and SD card reader have also returned to the MacBook Pro. The headphone jack can now drive high-impedance headphones. In addition, there are three Thunderbolt 4 ports on the MacBook Pro 14 and 16. The inclusion of these ports makes the new MacBook a true "Pro". Apple has also improved the microphones and speakers on the 14-inch and 16-inch MacBook Pro. The Touch Bar, which was launched with the 2016 MacBook Pro models, has also been eliminated by Apple. It brings the traditional function keys back together with Touch ID.
3.3 Display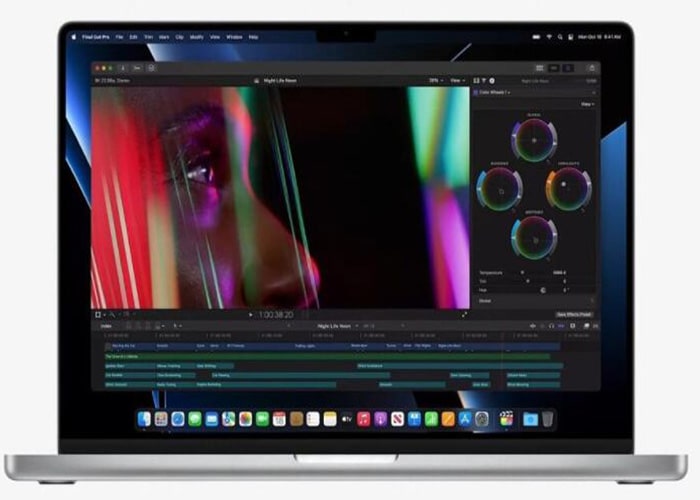 The display is another area where the MacBook Pro has been significantly upgraded. MacBook Pro 14 and MacBook Pro 16 now have Mini-LED displays. Mini-LED technology provides better contrast, and can now achieve a continuous brightness of 1000 nits and a peak brightness of 1600 nits. The new display panels also support ProMotion, which means they can refresh at up to 120Hz.
Apple also trimmed the borders around the Liquid Retina XDR display.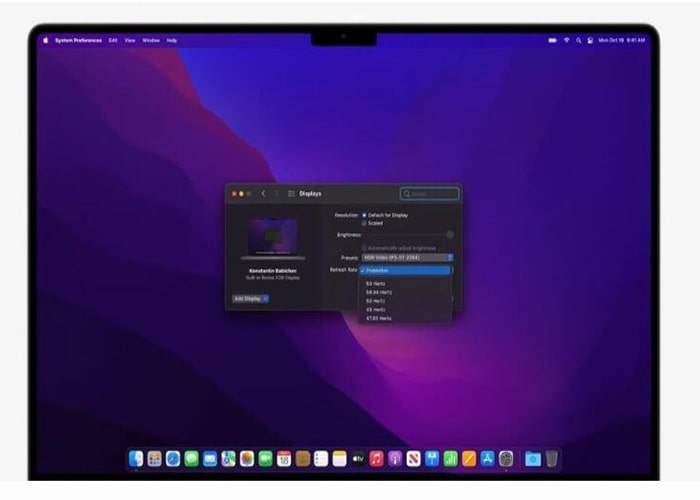 This is almost everything you need to know about the new MacBook Pro 14 and MacBook Pro 16. They are equipped with a redesigned chassis, a powerful internal structure, a new display and a series of useful ports. So will you choose MacBook Pro 14 or MacBook Pro 16?
If you want to know more about the consultation, please leave a message or contact us. If you need various accessories for Samsung mobile phones, such as LCD screen for For Apple MacBook Pro,Power Adapter Type-C Interface for Apple Macbook, etc. , you can also place an order in our shop. I hope it will be helpful to you. ​
​
The MacBook Pro 14 and MacBook Pro 16 models were released on October 18, 2021, and will be available for sale on October 26. Let's take a look at the difference between these two products.