iPhone 5S Rear Housing Leaked
BY ETrade Supply | December 5th, 2012 | 4 | 1
iPhone 5S Rear Housing Leaked?
Some former rumors on the internet said that Apple will release its 7th generation of iPhone in the first half of 2013. However, the latest news said that its released date will be some day next summer. It is also said that the components suppliers of the new iPhone have already submitted samples to Apple and will trial-manufacture 50~100 K new iPhones. When the media are still speculating the reliability of these rumors, a couple of rear housing pictures of suspected new iPhone were found in the web.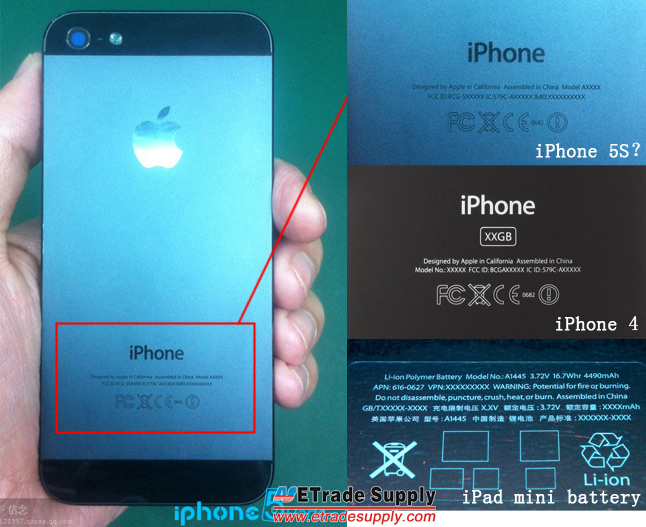 From the background, it seems that the pictures were taken at the assembly line of an operation stage. The photographer has showed the front and rear side of the housing, which looks very similar to the iPhone 5. However, the reason why we say it is a suspected iPhone 5s rear housing is that the specific information below the logo, which are replaced by "X". Usually, the parts with "X" stand for test prototype.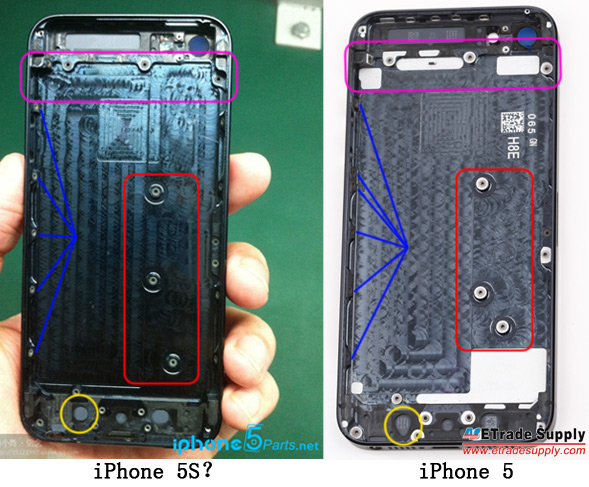 Inside the rear housing, we can find some changes when comparing it with iPhone 5. First, the "iPhone 5s" has two less screw holes on the left side which are used to fasten the LCD. Second, the position of 3 screw holes used to fasten the logic board has been removed (not sure whether caused by the change of logic board). News From
iPhone5parts.net
iPhone 5 Parts & Accessories