iPhone 5 Parts Leak with Metal Back and New Dock Connector
BY ETrade Supply | June 6th, 2012 | 0 | 0
This morning we got one metal item we have never seen before, we don't know what it is. But it's said to be iPhone 5 parts, we named it iPhone 5 rear housing temporarily according to its shape and probable function. Let's suppose it is the iPhone 5 rear housing and based on these video I'd like to explain it.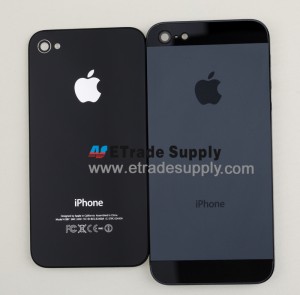 Firstly, obviously this rectangle-shaped metal item is a little longer than iPhone 4S middle plate, so the iPhone 5 should be longer than iPhone4S. This means we can guess the iPhone 5 screen should be 4 inches compared to the iPhone 4S screen is 3.5inches.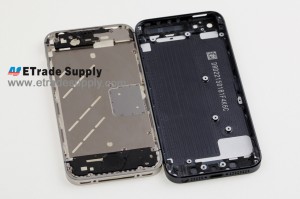 Secondly, this item is not a flat plate but kind of a container. This item designed combine the middle plate with the battery cover. So the new Apple iPhone 5 components should be built in this housing. Three parts can be seen from the visual of the iPhone 4S, they are LCD with Digitizer Assembly, middle metal plate and battery lens cover. But according to this item, the iPhone 5 supposed to be two parts can be seen, they are the
LCD with Digitizer Assembly
and this item. Yes, iPhone 5 is a lens less than iPhone 4S, so we could understand iPhone 5 should be thinner than iPhone 4S.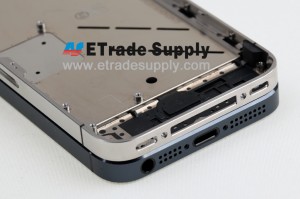 Thirdly, this item is dark olive-green while the
iPhone 4S silver middle plate
. It's known to everyone, white and black iPhone 4S in the market. The black one is not pure black because the middle plate is silver, which means the side of black iPhone 4S is silver but not black. The iPhone 5 rear housing is olive-green, so it's not difficult to guess the whole body should be in a same color.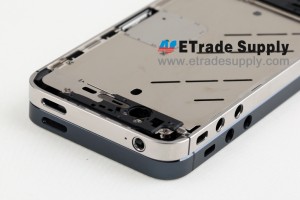 Fourthly, the
iPhone 4S earphone jack
is in the top but the iPhone 5 earphone jack is in the bottom. Furthermore, the charging port is much smaller, the SIM card tray is also some smaller. The iPhone 5 inside components should be changed a lot in size, design and position. The SIM card tray is smaller than the previous product; we can guess the Micro SIM card should be smaller for iPhone 5. From the bottom we can see the loud speaker holes are also quite different from the iPhone 4S'. It's said people could enjoy 3D sound effect with iPhone 5; maybe this is the reason to change the speaker holes.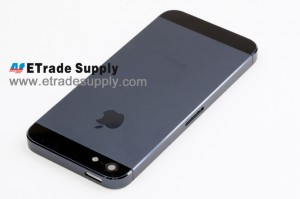 Now there's no more information we have to wait for some more time. Pray we could get more information to meet your needs. Click : 
https://www.etradesupply.com/apple/iphone.html