iPad Mini OEM Parts Leaked—8-inch iPad Mini LCD Screen and 4490mAh Battery
BY ETrade Supply | October 17th, 2012 | 0 | 0
Since Apple has sent invitation to the press about its announcement of iPad Mini on Oct.23rd, people all over the world are keep their eyes on this long awaited tablet. Recently there are many parts of iPad Mini have been exposed. Today we have got from the electronic market some parts which are said to be iPad Mini parts. Let's have a look on details below.   Rumored iPad Mini LCD Screen   This said-to-be iPad Mini LCD Screen is almost 8- inch with about 162mm in length and 124mm in width. The previous exposed iPad Mini LCD is 16:9, but the one we have got is almost a ratio of 4:3 as usual.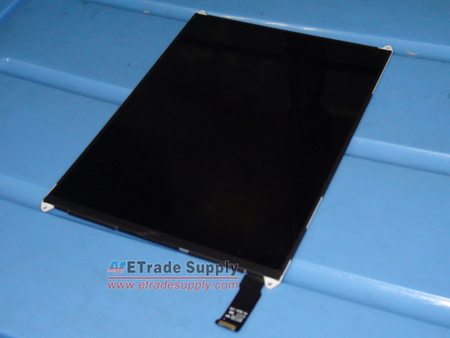 (Front Side of iPad Mini LCD Screen)
Rumored iPad Mini Battery   According to the data shown on the battery, iPad Mini is supposed to use this 16.7Whr battery running at 3.72V. Compared to iPhone 5's 5.45Whr, the iPad Mini battery is three times larger. Though some figures here are "XXXX", possibly that they are not settled down yet.
Will these two parts be real for iPad Mini? Let's wait one more week till Oct. 23rd. We will keep updated with latest news about iPad Mini. Please keep touch with us on https://www.etradesupply.com/blog
More iPad Mini Parts: https://www.etradesupply.com/apple/ipad/apple-ipad-mini.html
More Apple Parts: