iPad Air Review: Lighter, Thinner and Faster
BY Junior | October 25th, 2013 | 0 | 0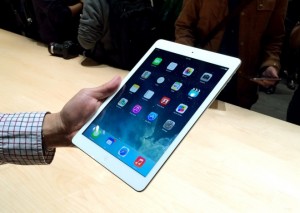 iPad Air Review: Lighter, Thinner and Faster[/caption]
New Design
One of the obvious different in the iPad Air is its new design. It is very similar to the iPad mini, the screen surround is much smaller than ever before, and the new full size iPad is much lighter and thinner. It owns only 7.5mm thick and weighs under just 469g. The device becomes thinner, and almost 100g lighter than the iPad 4. Just as important, it's obviously narrower and shorter than the Apple's fourth generation tablet. These new features help the iPad Air become much more portable and much more compact. So the Air is easier to hold with one hand.
Performance
Like Apple's latest smartphone iPhone 5S, the iPad Air has the same 64-bit chip. The tablet features the advanced Apple A7 chip, designed to offer it approximately the same performance as the iPhone 5S, once you know about lots of extra pixels the device needs to account for. People think it may be clocked faster iPhone 5S's CPU - as the more pixels a tablet needs to render, the more power it must own. In terms of graphics, iPad Air is 72 times faster than the original iPad in GPU performance. In terms of Wi-Fi, you can find the MIMO wireless technology onboard, Instead of the current "ac" Wi-Fi designation, the Air uses the 802.11n standard. The 5-megapixel iSight camera is equipped on the rear that Apple claims take improved low-light shots. On the front, video-chatters will find the refreshed FaceTime HD camera, which offers you better pixels to make images look much clearer. The device's Dual microphones will help capture even sound. In terms of the battery capacity, Apple lists a 32.4-watt-hour rechargeable lithium battery, and claims to keep up the 10-hour battery life rate on the device.
The same screen
The iPad Mini 2 uses the Retina Display and updated the specs, however, the iPad Air remains the same screen as the old tablet. The iPad Air sports a 9.7-inch 'Retina' display with 2,048 x 1,536 pixels. The tablet also uses IPS-type screen which features colour reproduction and sharpness, and provides excellent angled viewing.
Apple released the fifth-generation iPad on October 22 in San Francisco at the annual launching event, now the device was renamed as the iPad Air. Do you want to know its new features? Do you have any idea of how it works? These are some reviews you need to read. [caption id="attachment_5438" align="alignnone" width="300"]