What We Now Know About iPad 5 Body-Slimmer and Narrower?
BY ETrade Supply | April 17th, 2013 | 0 | 1
Apple iPad 4 is one of the best sold tablets, but Apple needs to release iPad 5 fast to target the vast market of first-time Tablet users. Recent rumors that the upcoming iPad 5 will be in slimmer and narrower design successfully attract more attentions.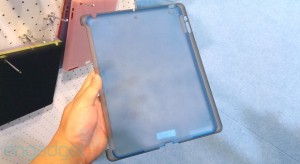 Previous rumors that iPad 5 was expected to be mostly similar to the iPad mini has already made the rounds on the Internet, when 9to5Mac shared some clear photos of a leaked chassis in late January 2013.This was strengthened by alleged pictures presenting iPad 5 front panel. The pictures were taken by engadget at the Hong Kong Electronics Fair earlier today. Engadget declared it's the same old story according to a staff at the booth: the case is based on a leaked mold.
Compared with 7.9 inches iPad Mini, this new generation iPad again suggests a slimmer and narrower design. It would be possible that this mysterious tablet is superior to previous generations in thinner left and right-side bezels. Its size is similar to iPad Mini. Maybe this is not just because of Apple's philosophy that a Tablet should be slim enough to better control by hands, but due to economics, too. The new generation Tablet launch dates haven't been finalized. Anyway, Apple has a balancing act of making its products more affordable, while keeping that exclusive luster that draws consumers to the brand in the first place.
Source:
engadget