iPad 4 Back Cover
BY ETrade Supply | November 8th, 2012 | 0 | 1
iPad 3 digitizer
and
iPad 3 back cover
. At the first sight, no obvious difference can be found at these two back covers. The same material, same size, even the position of each screw is the same.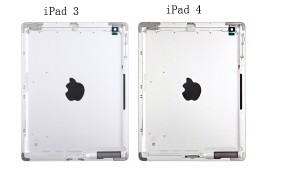 We only find 2 small changes Apple has done to the iPad 4. The first one is, the original 30 pin dock connector of iPad 3 has been changed to a 8 pin lighting connector; the second is the hole used for holding the front camera has been made slightly smaller because Apple has improved the front camera of iPad 4.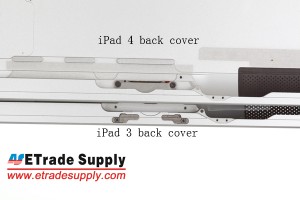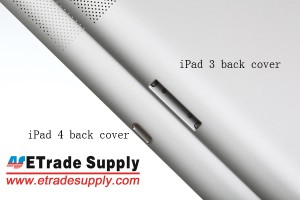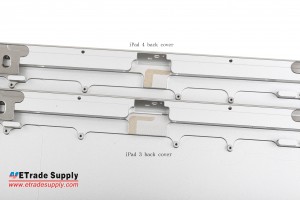 From the analysis, we can draw the conclusion that Apple is not that innovated as before, Tim Cook has to inspire his stuff to make more innovation.
Not too long ago, Apple has held a conference to release its new tablets- a 7.9 inches iPad mini and iPad with retina display(iPad 4). Since iPad mini has caught people's eyes, few people noticed the iPad 4. Just by comparing the specifications of iPad 4 and iPad 3, we can figure out that Apple has only improved its new 10 inches tablet's front camera. From the market, ETrade Supply has found the digitizer and back cover of iPad 4 and done a detailed comparison with