iPad 3 Parts unveiled!
BY ETrade Supply | February 14th, 2012 | 4 | 0
It is very close to the release date of iPad 3, the tablet expected to be greater than its predecessor. Like always, rumors has been flying around that makes the truth complicated and confusing. Seeing is believing. Today we are going to show you some high-resolution photos of some leaked iPad 3 parts. First let's check the iPad 3 rear housing.
what? sdf the same? Yes, it seems like the iPad 3 rear housing does change too much, still we can identify their differences from the following photos.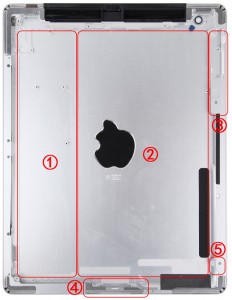 iPad 2  Rear Housing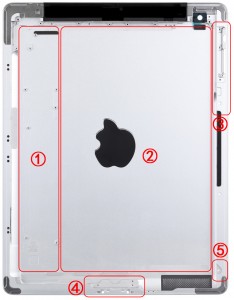 iPad 3 Rear Housing It is quite clear from the photos above that the
iPad 3 rear housing
features a narrower shallow groove to allocate the motherboard (the area 1). There are more screw holes in this area. Besides, the battery area of the iPad 3 rear housing is wider (the area 2).  This is an obvious sign that the new iPad will most probably feature larger battery with higher capacity. Their charging ports are also different (the area 4). We can see that the iPad 3 Charging Port is obviously different Another important component--the display is also rumored to be leaked out. Unfortunately there are just some fuzzy photos. It is said that the resolution of the iPad 3 display will be much higher than its predecessor, as much as 2048x1536 pixels. And Apple has approved LG Display to be the supplier of the iPad 2 display. After all these discussion, it is mostly likely that the next generation of iPad will be name iPad Pro or something like iPad 2S O Who knows?!It's just Apple style. More news will be coming from ETrade Supply. Stay tuned!