How to Solve Common Galaxy S5 Problems
BY May | September 1st, 2014 | 0 | 1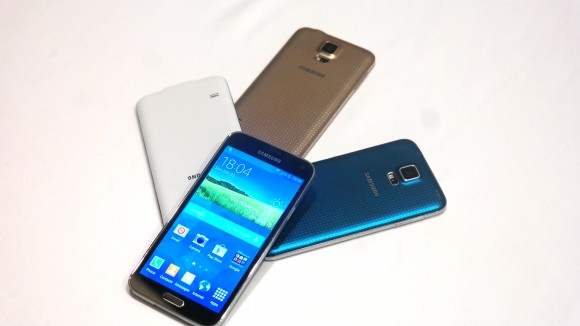 Released in April 2014, Galaxy S5 is the successor to S4 and the flagship of Samsung Galaxy S family. Although Samsung has added Galaxy S5 new features such as: fingerprint sensor, IP67 certified water and dust resistance, a built-in heart rate monitor, an updated camera and so on, there're still some problems that annoy users. Here we list several common Galaxy S5 software issues and their solutions for your reference:
Problem: Camera Failure
If your Galaxy S5 camera cannot be started and pop up a report saying "Warning: Camera Failed", try below solutions:
1. Restart your smartphone.
2. If the restart doesn't work, go to the Settings > App Manager > Camera App > Force Stop > Clear Cache > Clear Data.
3. Remove the third-party camera app you've installed or restore to factory settings. (Notice: Remember to backup your data before resetting.)
4. Power off your phone then press and hold the Volume Up, Home and Power buttons at the same time to enter into Recovery mode. Select Wipe Cache Partition by navigating using the volume keys and pressing the power button. After that, select Reboot System Now.
5. If the problem still occurs, perhaps the camera itself is faulty. Turn to your nearest service center for help or get an original new replacement. You may follow our tutorial guide of How to Fix Broken Galaxy S5 Screen and Other Parts after Teardown.  
Problem: Water Damage
Galaxy S5 is water resistant, which is different from waterproof. It can only save your phone from a sudden downpour or an accidental toilet drop, so please do not put your phone into water or salty, acid liquid intentionally. If your Galaxy S5 suffer from water damage unfortunately, following solutions might be of help:
1. DO NOT TURN IT ON. Open the phone and dry it up with a towel or tissue, then put it into a bowl of rice, a can of dry tea leaves or a bag of silica crystals and stay it for 24 hours. After that, put your battery back into the phone, turn it on.
2. If the above solution won't help, probably you'll have to take it to a repair shop.
Problem: Lag Issue   Some users have reported that the Galaxy S5 suffers from lags due to the heavy TouchWiz UI compared with previous Galaxy S devices. Here are some solutions for you in case of lag issues.
1. Close the applications you occasionally or never use. Go to Settings > Application Manager > All Tab > Select an App > Uninstall Updates > Disable.
2. Turn off the S Voice. Go to Settings > Open via the Home Key > Untick.
3. Stop the Automatic Syncing. Go to Settings > Accounts.
4. Disable animations. Tap on a blank space on your home screen then select Home Screen Settings. Go to Transition Effect > None, and then go to Settings > Lock Screen > Unlock Effect > None.
5. You may also go to Settings > Developer Options > Windows Animation Scale/Transition Animation Scale/Animator Duration Scale > Off.
Problem: Battery Drains Fast
Battery drains fast is a common issue for every smartphone, Galaxy S5 is no exception. Below tips are for your reference:
1. Like the 1st solution to slug issues, turn off the unnecessary apps.
2. Go to Settings > Power Usage Dashboard > Select Power Mode.
3. Power off your phone, take out the battery and wait for 30 seconds, place it back and turn on the device.
4. Make sure you're using the original charger. Besides, do not often charge your phone in a car or computer.
5. If above-mentioned solutions don't work, perhaps your battery is faulty, replace it with a new one.