How to Save Battery Life with iOS 9?
BY Davi | June 22nd, 2015 | 0 | 0
Will you be upgrading to iOS9? It's shaping up to be a powerful lightweight contender at only 1.3 GB, which is a godsend to 16GB iPhone users since iOS 8 was 4.6 GB. What's more, users with iPhones as old as the 4S will be able to use it.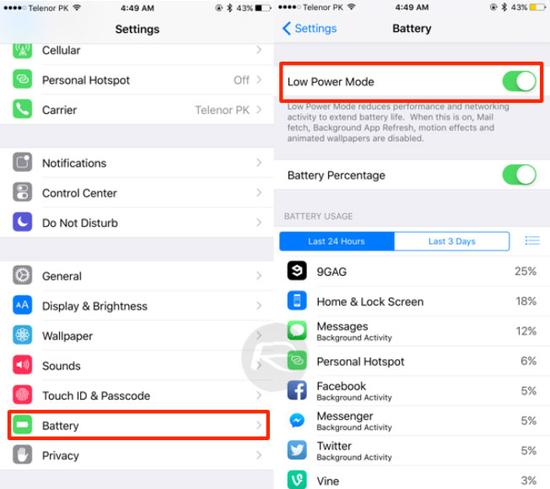 One of the biggest benefits of iOS 9 is its optimized battery use. Apple has stated that they have trimmed battery usage wherever possible, and they've even picked up a trick from Android, Low Battery Mode. Official claims that after switching on this power saving mode, the battery life can be extended up to 3 hours at most.
The trick to lowering battery drain, the proximity sensor. The proximity sensor will be used to detect when the phone is face down on a table and prevent the screen from turning on whenever an update is received. On the other hand Low power mode, when turned on, will decrease the screen brightness, reduce the sleep time for the screen, and the OS will close APPs that self-refresh in the background.
You'll be able to find the low power mode in the setting>battery>low power mode settings, or the system will notify you to switch on the mode when the battery goes down below 20%.
Saving battery through low power mode is a new feature for iOS users, but it's very familiar to Android phone users who have had an embedded low power mode since Ice Cream Sandwich. Samsung's Galaxy S6 also supports low power mode, which will take control of the CPU speed, screen brightness and control how frequently APPs refresh to help save battery life. What's more, Samsung Galaxy S6 screen will show a grey scale to save battery when the ultra power saving mode is on.
iPhone's battery saving mode should learn more from Android Phones, then bring an even better experience to its users.
Summary
Reviewer
Review Date
Reviewed Item
Author Rating
| | | | | | |
| --- | --- | --- | --- | --- | --- |