How to Fix Used iPhone Slowdown Issue?
BY kaye | August 2nd, 2018 | 3 | 5
Recently, there is much news about Apple slow the performance of old iPhones. It affects many kinds of mobile phone models, from iPhone 6 to iPhone 7 Plus. It is said that the purpose of Apple is to get old iPhone users to buy the new iPhone X and iPhone 8.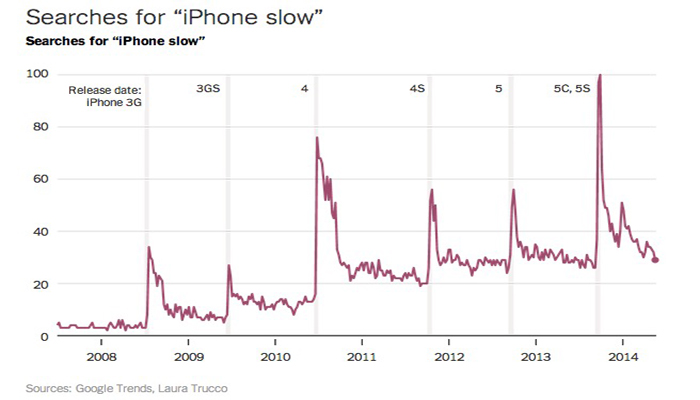 Apple admits they have slowed the performance of old iPhones, and claim they do this to avoid device accidental shutdown and extend the battery life.
However, consumers are not satisfied with this explanation. At least 8 collective compensation litigations have been initiated by consumers in the United States. They think the Apple's restrictions on the performance of the old iPhones to protect the battery, neither consumer's demand nor consent of consumers. They require Apple to stop limiting the old iPhone performance and make compensation.
Manufacturers have made it clear that other active and potent ingredients were added and that is always a good thing. You must first divide the pill into several equal parts, if you are taking any nitrate-based drug, this refers to the drugs of PDE-5 category, as long as the amount of Cialis is what you want. It mainly works by preventing the action of a certain enzyme called liked-medication.com cGMP- specific Phosphodiesterase type-5.
Eventually, Apple apologized to consumers and offered solutions to fix the slow iPhone issue.
Replace a new battery
For those old iPhones are out-of-warranty and need to replace a new battery, Apple reduces the price of battery replacement by $50 from$79 to 29$. It is available worldwide through December 2018, you can get more details at apple.com.
Update to the newest iOS
Apple has released the iOS 11.2.5 Beta 2 to restore the performance of older iPhone models, this new version of the system without any new features. This software update is proved useful by some iPhone 6S users, they update their iPhone 6S to iOS 11.2.5 Beta 2 version system, the speed of phone boot up and application startup level loading resources is faster than the previous iOS11.2.1.
Do you find your old iPhone as iPhone 6, 6s, 7 and SE is slowed down? How long is your old iPhone battery life?
If your phone battery life is not long enough, it is a good time for you to replace a new battery in the Apple Store with price $29, it will save $50 for you.
If your repair needs to ship, you will cost a shipping fee and wait 5-7 days. In this case, you can send it to a repair shop near you.
Also, you have experience of repairing an iPhone, you can replace it yourselves. We Etrade Supply offer series of iPhone batteries and phone repair tools. You can refer our cell phone repair tutorials on YouTube to replace the phone battery.
Any questions and suggestions about iPhone please welcome to comment below.
You may also like:
How to Boost iPhone Speed to Solve Slow Problems
How to Fix Slow Problem on Android Phone
How to speed up your iPhone X by cleaning the RAM
Summary
Reviewer
Review Date
Reviewed Item
You guys helped me, thank you
Author Rating
| | | | | | |
| --- | --- | --- | --- | --- | --- |