Google Continues on its Path to World Domination
BY alina | May 16th, 2013 | 4 | 1
When the keynote speech started, Vic Gundotra did the opening for the 6th annual I/O and claimed that there were over 6 million viewers watching the keynote speech online.
900 Million Android Activations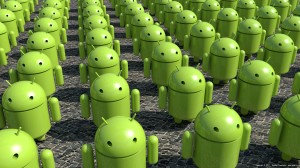 The amount of Android activations has risen from 400 million last year, to 900 million this year. "But there are seven billion people on the planet and a long way to go" said Android boss Sundar Pichai, which shows that Google is not going to slow down with their "world domination" plans.
Google Play Store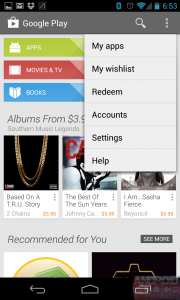 Photo: androidpolice Google Play Store is continuing it's great download numbers with 48 billion apps downloaded; including 2.8 billion downloads in the last month according to Google. Google also updated the Play Store to version 4.1.6 Tuesday night, which gives the app a slicker and more comfortable look with new colorful home buttons, games and movie categories. As we mentioned yesterday, we believed that Google would introduce a whole new gaming service, and we were not surprised when it was announced earlier during the I/O. The new gaming service will include syncing between devices and keeping your saved games on Google's cloud.
"Radio without rules"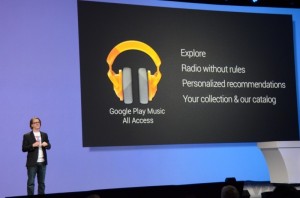 Photo: macrumors "Radio without rules" is how Google's Chris Yerga put it when introducing the Google Play Music All Access – a streaming service that combines your own library with millions of songs and tracks available in Google Play Music for only  $9.99 per month and a 30-day free trial. You can have your own personalized radio stations or get recommendations from Google. From the looks of it, Google have decided to attack Apple's iTunes straight on with a better service.
Google+ just went +++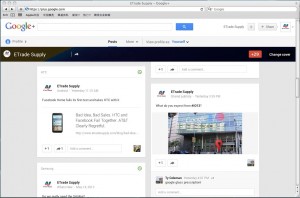 Google+ has finally found its position and has now announced tons of new features for its social networking platform. Google+ users woke up to a slicker and more comfortable streaming design, which is based on your needs and preferences. Another thing worth mentioning is the new hangouts that would give you and your friends a better chance to keep in touch. Google gives you the possibility to see when your friends are typing and who has read the posted messages in the chat. People will also be able to engage in multi-person voice chat between friends for free. We here at ETrade Supply will also benefit from these awesome new features on our
Google+++ site.
Google Maps
Google has now decided to upgrade their current Google Maps, it is noticeable that the Google Maps Street View cars have done five million miles and covered 50 countries the last few years, which provides much more accurate mapping compared to other companies and apps, and of course not to forget, Apple's own failing map service. Companies around the world have also understood the importance of having their offices located in Google Maps, and more than one million companies are now visible on the map. Both iOS and Android users will be getting an update of the new Google Maps, which according to Google will come with personalized maps with more immersive imagery and a totally new interface. So this is just some of the new stuff introduced at this years Google I/O and we still have one day left and we are expecting more and more goodies. So stay tuned for more updates and to quote Larry Page: "Technology should do the hard work, so you can get on and live your life."