Samsung Galaxy Note 3 VS Galaxy Note 2: Is It Worth Upgrading?
BY alina | September 5th, 2013 | 0 | 1
As expected, Samsung has announced its latest phablet in the Galaxy Note line-up, the Samsung Galaxy Note 3 on September 4th, 2013. Is the Galaxy Note 3 much better than its predecessor? What are the new features that the Note 3 brings to us? Let's take a look at the comparisons between the Galaxy Note 3 and Note 2.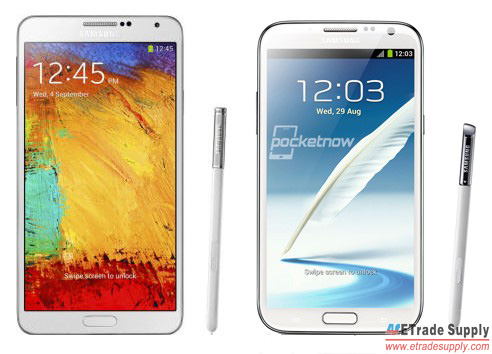 Note 3 VS Note 2: Design
The Galaxy Note 3 is designed with slimmer bezels and sharper angles on its rounded edges. It brings a bigger display than the Note 2, but it's thinner and lighter. Compared with the glossy plastic back cover on the Galaxy Note 2, the Galaxy Note 3 features a faux-leather back cover with stitching in three colors, which looks more durable and easier to grip.
Note 3 VS Note 2: Display
The Galaxy Note 3 sports a 5.7-inch Full HD Super AMOLED display with 1080 x 1920 resolution (386ppi pixel density), while the Galaxy Note 2 features a 5.5-inch Super AMOLED display capable of 720 x 1280 resolution (267ppi pixel density). All the numbers have been upgraded, which means everything displays on the Galaxy Note 3 will be more colorful and more detailed.
Note 3 VS Note 2: Processor
The Galaxy Note 3 contains two variants (differs by market). One is equipped with a Qualcomm Snapdragon 800 CPU clocked in at LTE 2.3 GHz quad-cores with 3GB of RAM, while the other is clocked in at 1.9GHz octa-core.  Its internal storage is 32GB and 64GB. And the microSD card slot supports an extra 64GB storage. The Galaxy Note 2 carries an Exynos 4412 quad-core CPU clocked in at 1,6GHz with 2GB of RAM 16, 32, 64GB of internal storage. There is no doubt that the Galaxy Note 3 is a beast, which runs smoothly and faster than the Note 2.
Note 3 VS Note 2: Camera and Battery
The Galaxy Note 3 features a 13MP rear facing camera with LED flash and 4K video recording. Compared with the 8MP rear camera on the Galaxy Note 2, the Note 3 camera is better in overall quality and in low light shots. As to the battery capacity, the Galaxy Note 3 comes with a 3200mAh Li-ion removable battery slightly upgraded from the 3100mAh Li-ion battery on the Galaxy Note 2. Besides, with a similar size to the Note 2, the Galaxy Note 3 battery doesn't change much. From the comparisons above, it's easy to find that the differences between the Galaxy Note 3 and Note 2 aren't very dramatic. If it comes to the question about whether it's worth upgrading your Galaxy Note II to Note III, it depends on your needs. If you are smartphone fever and pursue a more powerful device, it's not bad to have a new version with better specs. But if you think the Galaxy Note 2 spec are enough for you, then just keep it and forget the upgrade. Take a look at the short comparison table below for you reference before take action.