How to Fix a Broken LG G2 Screen
BY yuki | February 5th, 2014 | 19 | 3
When you encounter damaged LG G2 screen problems, such as cracked, shattered or smashed screens, you can purchase a new screen to do DIY repair. Tearing down the LG G2 to fix a broken G2 screen can save your money, so follow the step-by-step disassembly guide to repair your G2 damaged screen. Also, if you meet other LG G2 broken parts problems, like a malfunctioned loud speaker, damaged antenna module or broken LG G2 battery, you can learn from the repair tutorial to fix your LG G2.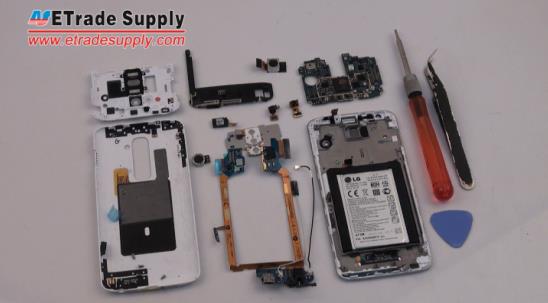 Tools You Need to Tear Down LG G2:
Step1: Power off the LG G2 and remove the SIM card.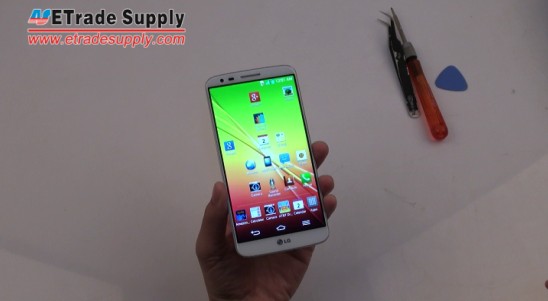 Step 2: Take off the LG G2 battery door by wedging the case opening tool between the front housing and the battery door.
Note: Gently slide around the stream in the front and the back.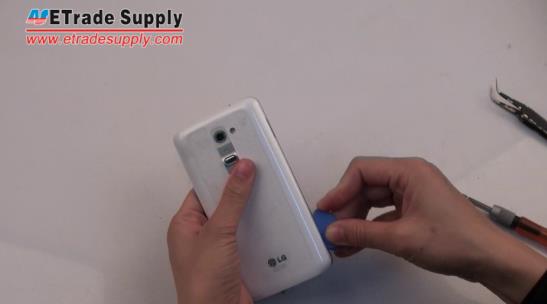 Step 3: After releasing the LG G2 back cover, you can unscrew seven screws at the top of the phone to release rear housing.
LG G2 Rear Housing
Step 4: Then, unscrew five screws holding the antenna module in place.
LG G2 Antenna Module
Step 5: Disconnect seven connectors to release the charging port flex cable ribbon with earphone jack.
Note: Slow and gently loosen the adhesive sticking the flex cable and the housing.
LG G2 Charging Port Flex Cable Ribbon with Earphone Jack
Step 6: Use the case opening tool to peel off the LG G2 keyboard.
LG G2 Power Button and Volume Button with the Plate
Step 7: Disconnect four connectors of proximity sensor, front and rear facing camera, and battery on the logic board.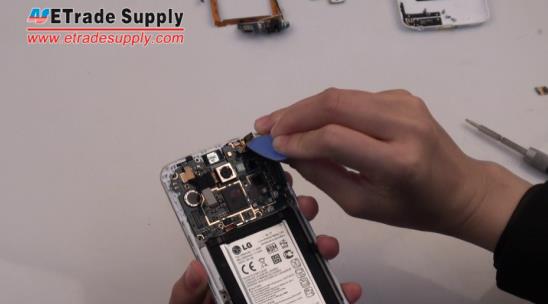 Step 8: Pull the LG G2 logic board away from the housing.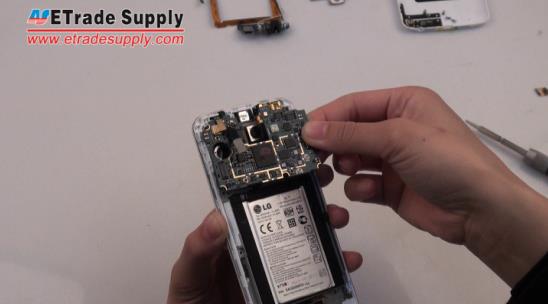 Step 9: Peel the LG G2 front facing camera off the housing.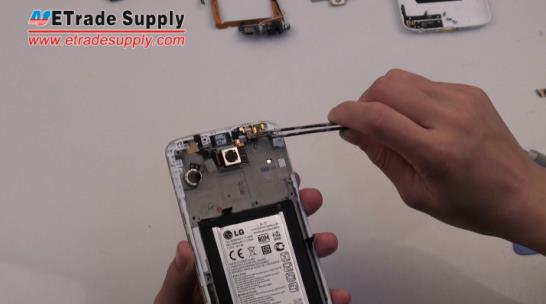 Step 10: Peel the LG G2 sensor off the housing.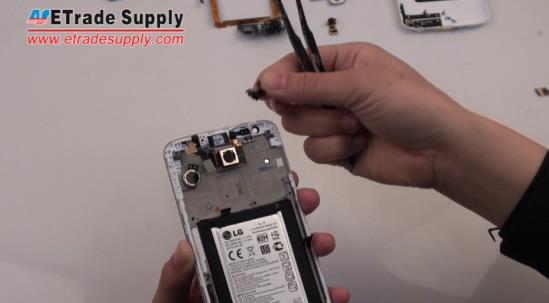 Step 11: Peel the LG G2 ear speaker off.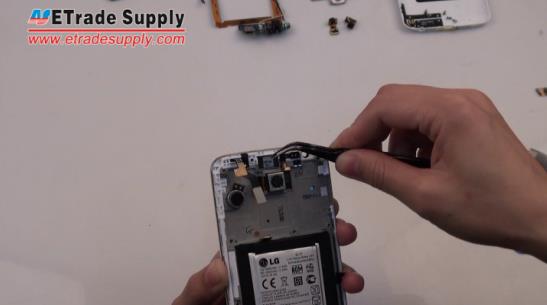 Step 12: Remove the LG G2 rear facing camera.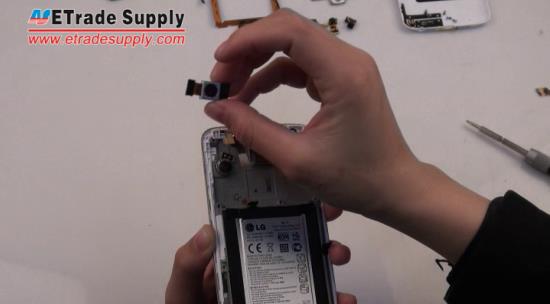 Step 13: Remove the LG G2 vibrating motor.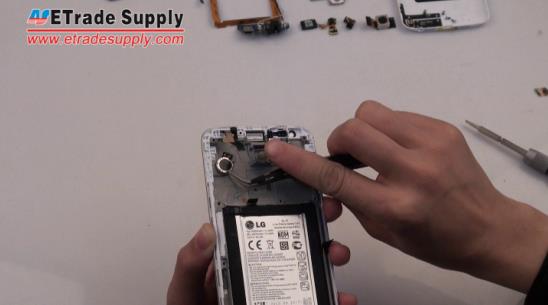 Step 14: Release the LG G2 battery with the case opening tool.
Note: The LG G2 battery is glued tightly, so handle carefully to avoid prying up the screen.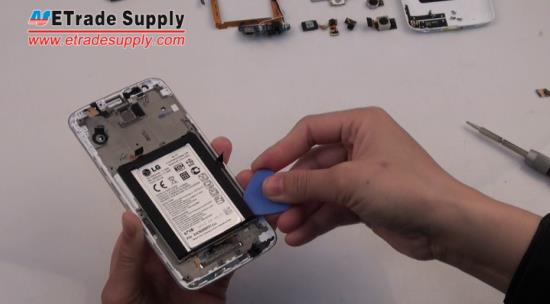 Fix Broken LG G2 Screen: At this step when you remove the LG G2 battery, you can use a new LG G2 VS980 LCD Screen and Digitizer Assembly with Front Housing to replace a broken LG G2 screen.
Please feel free to follow our YouTube Video LG G2 Disassembly/Tear Down/Take Apart/Cracked Screen Repair to step-by-step take apart LG G2.