How to Find Samsung Galaxy S5 Model Number
BY May | June 28th, 2014 | 2 | 4
Samsung Galaxy S5 is an Android smartphone that serves as the immediate successor to 2013's Galaxy S4. Unveiled on 24 February 2014 at Mobile World Congress in Barcelona, Spain, it was released on April 11, 2014 in 150 countries. Like most flagship phones, the Galaxy S5 is available on the major wireless carriers like: AT&T, Verizon Wireless, T-Mobile, Sprint and other carriers like Boost Mobile, Virgin Mobile, and MetroPCS. All different carriers have different internal structures and parts, even some of them look almost the same from outside, so it's very important to know your cellphone model number if you're planning to buy correct replacement parts to DIY repair your Galaxy S5 by following the disassembly video or article guide.

Here in below, we list the model numbers corresponding to different carriers or regions for your reference.For Carriers:For Regions:But how to check what's the specific model number that your Galaxy S5 have? You may refer to the following tips:

1. Check Samsung Galaxy S5 model number in the system.Navigate to Setting>About, then you can see the Galaxy S5 model number at the first glance.

2. Find Samsung Galaxy S5 model number on the back battery door.To see the carrier logo on the back side is another easy way to identify your Galaxy S5 model number. Take the Galaxy S5 AT&T version battery door as an example, the AT&T logo is obviously seen.
3. The front camera indicates the Galaxy S5 model number.The Galaxy S5 model number can be found on the front camera, like below front facing camera model number: G900F, which is for the European version.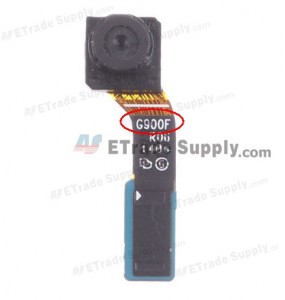 4. Galaxy S5 model number can also be seen on the charging port flex.As the picture shown below, you can see Galaxy S5 model number on the charging port flex cable ribbon.