Find Your Samsung Galaxy S4's Model Number
BY yuki | May 31st, 2013 | 74 | 10
Since being released in April 2013, the Samsung Galaxy S4 featuring a 5-inch screen has stayed in the spotlight. Running the latest Android 4.2.2 "Jelly Bean", Galaxy S4 adopts a full HD super AMOLED capacitive display. The GS4 OLED touch screen has a high-sensitive response and can be used even while wearing gloves. The Samsung Galaxy S4 is even more impressive by its unique features including Smart Pause, Smart Scroll, Smart Alerts, Group Play, and Air View. It surely surpasses its predecessor, the galaxy S3 and was the fastest selling smartphone in Samsung's history.
[caption id="attachment_2844" align="aligncenter" width="600"]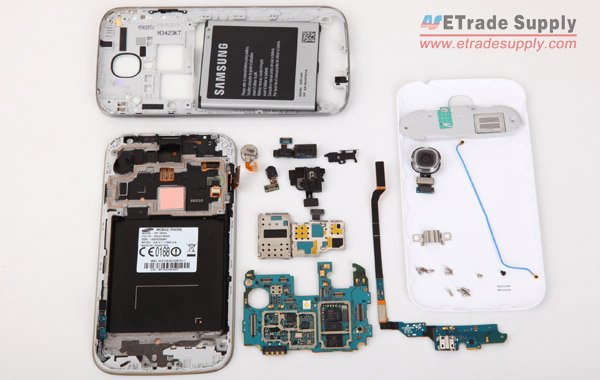 Samsung Galaxy S4 Replacement Parts[/caption]
The Samsung flagship Galaxy S4 has two versions, one uses of the Exynos 5 Octa-core chip and the other has a quad-core Qualcomm's Snapdragon 600. The Samsung Galaxy S4 is available in several different versions, such as the basic international models GT-I9500, LTE's GT-I9505, the AT&T SGH-I337, South Korea's version the SHV-E300, and GT-I9502 for China as well as several more. The differences between the versions are mainly attributed to the CPUs clocking measured by the GHz and GPU. The international version I9500, SCH-I959 & GT-I9502 of China and South Korea's SHV-E300 share the same Exynos 5 Octa chipset, quad-core 1.6 GHz Cortex-A15 & quad-core 1.2 GHz Cortex-A7. In other markets, like United States and Japan, Galaxy S4 sports a 1.9 GHz quad-core Qualcomm's Snapdragon 600. The GT-I9505 for LTE and GT-I9508 for China Mobile uses Qualcomm's Snapdragon 600 at 1.9 GHz as well.
Regardless of different Samsung Galaxy S4 models , they all use the same super AMOLED capacitive display, 2600mAh battery, 2GB of RAM and 16 GB, 32GB or 64 GB of internal storage plus dual camera, a 13 MP autofocus rear camera for photos and video and a front-facing 2 MP camera.
If you purchase a Galaxy S4 model through a carrier in America, more options are available for you. In the US, the Galaxy S4 is available in the following models by primary carriers:SGH-I337 for AT&TSGH-M919 for T-Mobile USASCH-I545 for VerizonSPH-L720 for SprintSCH-R970 for U.S. Cellular
It's vital to know the difference among GS4 model variants when you need to install appropriate ROMs or when you need to buy a suitable Galaxy S4 replacement part when you try to fix your broken Galaxy S4 (Click to watch GS4 Disassembly Video). Some components of different GS4 models appear very similar, but will not fit or function when put in the wrong model. These are designed similarly so as not to alter the basic design of the phone since completely redesigning the inside of each model would not be an easy task for Samsung.
What Samsung Galaxy S4 model do I have? There are four ways how to know which Galaxy S4 model name you have.
• Find Samsung Galaxy S4 Model Number in the system
Navigate to Setting>About, then the Galaxy S4 Model Number will appear on the screen
• Know Galaxy S4 Model Name from Battery Door
Some carriers' logo's are printed on the battery door making it easy for users to identify Galaxy S4 versions. Such as this Galaxy S4 Verizon SCH-I545 model.
[caption id="attachment_2862" align="aligncenter" width="500"]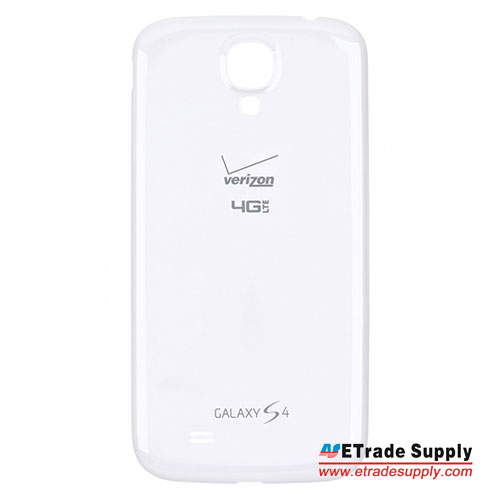 Galaxy S4 SCH-I545 Battery Door[/caption]
• Find Galaxy S4 Model Number Behind the Battery
If you can't find your Galaxy S4 model in your phones system, the next best way is to look behind the battery. Many manufacturers put the Samsung Galaxy S4 model number along with other information in this area.
[caption id="attachment_2846" align="aligncenter" width="610"]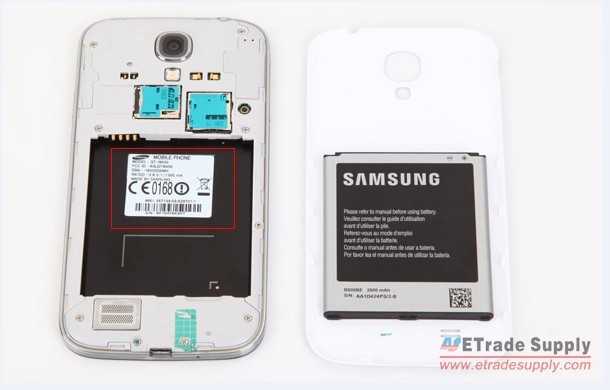 Galaxy S4 Parts Behind the Battery[/caption]
• Check Samsung Galaxy S4 Model Code Under the Housing
The Galaxy S4 model number is marked in different places on different models. The I9505 model name appears on the right side upper part of the front housing. While the Verizon I545, Sprint L720 and U.S. Cellular R970 model name can be found on the left.
[caption id="attachment_2847" align="aligncenter" width="440"]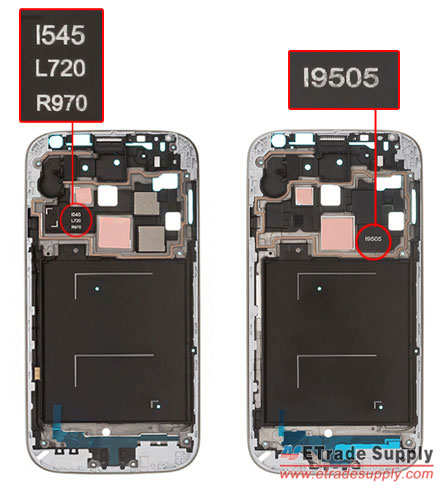 Galaxy S4 Front Housing[/caption]
Use the following tables to know which Samsung Galaxy S4 model number you haveTable 1 (US Region)
Model

GT-I9505

SGH-I337

SGH-M919

SCH-I545

SPH-L720

SCH-R970

Carriers

International
(LTE)

AT&T

T-Mobile USA

Verizon

Sprint

U.S. Cellular

2G

850, 900, 1800, 1900 MHz
GSM / GPRS / EDGE

CDMA
850, 900, 1800, 1900 MHz
GSM / GPRS / EDGE

CDMA

3G

850, 900 MHz, PCS, 2100 MHz
UMTS / HSPA+

850 MHz, PCS, 2100 MHz
UMTS / HSPA+

850 MHz, AWS, PCS, 2100 MHz
UMTS / HSPA+

800, 1900 MHz
EVDO Rev. A
850, 900, 1900, 2100 MHz
UMTS / HSPA+

800, AWS, 1900 MHz
EVDO Rev. A

4G LTE

800, 850, GSM, 1800 MHz IMT, IMT-E

700 MHz (Band 17), AWS, IMT, IMT-E

700 MHz (Band 17), CLR, AWS, PCS, IMT, IMT-E

750 MHz (Band 13), AWS

Extended PCS

700 MHz (Band 12), CLR, AWS, PCS

Soc

Qualcomm Snapdragon 600 APQ8064T

CPU

1.9 GHz quad-core Qualcomm Krait 300

GPU

Qualcomm Adreno 320
Table 2
Model

GT-I9500

SHV-E300K/LS

GT-I9508

SCH-I959

GT-I9502

SGH-N045
(SC-04E)

Countries

International

South Korea

China

Japan

Carriers

International

KT, LG U+, SK Telecom

China Mobile

China Telecom

China Unicom

NTT docomo

2G

850, 900, 1800, 1900 MHz
GSM / GPRS / EDGE

900, 1800, 1900 MHz
GSM / GPRS / EDGE

900, 1800, 1900 MHz
GSM / GPRS / EDGE

850, 900, 1800, 1900 MHz
GSM / GPRS / EDGE

3G

850, 900 MHz, PCS, IMT
UMTS / HSPA+

PCS, 2100 MHz
UMTS / HSPA+

1880, 2010 MHz
TD-SCDMA
900, 2100 MHz
UMTS / HSPA+

800, 1900 MHz
EVDO Rev. A

850, 900 MHz, PCS, IMT
UMTS / HSPA+

800Mhz, 2100Mhz
UMTS/HSPA+

4G LTE

No

K: GSM, DCS
L: CLR, IMT
S: CLR, DCS

No

800Mhz, PDC, IMT

Soc

Samsung Exynos 5 Octa

Qualcomm Snapdragon 600 APQ8064T

Samsung Exynos 5 Octa

Qualcomm Snapdragon 600 APQ8064T

CPU

1.6 GHz quad-core ARM Cortex-A15 &
1.2 GHz quad-core ARM Cortex-A7

1.9 GHz quad-core Qualcomm Krait 300

1.6 GHz quad-core ARM Cortex-A15 &
1.2 GHz quad-core ARM Cortex-A7

1.9 GHz quad-core Qualcomm Krait 300

GPU

IT SGX544MP3

Qualcomm Adreno 320

IT SGX544MP3

Qualcomm Adreno 320
Table source: Wikipedia