Find Your Models – Samsung Galaxy Note II Series
BY yuki | July 10th, 2013 | 32 | 1
Featuring an oversized 5.5 inches display, the Galaxy Note II has been noted as a phablet because of its combination of a smartphone as well as a tablet. The Note II debuted in August, 2012, carrying an advanced stylus called S Pen that attracts plenty of users. With a rounded rectangular design, the Galaxy Note II employs a super AMOLED capacitive touchscreen with 720×1280 pixels at 267 ppi pixel density and is running Android 4.1 Jelly Bean OS. The Galaxy Note II is powered by Quad-core Exynos 4412 Quad clocked at 1.6GHz and features a back 8MP camera plus a 3100 mAh battery.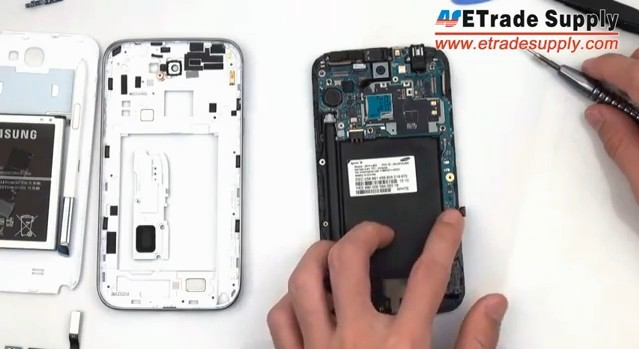 When it comes to the variants of the Galaxy Note II, different carriers like AT&T, Sprint, T-mobile, Verizon and U.S. Cellular have released their own versions. If you are in US, a handful of Galaxy Note II devices are available for you. And there is a possibility you may not even know which version you are using.
GT-N7100
for International
GT-N7105
for International with LTE
SCH-I605
for Verizon
SCH-R950
U.S. Cellular
SGH-I317
for AT&T
SGH-T889
for T-Mobile
SPH-L900
for Sprint Nextel There are some differences between the carriers' Galaxy Note II models and international versions. For example, the International version of the Galaxy Note II GT-N7100 has no 4G Network service but with optional inductive charging pins, while the Verizon SCH-I605 includes the 4G Network but without inductive charging pins. Some components of different Galaxy Note II models appear very similar, but will not fit or function when put in the wrong model. It is necessary to know your exact Galaxy Note II model when you need to flash ROMs or fix a broken Galaxy Note II (Click to learn
How to Teardown Galaxy Note II
). Therefore, you need to identify which model you have. Here are four ways to find out.
1)    Check Your Galaxy Note II Model Number in the system Navigate to Setting> About device> Model Number, then the Model Number will appear.
2)    Check Battery Door You can identify the Galaxy Note II version through the battery door. Some carriers' logos are printed on it. Such as this Verizon SCH-I605 and T-Mobile SGH-T889 models.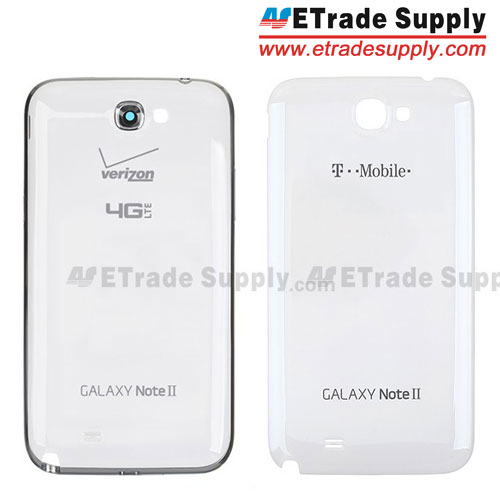 3)    Check Behind the Battery If you can't find your phone model from the battery door, the next best way is to look behind the battery. Many manufacturers put the phone model along with other information in this area.
4) Check Under the Housing Some carriers' model numbers are marked on the front housing. Below you can see the slight variations in design between the two versions.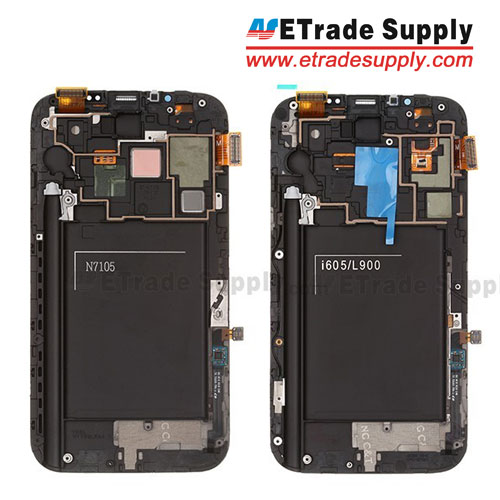 Use the following tables to know which Galaxy Note II model you have
Model

GT-N7100

GT-N7105

SCH-i605

SCH-R950

SGH-i317

SGH-T889

SPH-L900

Carriers

International

International LTE

Verizon

US Cellular

  AT&T

T-Mobile

Sprint Nextel

2G/3G connectivity

GSM: 850 MHz/900 MHz/1,800 MHz/1,900 MHz UMTS: 850 MHz/900 MHz/1,900 MHz/2,100 MHz

GSM: quad-band; CDMA/EVDO: 850, 1900 UMTS: quad-band

CDMA/EVDO: 850, 1700, 1900

GSM: quad-band UMTS: 850, 1900, 2100

  GSM: quad-band UMTS/DC-HSPA+ : 850, AWS, 1900, 2100

GSM: quad-band CDMA/EVDO: 800, 850, 1900 UMTS: 1900

4G LTE

No

800 900 1,800 2,600

700

 700 850 AWS 1,900

700 850 AWS 1,900

700 AWS

1,900

Notes

Optional inductive charging pins

Inductive charging pins No FM radio 42.2 Mbit/s DC-HSPA+

No inductive charging pins

LTE AWS from 2013 Optional charging pins disabled

No optional charging pins
Table source: Wikipedia