How to Choose Screen Protector for Your Mobile Phone?
BY kaye | December 31st, 2019 | 0 | 0
The mobile phones are our most useful communication tools these days. This makes the importance of our smartphone maintenance necessary to us. Using a screen protector to keep our phone screen from being damaged is a good and effective way, but there are all kinds of screen protectors for smartphones in the market. We may be confused about what kind of screen protector is suitable for our phone. Here we would like to talk about this topic and give our suggestions on how to choose a screen protector for your mobile phone as well.
1. Advantages of using a screen protector
There is no need to say, a good screen protector is a shield to keep your phone touch screen from damaged. In the past, the mobile phone screen protector is produced to keep the phone screen from scratch, oil, dust or dirt. With the mobile technology developed, tempered glass material has been used for screen protectors. This makes better security to our mobile phones, especial to the mobile device screens. Besides, using a phone screen protector could be a way of eye protection. There is a type of anti-reflective screen protector which could reduce UV reflection from our phone bright screen. This could be a protection to our eyes from UV damaged. What's more, a screen protector could keep the safety of your phone privacy. The anti-spy screen protector could keep your phone privacy data hidden from spying eyes. This kind of screen protector is embedded with a special material layer, which makes the screen visual range only 30 degrees right front the side. With this screen protector, your mobile phone screen cannot be watched by some who standing aside you.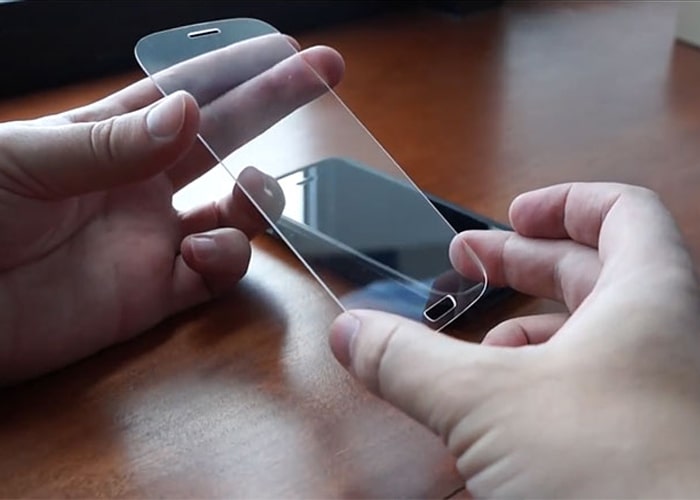 2. Mobile phone screen protector types
Our category is based on materials. Here we make a brief introduction to PET plastic, TPU plastic, tempered glass, and multi-layered type. These are the most usual screen protectors we see in the market.
2.1 PET Plastic
PET is a kind of special material that is wear-resistance, heat resistance, and oil prevention. Screen protectors made of PET provide the least amount of scratch- and impact-protection, but they're cheap, light, and thin, and also features of transparent to your phone screen. They also have a decently smooth feel, unlike the more durable but rubbery TPU. PET is also a bit stiff, so it can't go edge-to-edge on phones with curved screens like some Samsung or iPhone models.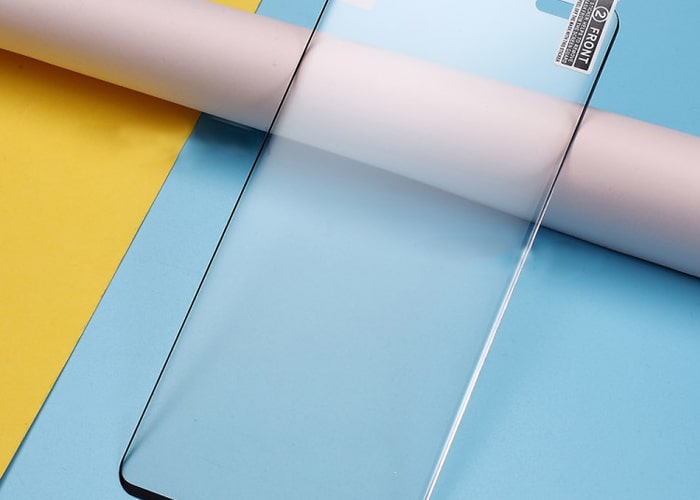 2.2 TPU Plastic
The TPU plastic material is flexible, waterproof, oil resistance and antibacterial. Screen protectors made of TPU material can go edge-to-edge on any phone, and it has better impact protection than PET. In the past, screen protectors made of TPU plastic faced many problems like installations issues, unsmooth, "orange peel" type glare to your phone's screen. Now, this type of screen protector is greatly upgraded. It is welcomed in the market and some of the TPU screen protector brands are quite expensive.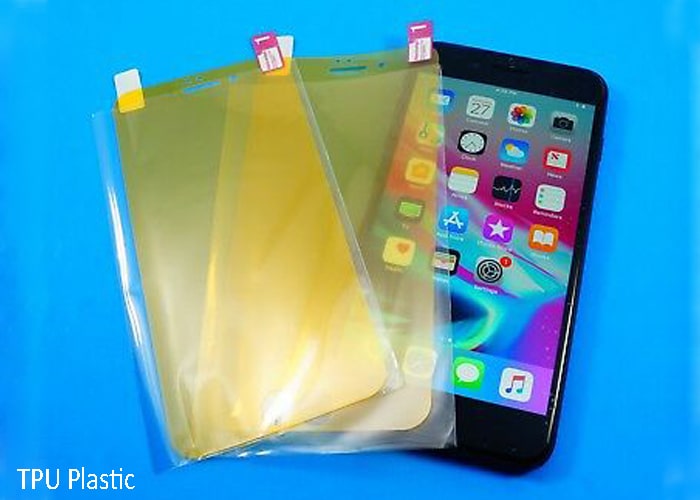 2.3 Tempered Glass
The tempered glass screen protector has existed much longer than the previous types. The tempered glass features of better transparency, which is more visible on our phone screen. There is no need to say, the tempered glass is thicker but tough hard to keep your mobile device from scratched or damaged on dropping. Prices of tempered glass screen protectors are not expensive, hence it is welcomed to most mobile users.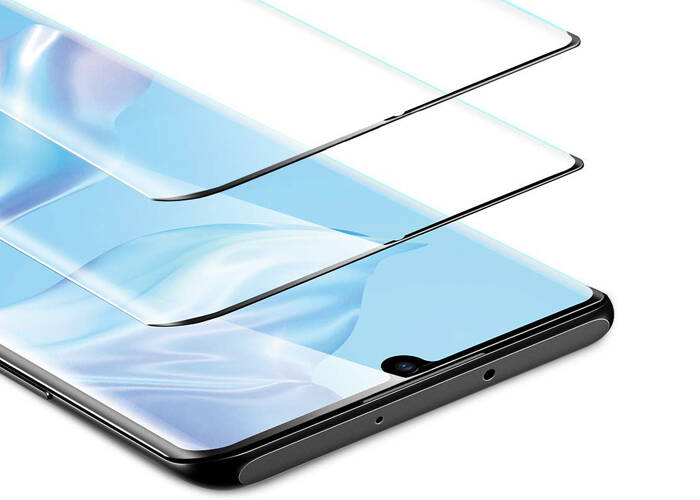 2.4 Nanometer liquid material
The Nanometer liquid screen protector is consists of multiple layers. Each of the layers is extra thin and made of different materials. There may be some hybrids between these different materials, which makes the protector tough for screen protection. Some of this protector type have the self-healing properties of TPU with a slightly smoother feel. Besides, you'll find variations of the above with different "extra" features, like privacy filters, which is like we mentioned before. Layers with Nano liquid material cab be anti-glare surfaces, smudge resistance. Since this screen protector is manufactured under high technology, it is quite expensive in the market.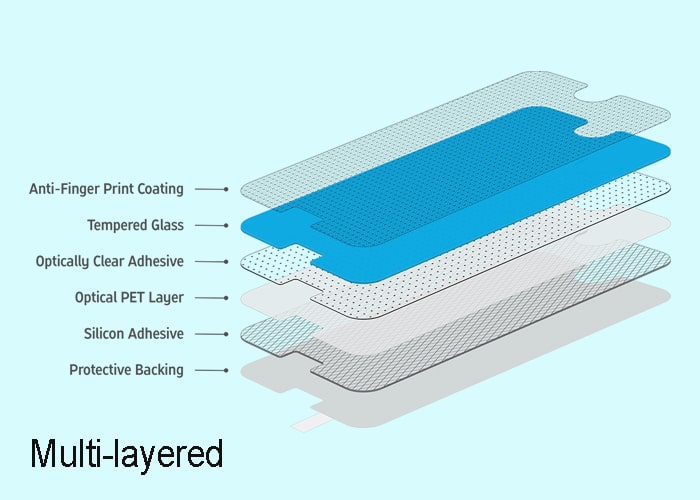 3. Suggestions on choosing the right screen protector for your mobile phone
We can see there are so many mobile phone screen protector types in the market. It is important to choose the right type for our mobile phones. Firstly, we have to know which smartphone model we have. The screen protectors are manufactured on the right size of the certain mobile phone model. Besides, you have to understand what functions you would like the screen protector to have. If you just want your phone screen well protected, we suggest you choose the tempered glass type. If you need extra functions to the screen protector like UV resistance for eyes protection's sake, you'd better choose the one with this function. Last but not least, don't try to apply the new screen protector to your phone if you have no experience in this work. We suggest you go to someone who is professional in it. You can do it in most repair shops.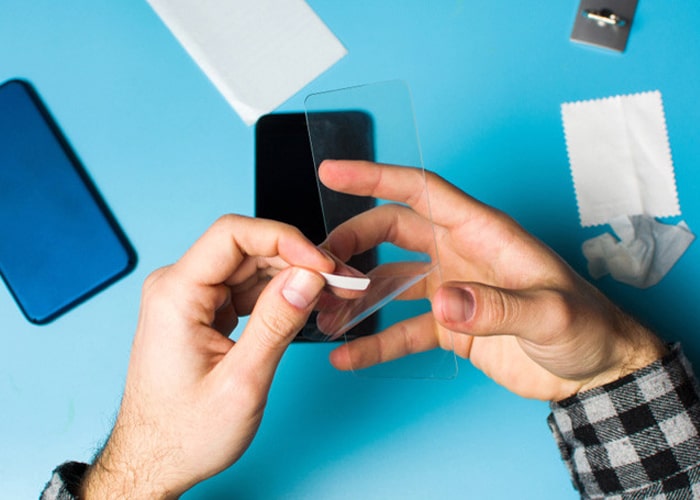 To sum up all the descriptions above, it is important to apply your smartphone to a screen protector. Choosing the right screen protector for your phone would be the first thing you need to do. We hope our brief introduction about types of screen protector could help you understand this mobile accessory better. Anyway, you may go to our store for different kinds of iPhone tempered glass screen protectors if you are interested. Any questions about our product will be answered as long as you leave your comments below.