How to Fix Slow Problem on Android Phone
BY yuki | March 21st, 2014 | 9 | 1
Do your Android smartphones have slow problems? Do you lose patience when you have to wait more seconds to open apps on your phone? Do you have the moments when you feel frustrated when you take much time to download websites or videos on your old Android phones?
Apple has recently gained more reputation after it released its eagerly anticipated iOS 7.1, for the new iOS does not only add a number of new features and fix a few bugs, but also speed up iPhones and iPads. Many Apple users reflect that the phone speed is improved to be faster.
What about Android users holding Samsung Galaxy S4, Note 3 or Nexus 5 etc.? They also long for the fun coming from the better user experience on speed improvement.  Do worry. We teach you how to adjust your Android smartphone or tablet to become faster.
Taking advantage of the built-in features on the flexible Android system enabling open mobile software, savvy owners of Galaxy S4, Note 3, Nexus 5, HTC One or other Android can change their phone's user experience. The feature allows Android users to boost the device when they open and close windows or apps in the phone are switched.
It is quite easy to access the transition animation feature by entering the "Developer options." Follow these steps to give your Android phone a huge speed boost.
Step 1: Go to Settings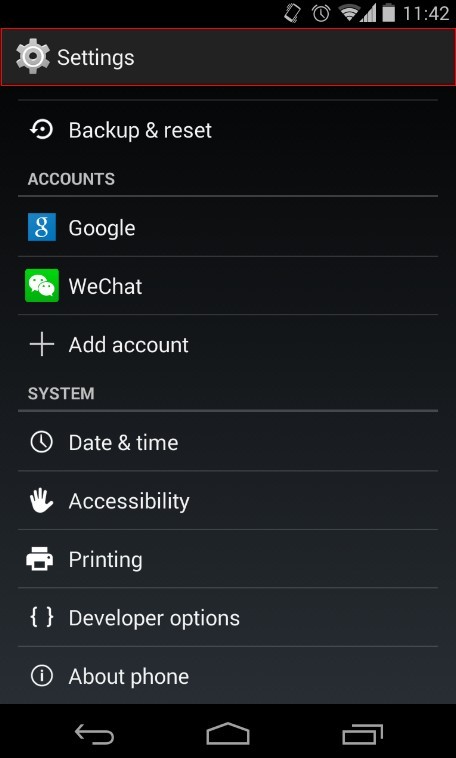 Step 2: Tap Developer Options
Note: If you can't find Developer Option on your phone, it might be hidden. You can search "how to enable developer options on Android phone" by Google to find the answer.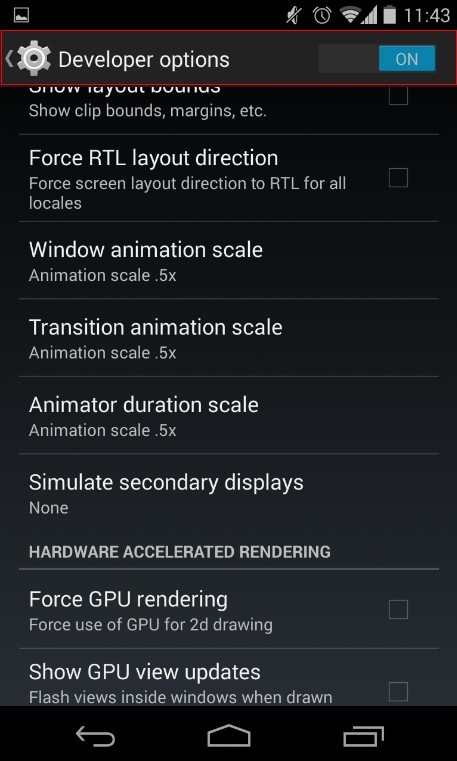 Step 3: Scroll until you find the Window animation scale, Transition animation scale and Animator duration scale sections.
Note: On some Android devices, the three sections may be found on an "Advanced" subsection.  Tapping each of the three aforementioned settings, you will find all of them are set to "1x" by default. To speed up your Android phones or tablets, you can change the "1x" to ".5x".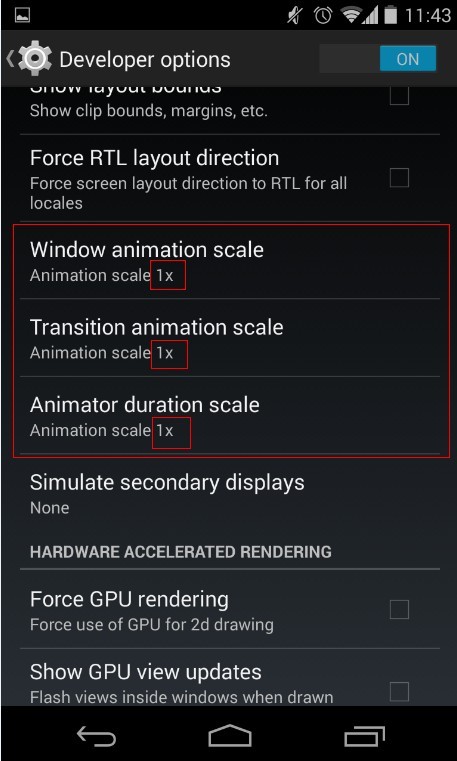 "1x" in Window animation scale, Transition animation scale  and Animator duration scale sections by default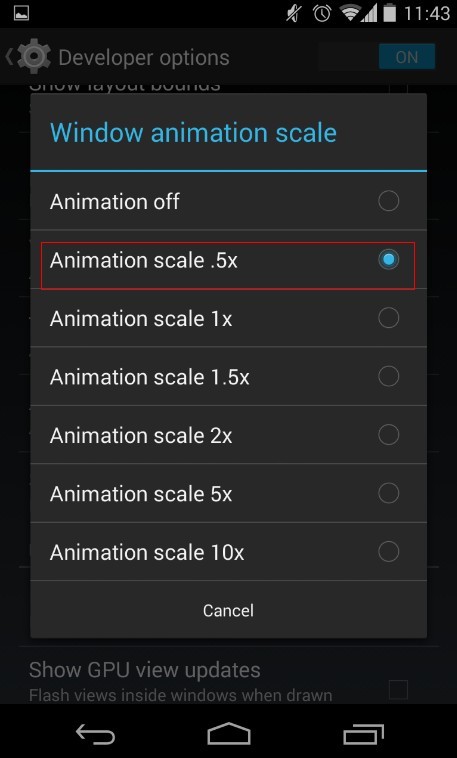 Tap "Animation scale.5x " on the three settings
When Animation scale .5x appears, it is done.
After adjusting the settings, you will find the change on the Android user experience without affecting the battery life and freely enjoy the great speed improvement. This speed boosting will become extraordinary obvious if you owe an old phone with a slower hardware. Hurry up and take action to speed up your Android phone.
Have you adjusted the settings? Do you feel your phone's speed faster? Let us know in the following comments.