How to Block Phone Number in iOS and Android Phones
BY alina | March 5th, 2014 | 0 | 0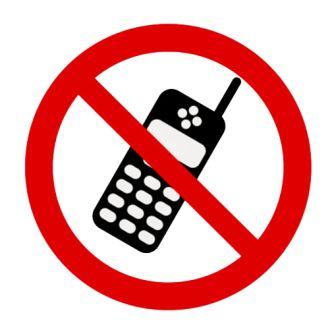 How to Block Calls in Android Phones
If you're an Android user, it will be a little complicated since not all Android devices have the blocking feature built in. You can open your
Phone
app to check whether your device have this feature. If you have a Samsung device, go to your
Phone
app, tap the Menu, and choose
Call settings
. You'll see the
call rejection
option is in the first place. Then add the numbers you'd like to block to that list (
Phone => Call Settings => Call Rejection=> add the number to the blacklist
). If your device doesn't include this feature, you have to go to the Play store to download the apps that can block crank calls and messages.
How to Block Calls in iPhones
Method 1: However, if you are an iPhone user, it will be easier for you to block the calls or texts you don't want to receive because the blocking feature is built into the iOS system. You can go to your
Phone
app, and open the contact that you'd like to block, scroll down to the bottom and tap the icon
Block this Caller
. Method 2: If the number is in your recent calls list, the other way is to open your recent calls list, and click the icon
i
on the right of the caller you need to block, scroll down and you'll see the option
Block this Caller
.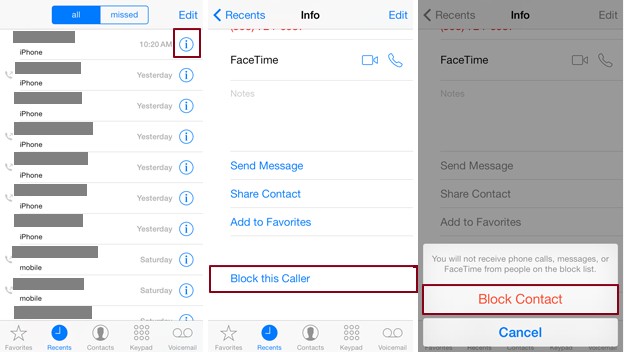 Method 3: You can also go to
Settings
, scroll down to hit
Phone
and click the
Blocked
option, tap
Add New
and add the numbers you need to block to the black list. All calls, messages and FaceTime calls will be rejected once you have blocked the number.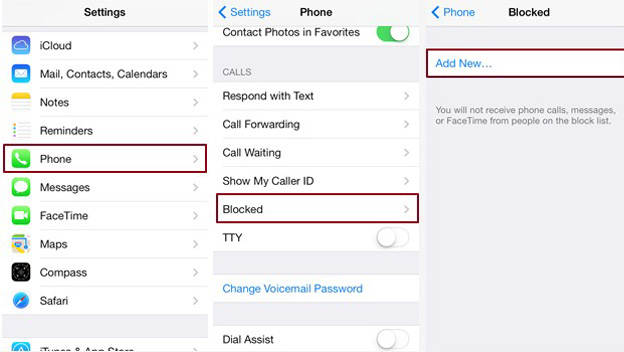 Are you always bothered by some harassing calls or unwanted calls? Do you want to get rid of them?  If so, you can learn how to block phone number in iOS and Android phones here.