BlackBerry 10.2 Will Feature Notification Actions and Wi-Fi Direct
BY Junior | July 4th, 2013 | 0 | 1
BlackBerry 10.2 is expected to come later this year with some new features such as standard Unicode emojis, multiple alarms, reminders and level 1 notifications. The company previously claimed that the upcoming phone will bring support Android 4.2.2 Jelly Bean apps to its BlackBerry Runtime service.
According to a batch of screenshots which posted on CrackBerry Forums, the updated BlackBerry 10.2 will also bring quick actions to the notifications. For example, this would allow users to respond to a message directly from the notification area. Another new feature is the Wi-Fi Direct support. It means users will be able to share information via Wi-Fi without the need of a router.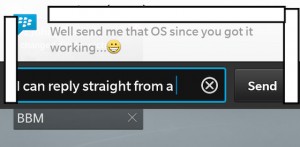 Many people are expecting the BlackBerry can create much more new features before the BlackBerry 10.2 comes to support its devices in the next few months. It certainly should if it is to have any opportunity of handling the financial problems. Although BlackBerry 10.2 hasn't been officially released now, it's likely to be coming to the Q10 and Z10 next half year.