Which Device Has The Best IP68 Waterproof In 2018?
BY kaye | December 25th, 2018 | 0 | 59
Now, more and more flagship cell phone support the IP68 water resistance. But our smartphone still has the risk to damage it in the water, because the water resistance is not equal to the waterproof. This year's iPhone XS and XS Max dust-resistant and water-resistant are IP68, which is higher than iPhone X's IP67. So for all IP68 devices, which one has the best waterproof performance?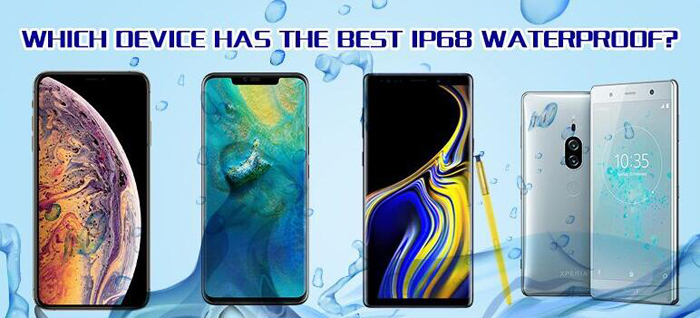 (iPhone XS Max, Huawei Mate 20 Pro, Samsung Galaxy Note 9, Sony SZ2 Premium)
Zealer has done a water-resistant test in the Indonesian waters for iPhone XS Max, Huawei Mate 20 Pro, Samsung Galaxy Note 9 and the Sony XZ2 Premium. Which cell phone do you think has survived the longest time? Here we have collected the survival time and sea water depth of each model of mobile phone.
| | | | | |
| --- | --- | --- | --- | --- |
| Models | iPhone XS Max | Samsung Note 9 | Huawei Mate 20 Pro | Sony XZ2 Premium |
| Survived time (s) | 234 | 37 | 39 | 56 |
| Water depth (m) | 26 | 6 | 7 | 15 |
From this table, we can find the water resistant performance: iPhone XS Max > Sony XZ2 Premium > Huawei Mate 20 Pro > Samsung Note 9.
Since only one device was tested for each model, this result is for reference only.
If you want to watch the test video, please click here: https://youtu.be/SOzhTbrqpvQ
After the waterproof test, they tear down the 4 devices and find that the iPhone XS Max inside has the most water. Then we could have a question, why the iPhone XS Max has the most water inside but survived the longest time? The Zealer give us an answer, Apple has waterproofed some of the internal components of the iPhone XS Max so that it can continue to work even has water inside.
The reason they gave this conclusion is that the iPhone XS Max is slowly stopping working and then shutting down, while other phones are suddenly shut down.
Here we recommended that you do not try to immerse your mobile phone in water or swim with it. It still has a risk to get water into the device, and water damage is not covered by the warranty. Apple makes it clear that water damage is not covered by the warranty:
"iPhone XS and iPhone XS Max are splash, water, and dust resistant, and were tested under controlled laboratory conditions with a rating of IP68 under IEC standard 60529 (maximum depth of 2 meters up to 30 minutes). Splash, water and dust resistance are not permanent conditions and resistance might decrease as a result of normal wear. Do not attempt to charge a wet iPhone; refer to the user guide for cleaning and drying instructions. Liquid damage not covered under warranty."
What Is IP Rating Number Means?
First Number (intrusion protection)
1. No special protection.
2. Protection from a large part of the body such as a hand (but no protection from deliberate access); from solid objects greater than 50mm in diameter.
3. Protection against fingers or other objects not greater than 80mm in length and 12mm in diameter.
4. Protection from entry by tools, wires etc., with a diameter of 2.5 mm or more.
5. Protection against solid bodies larger than 1mm (e.g. fine tools/small etc.).
6. Protected against dust that may harm equipment.
7. Totally dust tight.
Second Number (moisture protection)
1. No protection.
2. Protection against condensation
3. Protection against water droplets deflected up to 15° from vertical
4. Protected against spray up to 60° from vertical.
5. Protected against water spray from all directions.
6. Protection against low-pressure water jets (all directions)
7. Protection against strong water jets and waves.
8. Protected against temporary immersion.
9. Protected against prolonged effects of immersion under pressure.
What is IP68 Dust and Water Resistant?
IP, or Ingress Protection, is a universally accepted measurement of varying degrees for dust and liquid resistance.
Devices backed by an international standard rating of IP68 are deemed fit enough to withstand dust, dirt, and sand are resistant to submersion up to a maximum depth of 1.5m underwater for up to thirty minutes – Samsung IP 68
If you accidentally drop your mobile phone into the water, please take it out of the water and dry it immediately then refer to this article "How to Save Your Water Damaged Phone -Refer These 5 Steps". If these methods are not useful, please contact the mobile phone after-sales service or find a reputable repair shop for repair.
Need any Cell Phone repair parts replacement, please visit ETradeSupply.com
Any questions and suggestions about water damage, welcome to comment below.