Apolo F1 Waterproof Spray for Your Cellphone
BY May | March 31st, 2016 | 0 | 1
Spilt coffee on a newly purchased iPhone 6S? Splashed soup on the iPhone 6 Plus speaker hole when you're eating and scrolling the screen? Showered your Galaxy S6 Edge+ in a heavy rain without covering under an umbrella? Dropped your LG G5 by accident after using the toilet? Well, it does happen, every day and everywhere! Some devices like Galaxy S7, Galaxy S7 Edge, Sony Xperia Z phones are built waterproof to protect them from accidents similar to the cases mentioned above. However, not all smartphones are waterproof, is there a way to protect them from water damage?
Here at ETrade Supply we not only supply quality parts to meet your cellphone repair needs, but also endeavor to develop new products to help solve problems from the source. Today, we're so proud and excited to announce that the best waterproof solution to fix water damaged smartphones is able to meet the public.
Apolo F1 Waterproof spray is based on nanotechnology, providing a high quality super hydrophobic protection to the digital devices like smartphones or tablets. Unlike other waterproof spray that can be used on texture, leather, stone, wood or metal surfaces, our Apolo F1 is exclusively developed for protecting smartphones and tablets from liquid damages. It's a nano coating that surrounds all the tiny electrical parts in and around your device which is completely invisible to the human eyes. The waterproof spray is used to protect your devices from accidental occurrences.
Why Choose Apolo F1 Waterproof Spray?
1. It protects your smartphone from accidental exposure to water or other liquids.
2. Your device will no longer need to wear a bulky "life proof" case to be waterproof.
3. It protects your device without even opening it!
4. It allows you to protect your device even it's not brand new.
How to Use Apolo F1 Waterproof Spray?
1. Power off your device.
2. Clean your devices with the microfiber cloth.
3. Shake the waterproof spray.
4. Spray all sides of your device, esp. the earphone jack, ear speaker, charging port, side keys etc.
5. Wait for 10 hours, allowing the waterproof coating to cover your device totally. Do not use your device during this process.
Can't wait to get one? No worries, check it out here: Apolo F1 Waterproof Spray for Your Cellphone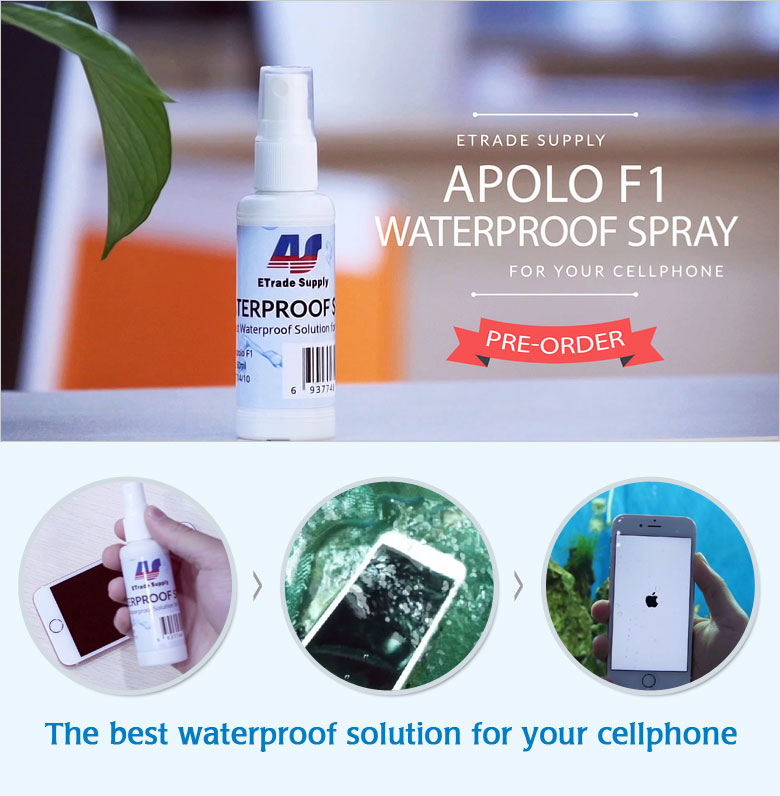 Summary
Reviewer
Review Date
Reviewed Item
Nice post, useful for me.
Author Rating
| | | | | | |
| --- | --- | --- | --- | --- | --- |
>