Android L New Features
BY May | June 28th, 2014 | 0 | 0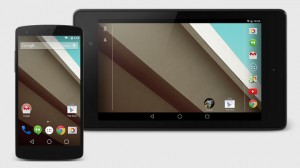 Google's annual developer-focused I/O conference is coming out officially. At this year's event, the new Android L was the first to be announced. According to Engadget, the "L" stands for "Life", which features that unite your life across your phone, smartwatch, desktop and more. Here let's have a look at the several new features of Android L.
1. Material Design Material design is a new aesthetic for designing apps in today's multi-device world. The idea is obvious: remove the fragmented way Android looks and bring consistency to the app world not matter what device you're on.
2. Enhanced Notifications
The big change is that notifications will flow over the screen at the top - get a call when you're playing a game and it will pop up at the top, asking if you want to take it.
3. Android Runtime (ART)
ART offers ahead-of-time (AOT) compilation, more efficient garbage collection, and improved development and debugging features.
4. Battery Life
Battery life is always an important concern on smart devices today. Battery historian is a new tool that lets you visualize power events over time. Besides, the battery saver mode which can lengthen use is integrated by default.  
As a forum Droid-life mentioned, Android L has other features like Document-centric Recents, BLE Peripheral Mode, Muti-networking, Advanced Camera Capabilities etc. What's your favorite feature about Android L? Please write down below as comments and share with us.