7 iPhone Privacy Settings You Should Check Today
BY kaye | May 2nd, 2019 | 0 | 0
With mobile phone technology development today, our smartphone is functionally better and better from generation to generation. It brings us so much convenience in our life, meanwhile, unsafety to our privacy. Our mobile devices contain so much of our private data. The Apple Company has made it better on iPhone security, but there are still actions we need to take to make it better. Here Etrade Supply shares you seven private settings we should check on our iPhone today.

1. Limit or turn off location tracking for non-essential services
This setting aims to keep your location information from leaking while you are using mobile phone Apps. We have to say the smartphone applications have made our life more convenient and interesting, but some of them might be a way to expose our location. This happens on social Apps mostly, the strangers might track your location by online navigation if your location service is on. If you don't want to expose your mobile device location, you may follow this way to turn off this non-essential location service: Settings > Privacy > Location Services. Scroll down to check which App is accessing your location information, and choose "always", "while using the App" or "never" to enable turn off the location service.
2. Limit apps that access your camera and microphone
This is normal that your mobile phone camera and microphone is accessed when you install an Application on your phone, promptly and automatically. There is no reason why this access is allowed without informing the users. The photos on our mobile phone contain so much privacy and top secrets, we have to focus on this. The microphone has the records of our words in some way, such as the voice we talk to our friends or family on social Apps. Just like the location information we talked above, we can limit the apps to access our iPhone 6s back camera and microphone. This setting is simple, just follow this process: Settings > Privacy > Camera, and Settings > Privacy > Microphone to switch off access of the Apps.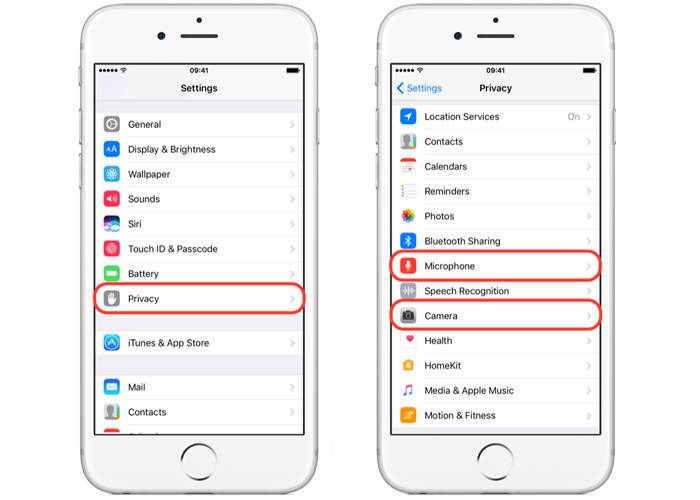 3. Prevent advertisers from targeting you
It goes like Google or Facebook advertisement that the advertiser would collect your personal information like age, gender, job, hobbies, etc. to present you Ads. Apple also provides a platform for advertisers to post ads, which based on users personal information it knows. You can see it because the ads are relevant in some way. You can choose to opt-out and you will see no more relevant ads. This setting is to prevent advertisers from targeting your and present business ads to you. Go to Settings > Privacy > Advertising and switch to "Limit Ad Tracking". You can also choose to "Reset Advertising Identifier" if you want to delete Apple's profile. You may access to Settings > Privacy > Location Services > System Services to turn off Location-Based Apple Ads if you want to prevent Apple from sending you ads based on your location.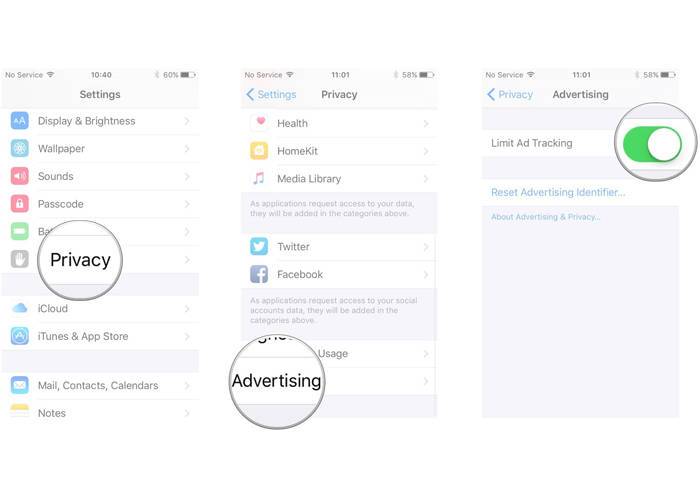 4. Turn off Cross-Site Tracking
This happens in the same situation as advertisers targeting. When you land on some website like shopping or social Apps, you will receive ads like the goods you viewed for times or someone interested in you afterward. You will find it hateful because the advertisers know your tracks secretly from other sites. To prevent this from happening, you may take steps like this: Settings > Safari and turn on "Ask Websites Not to Track Me" and "Prevent Cross-Site Tracking". You will see these ads fewer than before.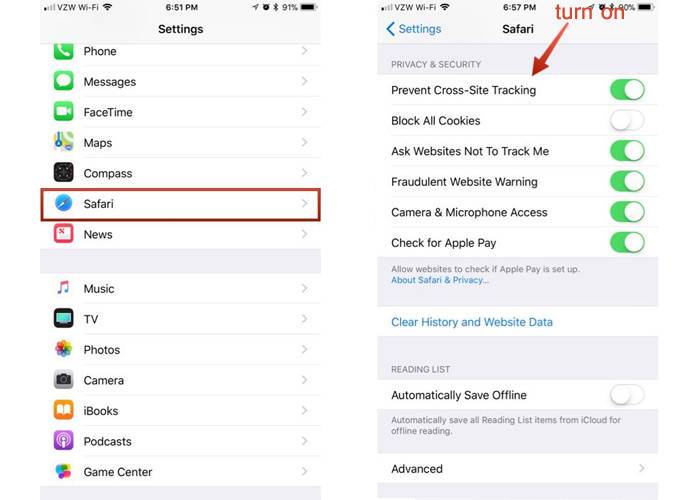 5. Prevent sensitive information from appearing on your lock screen
This setting enables you to keep information from appearing on your iPhone lock screen. When your lock screen appears to remind you that someone is calling you or texting you on social Apps, you may find it awkward when you are with your friends or family sometimes. You may access this setting to restrict this information from appearing as follow: Go to Settings > Face ID (Touch ID) & Passcode, and turn off "Allow Access When Locked". This could prevent the sensitive information from appearing on your lock screen.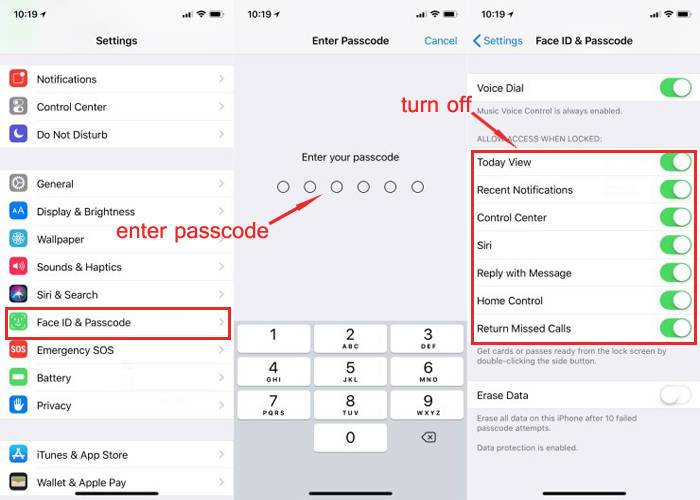 6. Prevent unauthorized USB connections from stealing your data
When you plug in your iPhone via USB iPhone 6s charging port, your device may be under the risk of unauthorized individuals hacking if you didn't activate the USB restricted mode and unlock the phone in the last hour. This charging-only mode is acting to limit your iPhone port on charging, no data transferring. This situation seldom happens because users would check their phones times with an hour, but for security sake, we'd better turn this mode on. Here is the process to make it: Settings > Face ID (Touch ID) & Passcode, enter your passcode and then turn on USB Restricted Mode.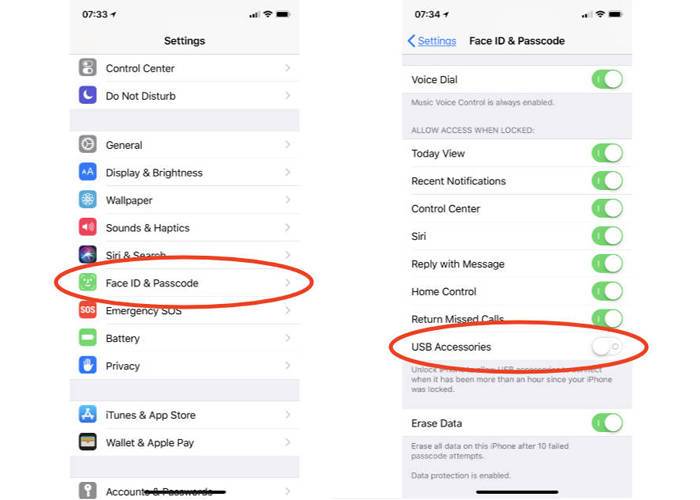 7. Turn on Erase Data after failed passcode attempts
We all know that our iPhone or iPad will be locked for a permanent time after limited times of failed passcode attempts. This happens when someone steals your phone and force to unlock it, or your small children play tricks with times of failed passcode attempts. You will definitely turn on the option to Erase Data after many failed attempts because your mobile device saves records automatically. For security sake, make sure your phone date backup is on so that it could back up once a day when the power and Wi-Fi are connected. You may go to Settings > Apple ID > iCloud > iCloud Backup and turn it on, and head to Settings > Face ID (Touch ID) & Passcode and turn on Erase Data to make it.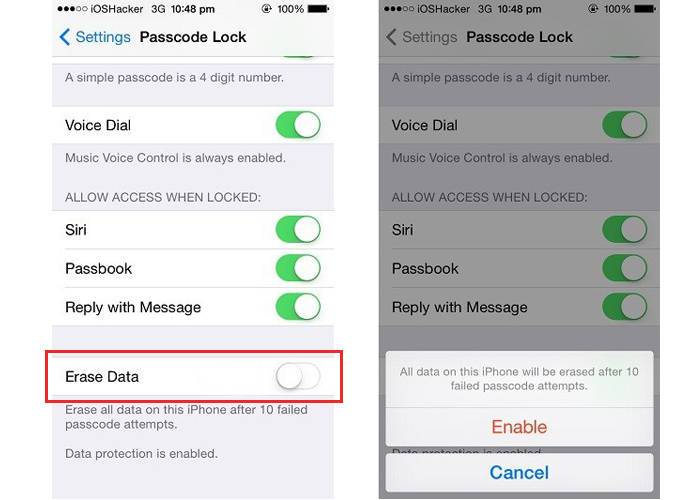 These seven settings above are mainly about keeping your iPhone privacy information safe on daily use. Whatever iPhone or iPad you are using, you should check the same setting because our privacy data is important. In the meantime, you can also focus on some iPhone replacement parts like iPhone X replacement parts if you are running the mobile phone repair business. As to new ideas about iPhone technical support, please leave your comments below and share with us.