3 Ways to Make DIY Face Masks at Home
BY kaye | May 6th, 2020 | 0 | 1
The COVID-19 has been spread around the world, for which we have to make the best protection to our respiratory health. As we can see, the surgical face masks and respirators become necessary to our daily life since the orders were placed by the government. Personal protective equipment like face masks become fast-selling goods and the price is madly high on the market. Based on the reason, we would like to share some DIY tutorials on how to make face mask ourselves at home with simple materials. We can make three good looking styles face mask with our wear out T-shirts or clothes as the process below.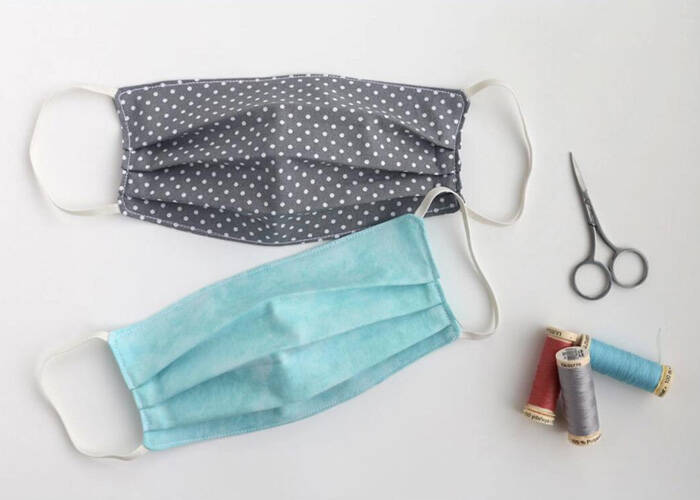 1. How to make bandana face mask
The bandana is a popular clothing decoration for ladies. We can use our bandana to make a face mask. This is the easiest and practical method to make your unique face mask at home. The thing you have to notice is that your bandana or scarf is too thin to filter the harmful pollutions in the air. You have to make fold it to three or more layers and embed a filter material inside the face bandana mask, or else your face mask won't be effective. Filter materials of tightly woven and 100% cotton are the best.
Here are the tools we will need:
1.a bandana or a scarf
2.two elastic, flexible rubber band or hair ties
3.coffee filter, cotton yarn cloth, melt blown or paper towel
Firstly, we fold our bandana in half, then fold top-down and bottom-up to make it as a strap. Place two elastic or rubber band on each side of the bandana strap and make a suitable distance between the two elastic. Fold the two sides into the middle, tuck the ends into the gap. The bandana face mask is completed. Put it on to try and make it comfortable on your face.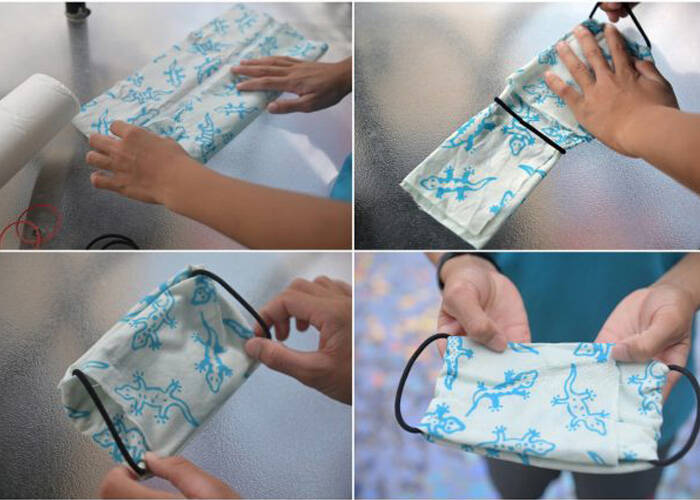 2. How to make T-shirt face mask
Using T-shirts to make face masks is another brilliant method. Your wear out T-shirt or new T-shirt that you don't mind cutting up is the good material for making face masks. Choosing 100% cotton T-shirts is better.
Tools you require here:
1.T-shirts
2.Scissors, silk, and needle
3.Coffee filter, cotton yarn cloth, melt blown or paper towel
Before we start to cut off our T-shirts, we need to estimate the length from our nose bridge to our whole chin. Normally, this length for an adult would be around 7 to 8 inches, and 4 to 6 for children. It is better to leave 3-5cm for error. To start, simply cut the bottom off your T-shirt in the height as your estimate length. Cut into the T-shirt around 6-7 inches which left the rest part wide enough to cover around your face. Next, cut two strings so that you can tie around your head and neck. Adjust until you get a snug fit around your nose and chin. For effective filtering harmful particles sake, we'd better place a coffee filter or paper towel layer into the face mask, and secure it with safety sew.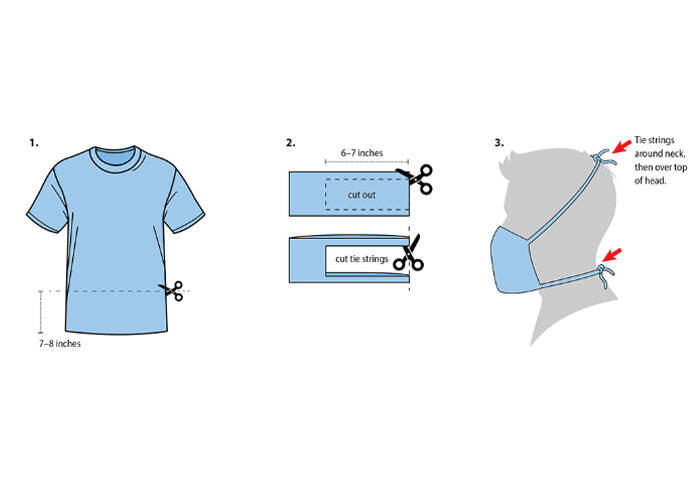 3. How to make cloth face mask with sewing machine
If you want to make a surgical mask style with your favorite colors and patterns, this method would be your best choice. There are various ways to make a cloth face mask, of varying difficulty. The simplest patterns require just two pieces of cloth and some elastic, or something that you will use as ties. If you want your DIY face mask to stand out, try using bright or patterned fabric.
Tools you will need:
1.Cotton fabric cloth (10 x 6-inches or 25 x 15 cm)
2.Coffee filter or cotton yarn cloth
3.2 * 6-inch (15cm) pieces of elastic or rubber bands, hair ties or strips of cloth
4.Sewing machine
5.Needle and thread
7.Scissors
Firstly, place and piled two pieces of cloth or fabric on top of each other and a filter material layer in the middle. The pattern side should be on the bottom and the cloth material side on the top towards you. Cut the three-layer cloth into a suitable shape and size based on your face coverage, here we take the square shape as an example. Cut the cloth into 10 inches length and 6 inches height, fold the top and bottom side in about 0.25 inch and stitch with the sewing machine. Hem along in 0.5 inches and stitch the left and right sides, make gaps for two strings' penetration on each side. Tread two elastic strings through the face mask and knot. Tuck the knot inside and stitch the gaps with needle and silk. Now a new cloth mask is made, try it on and make it comfortable on your face.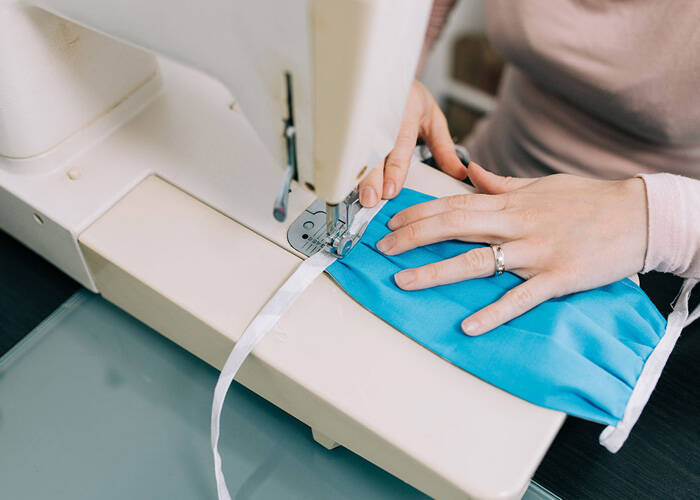 It is recommendable to make the DIY face mask ourselves at home because it only cost us time and patience. One thing we have to notice is that DIY face masks made of cloth do not meet the standard of CDC, which requires our frequent disinfection. Besides, you may also go to our site for KN95 face mask or surgical mask. All our medical supplies are CE and FDA certificated. Contact us via email if you need any antivirus protective equipment.