2 Bad Designs for Samsung Galaxy S10 Series Phone Repair
BY kaye | March 12th, 2019 | 0 | 1
Samsung released its flagship smartphone on February 20, this year, they launched 4 models of devices, S10e, S10, S10 Plus, and S10 5G. The designs of S10 have much difference from the previous model Samsung Galaxy S9. According to some Samsung Galaxy S10 teardown, and test videos on YouTube, we found that the S10 series of mobile phones are designed to become more irreparable. And the iFixit only give 3 out of 10 in terms of repairability for them. Here we collected 2 bad designs of the Samsung Galaxy S10.
Samsung Galaxy S10 Charging Port is unavailable to change

We charge the phone almost every day, so the charging port may be damaged during the plugging and unplugging process.
According to JerryRigEverything YouTube teardown video, the Samsung Galaxy S10 charging port is fixed on the motherboard. This is not the same as the previous model Galaxy S9. In before, if the charging port, the microphone is broken, we just buy a new Samsung Galaxy S9 charging port replacement online and replace it. But now, for Samsung Galaxy S10, we should replace the whole motherboard. There is no doubt that this will cost us a lot of money. So take care of your charging port.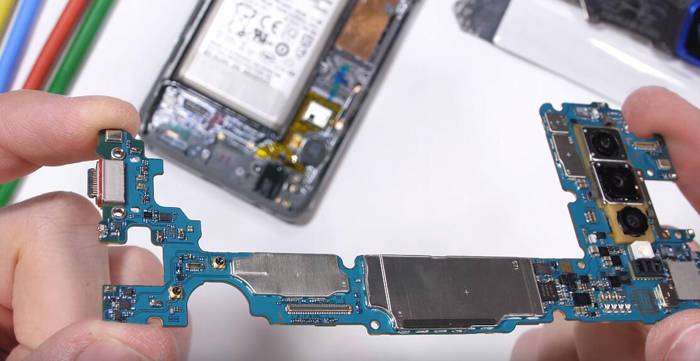 Almost irreparable ultrasonic fingerprint

Unlike other under-screen fingerprint mobile phones, the Samsung S10 uses an ultrasonic fingerprint sensor. When the fingerprint sensor under the screen not working, we usually change a new replacement. But when JerryRigEverything tries to remove the ultrasonic fingerprint sensor, he only removed the flex cable. He said that the ultrasonic fingerprint sensor is difficult to remove, and the final result is that the Samsung Galaxy S10 screen black.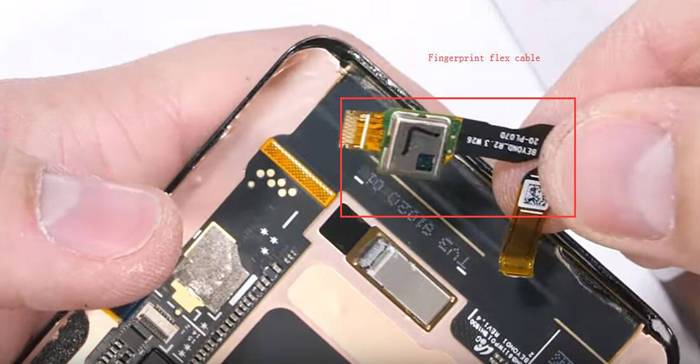 If you want to replace the fingerprint sensor for Samsung Galaxy S10, it has a big risk to damage the screen and you have to cost much money to replace the Samsung Galaxy S10 screen replacement.
PS: The ultrasonic fingerprint will not work if the front screen glass is broken on the identification area.
Take care of your Samsung Galaxy S10 phone or you will cost a lot of money to repair it.
ETrade Supply offers cell phone repair parts online, you can get Samsung Galaxy S10 parts here:
For Samsung Galaxy S10e Parts: https://www.etradesupply.com/samsung/samsung-galaxy-s10e.html
For Samsung Galaxy S10 Parts: https://www.etradesupply.com/samsung/samsung-galaxy-s10.html
For Samsung Galaxy S10+ Parts: https://www.etradesupply.com/samsung/samsung-galaxy-s10-plus.html
Samsung Galaxy S10 Tear down video from JerryRigEverything:
(Video and image source from JerryRigEverything)