10 Tricks You Need to Learn to Improve your Samsung S10 Battery Life
BY kaye | November 19th, 2019 | 0 | 1
As we all know, the Samsung Galaxy S10 features a large full display screen and the super-powerful triple rear cameras. With the time we are using this smartphone, we find the battery power is draining so fast. Even though Samsung S10 has the functions of wireless-charging and wireless power-sharing, there are still some tips and tricks we need to learn on how to improve our Samsung S10's battery life. Here we would like to share the using tricks on 10 aspects, which we hope could be helpful to us. Let's take a look and try.
1. Lower Screen Brightness
As we can see, Samsung S10 has a large display screen. This requires much power on keeping it on high brightness. We should try to lower the brightness of the screen to keep the battery power from draining so fast. As a suggestion, we can adjust the screen on the lowest brightness level which we are comfortable with and keep it all the way. You may also activate the adaptive brightness on settings so that the system would adjust the screen brightness automatically for you.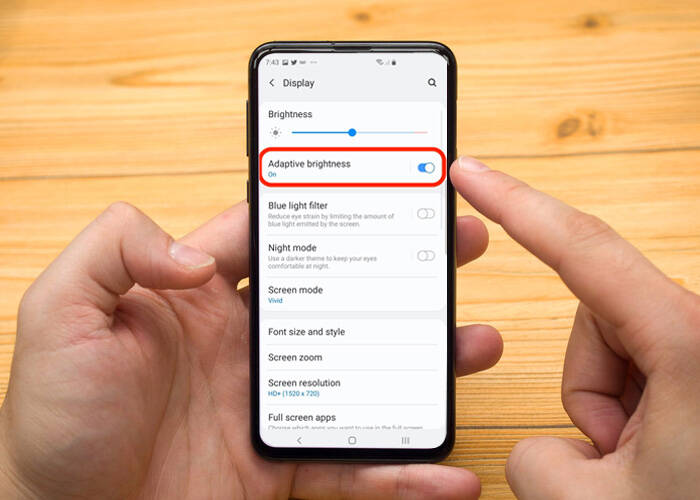 2. Use Battery Usage Feature to Check on Apps
Sometimes the Apps are continually running on the background even though you are not activated and using them. These Apps may cause unnecessary activities and will become the battery power draining channel if you don't manage them well. Here we suggest you watch the Apps that are regularly placed high in the battery usage feature. Go to Settings >> Device Care >> Battery >> Power mode to optimize the battery usage feature. This is also a trick to improve your Samsung S10 battery life.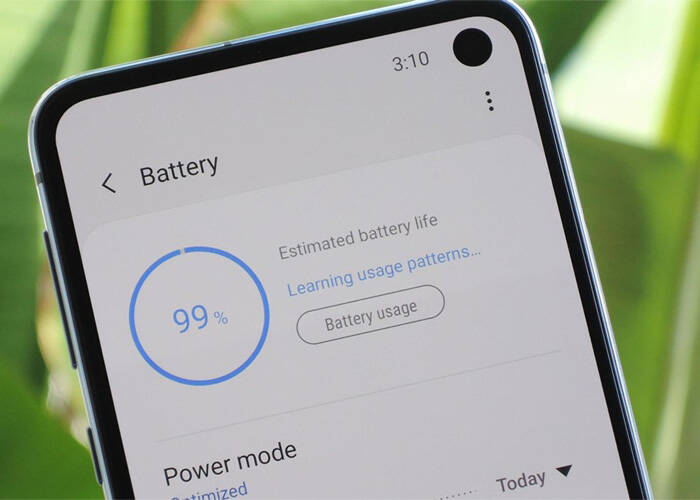 3. Restart Device Regularly
The battery is draining may be the reason for the system bugs. Restart the device in a period of time to refresh the system may eliminate the temporary bugs. For our mobile phone battery improvement's sake, we should restart our Samsung S10 at least once every few days. Just press and hold the volume up button, the Bixby button, and the power button at the same time until the screen is off and the logo shows up again. Your Samsung mobile phone is restarted.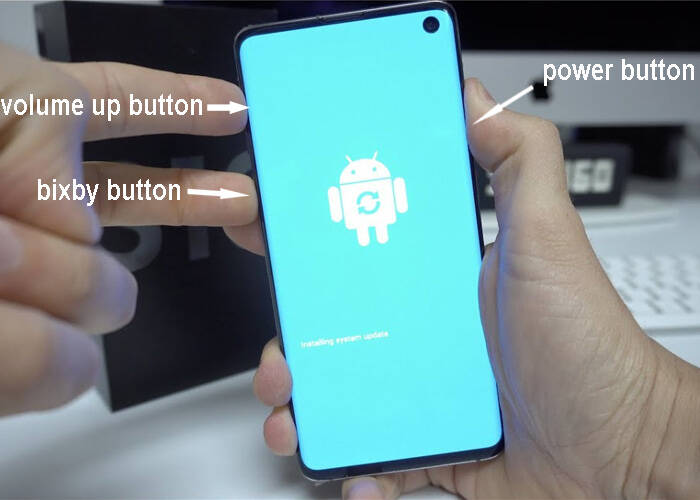 4. Use Lower Resolution
The high screen resolution provides us high pixel image showing on our phone display screen, but it will increase the load to the running system and cause the battery of draining fast. For the long-term expectation of long battery life, we should lower the screen resolution on a long way to extend the battery life. Go to Settings >> Display >> Screen resolution to select the suitable resolution for the best battery improvement.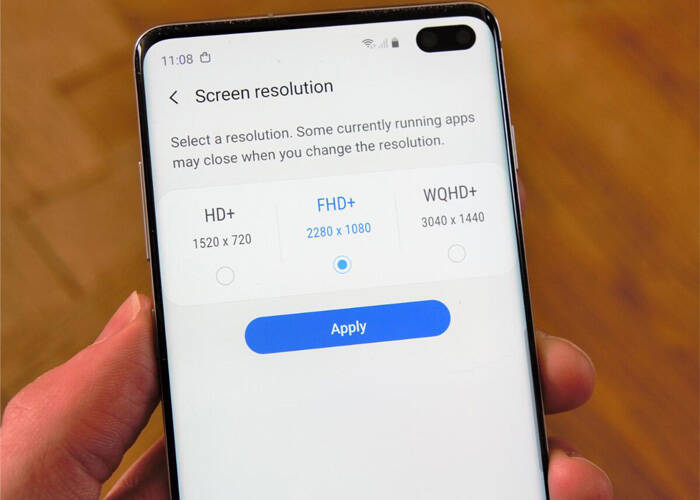 5. Stop Using Always-on-Display
Always-On-Display has been an outstanding feature on Galaxy flagships for several years now, with the feature serving up useful information on the display even when the screen is off. Samsung claims that it only used 5% of the battery on entire eight-hour usage, but this is still a way of draining your battery power. Turning off it might be a way to give your Samsung S10 battery a needed boost, and that would prolong the battery a little bit. Go to Settings >> Display >> Lock screen >> turn off Always-On-Display.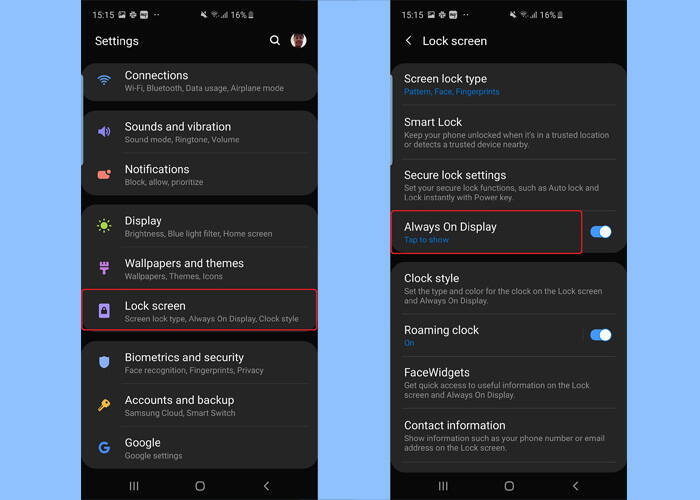 6. Change Wallpaper to Black
Samsung Galaxy S10 provides us lots of colorful wallpaper in the system for selection. Lots of experiments show that the bright colorful wallpaper setting as a lock screen or home screen will be shorter on the battery power life than the black wallpaper. The AMOLED will need more battery power to display bright colors than the dull image on the screen, so just change a black wallpaper as the home screen and lock screen may reduce your phone battery on draining fast.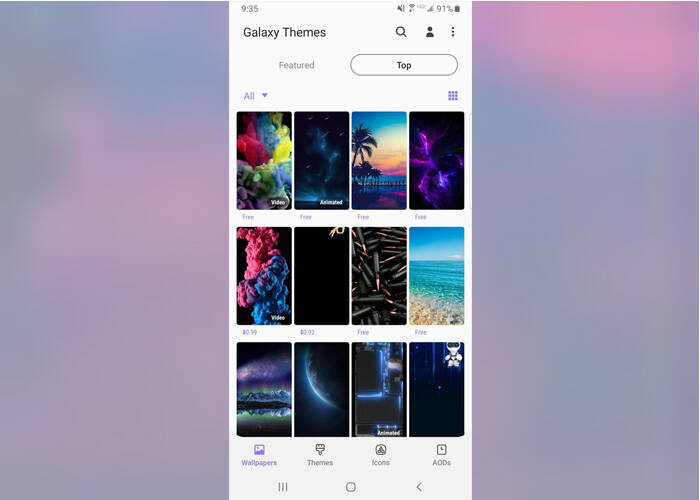 7. Review and Turn off Features You're Not Using
There are lots of App features being used on Samsung S10, most of which are unnecessary but draining the battery power. We need to turn it off to improve battery life. Got to Settings >> Apps to check the features. There you may find some unnecessary features like edge panel, edge lighting, and some gestures. Go to settings to check the greater features and choose the items you don't need to turn it off, such as smart capture, palm swipe capture or direct call easy mute smart stay among others.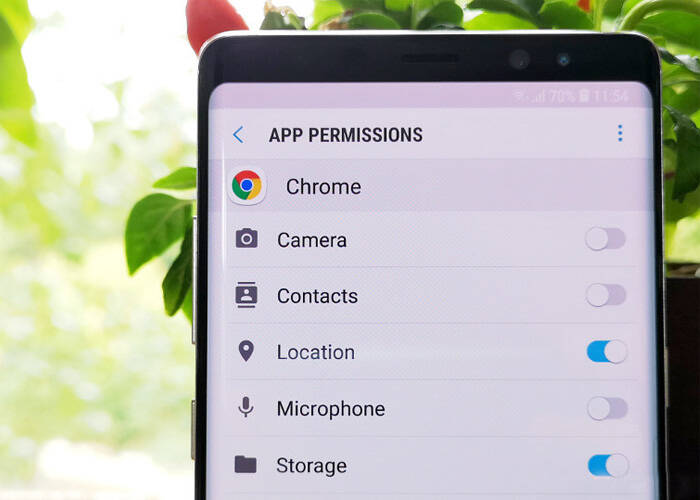 8. Check Network Functions
Some Network functions are on and draining the battery power fast, but not most of us aware of this issue. Network functionality like Wi-Fi, Bluetooth, NFC sensor and so on. All these are being used on the background all burning your battery power fast. Turning off the network function if you don't need them. Go to Settings >> Connections to check the network functions first.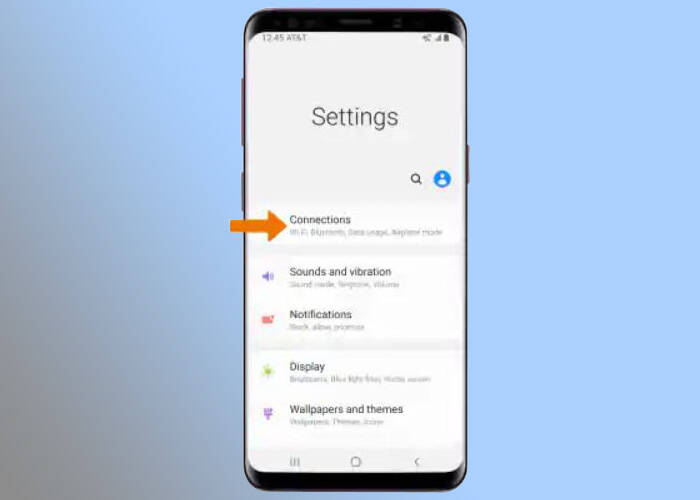 9. Turn off Unnecessary Developer Options
Got to Settings >> About phone >> Built number >> enter the lock password >> Go back Settings >> Developer Options, then you can turn off the animations of each item. This actually makes your phone feel quicker and less CUP usage on the system, from which your battery life is getting better.
10. Planning Out Battery Saving Mode
Samsung Galaxy S10 provides two different modes for use, optimized as default and maximum mode for medium. The maximum mode would restrict the background data and brake off the Apps from running on the background. By applying this mode, you lower the screen resolution and limit the number of Apps you can use. This could be a way to improve your phone battery life.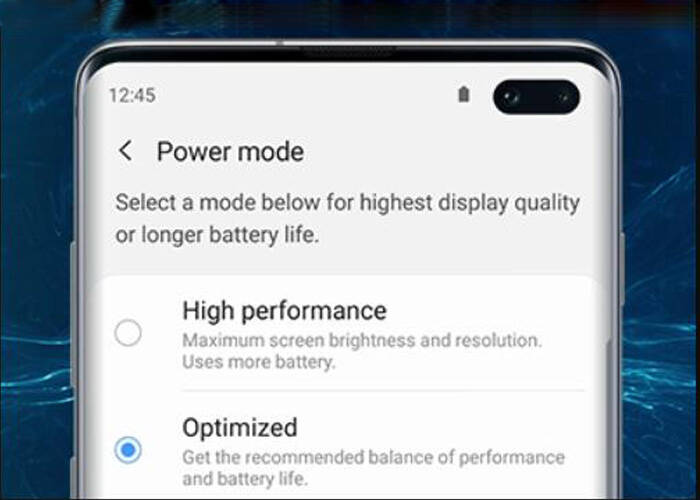 All the tricks we brought up above are simple and useful to improve our Samsung S10 battery life. We suggest you try and learn more about how to prolong your smartphone battery. On the other hand, you may also be interested in Samsung S10's internal parts, something like Samsung S10 display screen and digitizer assembly replacement. Moreover, you may keep following on our weekly blog or leave your comments if you have any ideas about improving our Samsung battery. We appreciate your sharing.